The Danish government formally named Albert Heinrich Riise the only pharmacist for the Caribbean island of Saint Thomas in June 1838. It allowed him the privilege to brew liquor in his drugstore. Albert first created rum as a remedy for stomach ailments. His rum, however, quickly acquired appeal beyond its medicinal role, and the A.H. Riise Company got its inaugural International Medal at the World Exhibition in Chicago in 1893.
Official website: ahriiserum.com
Today, each bottle represents a tribute to the past – as well as a prospect of future experiences.
Valdemar Riise, A.H. Riise's son, became good mates with Prince Karl. The bond started while Prince Karl sailed aboard the frigate Jutland, which made five trips to the Danish West Indies. Later in life, Prince Karl ascended to the throne of Norway as King Haakon and designated Valdemar Riise as a Norwegian diplomat in the Danish West Indies.
Denmark's Prince Carl used to be fourteen years old when he joined the ship Jylland on its voyage to the Danish West Indies. During 1905, Prince Carl was crowned King of Norway as Haakon VII.
Fregatten Jylland was a significant member of the Royal Danish Navy in its heyday, sailing to the West Indies and St. Thomas. It was the core element of the struggle to re-establish Danish authority, because of which the seamen received daily supplies of A.H. Riise's Navy Rum. Although the Fregatten Jylland is now officially stationed in Denmark, the opportunity to taste rum from this historical period must not be passed up.
A.H. Riise was involved in Copenhagen's Great Nordic Exhibition. His goods were shown at the West Indian pavilion and received an award for topping the category.
The drugstore on St. Thomas burnt down during the Christmas season of 1895. A candle had lit a damp Christmas tree, and the flames had spread to the resin-impregnated timber ceiling. Valdemar Riise, the son of A.H. Riise, ended up taking over the pharmacy when his father departed the Virgin Islands around 1868 and swiftly re-established it.
A.H. Riise rum has been sold under different trademarks, notably Old St. Croix Brand, Riise's Guava rum, and A.H. Riise rum, all presently offered in Denmark by A.H. Riise Spirits.
Thin Blue Line XO was released in 2017. A mix that respects and praises the Danish police service.
A.H. Riise Spirits offers a diverse number of products with a lengthy and illustrious history dating back generations.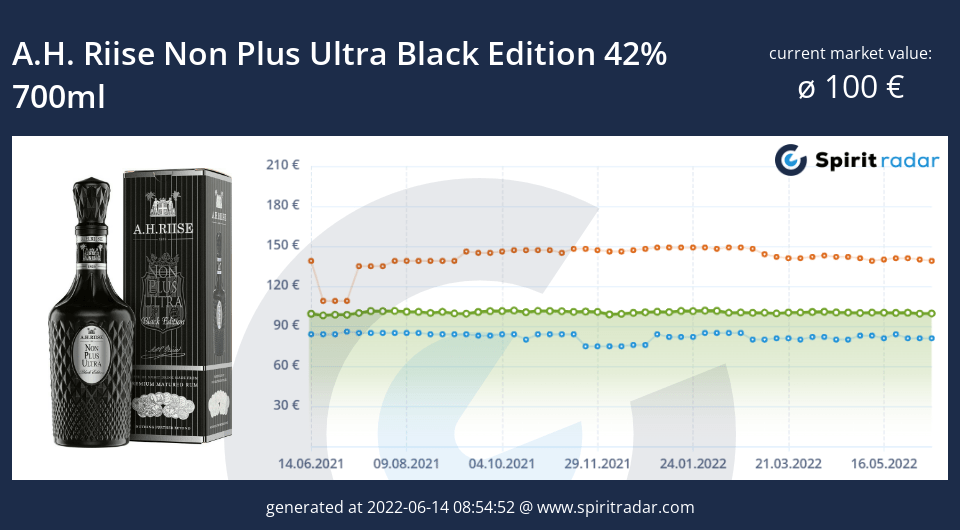 The A.H. Riise distillery is located on St. Thomas Island, an American Virgin Island in the Caribbean. This land was a Danish territory before becoming an American possession.
Albert Heinrich, a pharmacist, was not only authorized to build a drugstore but also to brew alcohol in the 1840s.
The phrase 'Non Plus Ultra' is derived from Roman mythology. The Hercules pillars, which were constructed just next to the Strait of Gibraltar, indicate the world's end. This rum pays homage to the phrase "no more"/"nothing beyond."
The A.H. Riise Non Plus Ultra BLACK EDITION Rum is a limited edition of the Non Plus Ultra Rum. Only the finest and ancient rums from A.H. Riise's inventory, such as burnt oak barrels, are utilized (black barrels).
The rum has a deep, nearly black tint. It smells like peaches, milk chocolate, caramel, and slightly burned butter on the nose. It tastes thick and creamy, with notes of milk chocolate, almonds, oranges, and tannins. The rum has a smooth and beautiful aftertaste.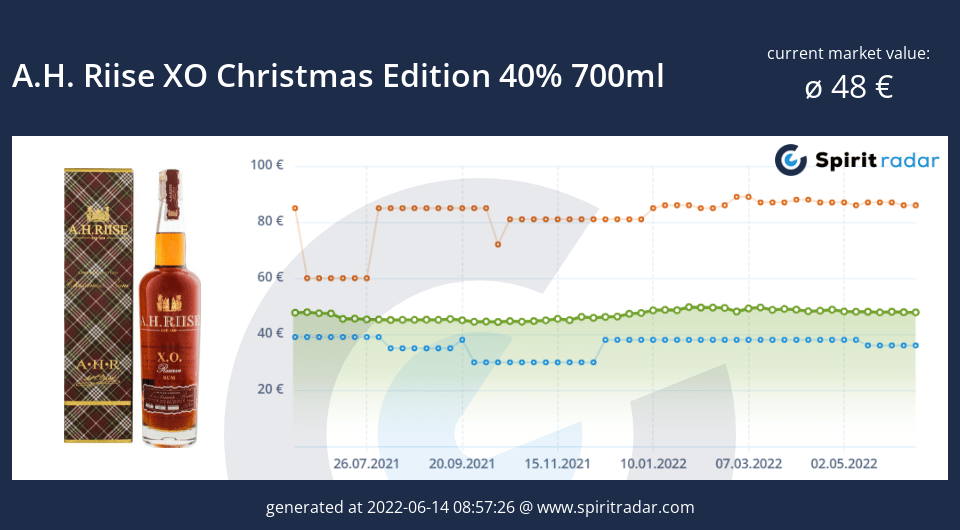 A.H. Riise X.O. Christmas Rum is distilled in the United States Virgin Islands. It combines different rums matured in American oak casks for at least 20 years. And it's matured an additional year in a Pedro Ximenez Sherry barrel for this special Christmas edition, giving it a really distinctive mahogany color.
The profile is very peppery and baked, like a Christmas gingerbread. Strong spices complement the rum, but they tend not to spring out at the nose; instead, they are rather subtle. A hint of butter and sultanas evoke fruit cake. When you are in the Christmas mood, take it further with warmed wine flavored with lemon, orange, vanilla, and honey.
Warm orange peel emission is dispersed with a bit more tangy pulp as the rum aerates. Cinnamon is applied to this, making it appear orange and cinnamon-flavored sugar syrup. The crisp spice fragrances return in waves, reminiscent of sizzling aromatic Indian rice.
It is the sweetness that manifests itself when it enters the mouth. The rum brings out the sweetness of the spices. This rum is blended with orange-flavored molasses. Ultimately, the cinnamon reappears and welcomes you before departing.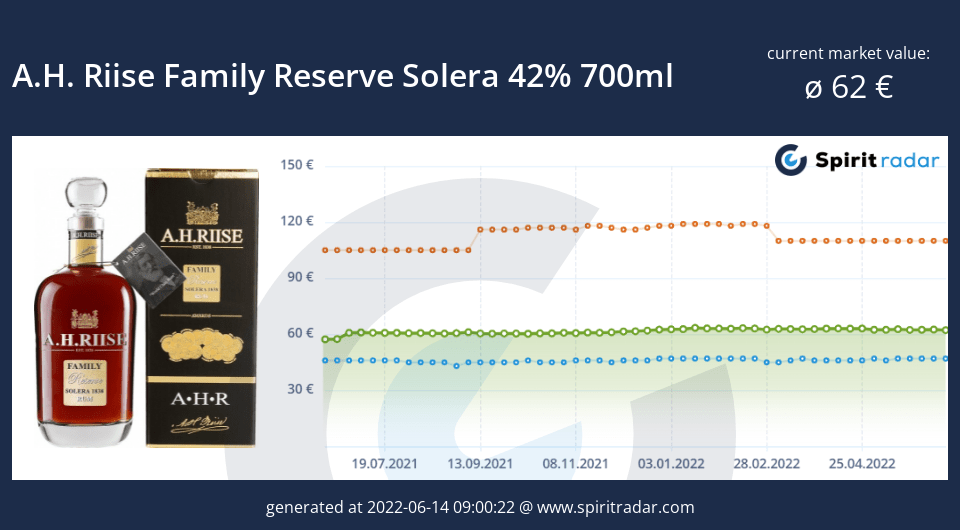 A.H. Riise Rome pays homage to one of Denmark's most industrious citizens, Albert Heinrich Riise, who competently managed his drugstore in Charlotte Amalie on St. Thomas from 1838 until 1878.
This life-loving rum was initially designated for the heirs of A.H. Riise, thus the title Family Reserve. A rum that is usually given out when the whole family gets together every five years.
This special rum is currently offered to a larger audience. Those who like indulging themselves in fine oak barrels spirits now have the chance to try something extraordinary.
On the nose, there is a strong aroma of black spices with a tinge of smoke and umami with pickled orange extract. It begins with a flavor of fruit sweets, followed by a more pronounced sense of subtle leather and cardamom. Finally, there's raw butter with lemon and cinnamon sprinkles.
Rum bottles from A.H. Riise