Starting with sugar cane, Caribbean residents squished out the delicious liquids before fermentation, distilling, and maturing the first rum. The flavor of Captain Morgan's delectable secret recipes is what counts today for people with class. The best Caribbean rums are meticulously mixed to provide the smooth taste the Captain is famous worldwide.
Official website: captainmorgan.com
While residents of Caribbean islands such as Jamaica extracted sweet sugar cane juices to make molasses before fermenting, distilling, and maturing black rum, people in Cuba and Puerto Rico kept their beverage clean by aging it relatively quickly after distillation. Consequently, a delicious white rum containing a mild and sweet flavor is created.
The Captain's actual flavor may be found in his rum beverages, including Captain Morgan Dark Rum, Captain Morgan White Rum, Captain Morgan Original Spiced Gold, and so much more. Sip it neat or try one of the Captain's favorite rum drinks cocktails for a real kick.
Captain Morgan Original Spiced Rum was launched in the United States in 1984. With its mysterious sweet-to-heat finish, Captain Morgan Tattoo Black Spiced Rum joined the Captain Morgan Family on April 15, 2005. In 2007, Captain Morgan was the second biggest spirits brand in the United States by sales and the seventh top brand globally. 7.6 million 9-liter containers were sold in 2007. Most Captain Morgan rums are distributed in the United States, Canada, United Kingdom, and South Africa.
Captain Morgan Tiki, a new offering from the brand, was released in 2020. This fresh pineapple mango-flavored rum is now available in the UK, Australia, the Czech Republic, and Germany.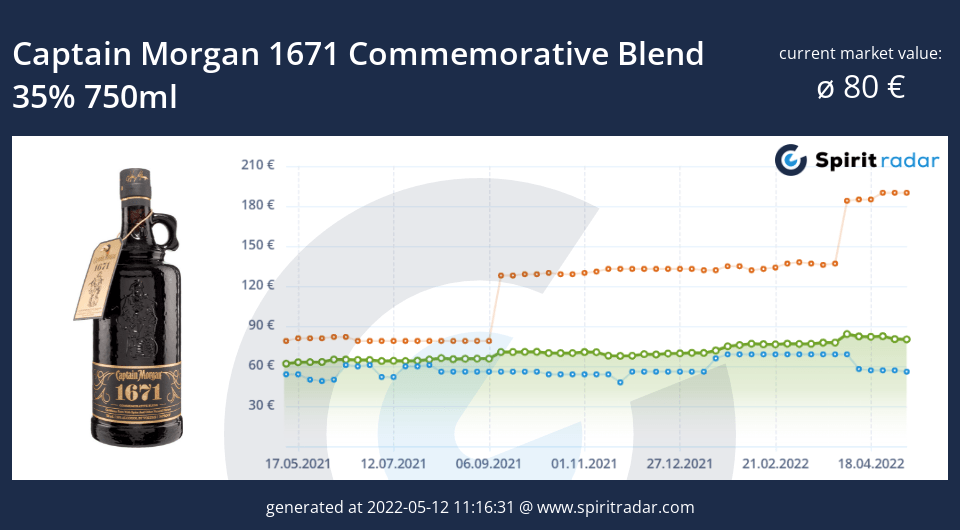 Captain Morgan is among the market's most famous rums, with its widespread Captain Morgan rum accessible practically everywhere. This is a limited edition influenced by Captain Henry Morgan's successful attack against the Spanish in 1671. He sacrificed his treasured flagship, The Satisfaction, during the conflict. The rum is a tribute in both title and composition, made using St. Croix rum and matured in Spanish oak casks to replicate the flavor of a rum from the past. In terms of appearance, gold amber seems to be tinted. Swirling produces a thin oily layer with a few droplets. It tastes of caramel, vanilla, cinnamon, and dark fruit. It has a pretty thick entrance for a rum; spicy taste with a hint of heat and dryness, followed by the richness of cinnamon with oak char; and was made to be a savoring rum over ice.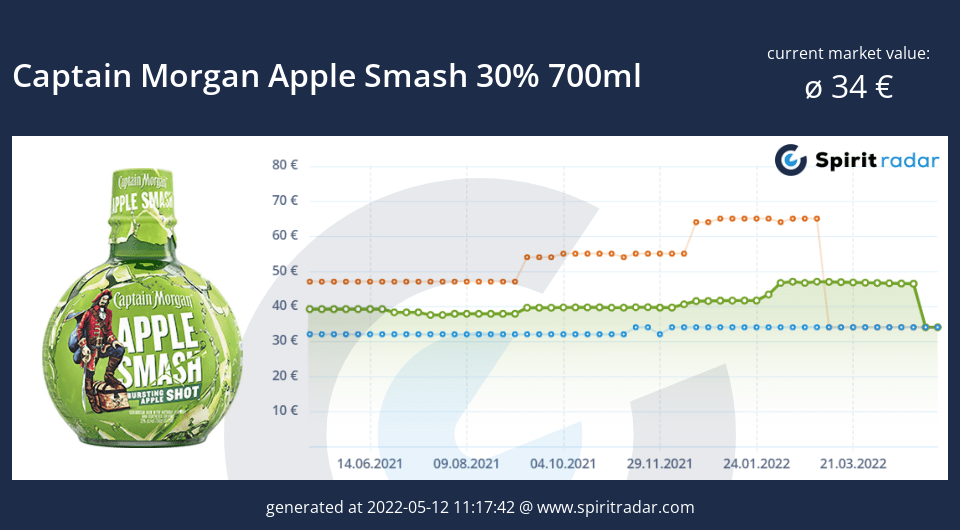 Captain Morgan Apple Smash amplifies the fun on every occasion. It's gluten-free, 60 proof shot bursts with green apple taste and comes in a scented, festive bottle. It's great alone or in a cocktail. You'll like the addition of a scratch and sniff bottle. The sweet and sour flavors complement each other. Captain Morgan Apple Smash combines Caribbean rum with a burst of green apple taste. Serve it as a mixed shot or in a pleasant cocktail with club soda. Scratch the label to smell the apple taste within. Moreover, the Apple Smash has a fantastic bright green color!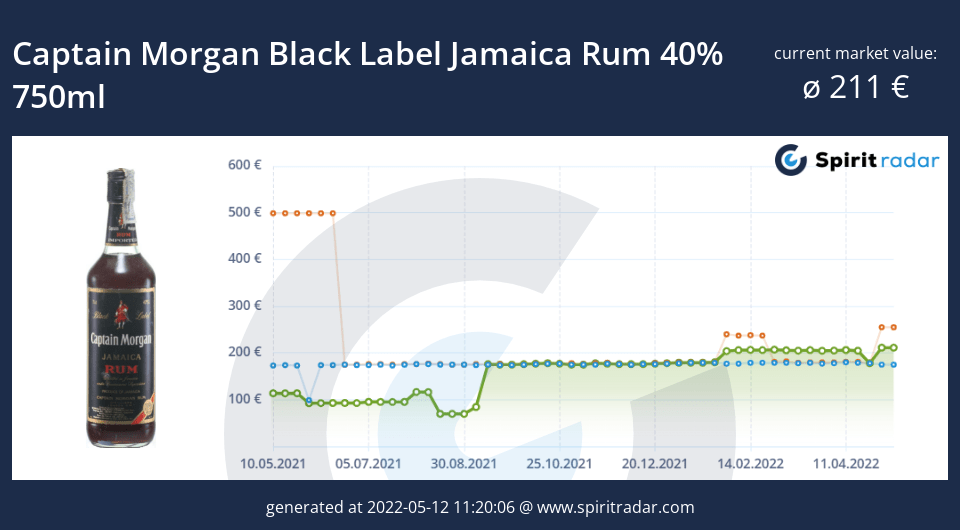 It's a rum that goes well alongside coke or ginger ale in a cocktail with ice and a lime slice.
The nose begins with a Jamaican rum's sugary and gourmand nature, with banana and a touch of resin. Several fragrance groups then follow each other in a disjointed manner: pepper, coconut, and orange appear to carry you to Barbados, while the soft woodiness and nuts lead you to Guyana. The plum as well as various dark fruit tannins, provide some interest, as does the somewhat dreadnought and metallic finish. The flavor is rich yet gritty, similar to a "Navy Rum".
The aeration softens the edges, while the caramel, molasses, and licorice ease the woodiness. You can have an unexpected note of cane juice or honey, which enhances the nose. It becomes more nuanced as it ages, containing spices, a vegetal side, and nuts that provide a somewhat oxidized aperitif wine aspect. The rum softens and becomes less harsh. The woodiness dissolves and extends into almonds and chocolate.
The introduction is gentle and exposes a delectable and delicious fruity flavor that had previously been hidden in the periphery. Next, molasses and wood combine in a smoky environment, leading to coffee and roasted almonds. These flavors stay mild and subtle until the toasted side takes over and swarms the taste senses; the same dark, roasted aromas linger on end, along with black coffee and charred almonds.
Rum bottles from Captain Morgan