Industrias Pampero, C.A. is a subsidiary of Diageo that produces rum in Venezuela. It was established in 1938 and manufactures a variety of rums, such as the white rum Pampero Blanco (used in cocktails), the aged rum Pampero Especial (a combination of dark Venezuelan rums matured for two years in oak barrels), and the matured rum Pampero Aniversario (placed in a brown leather pouch).
The primary markets for Pampero are Italy, Spain, and Venezuela. Its main manufacturing facility is based at "Complejo Licorero del Centro" in Ocumare, Miranda state, in the vicinity of the Tuy river basins.
"Ron Pampero" is commonly referred to by Venezuelans as "Caballito Frenao" (basically "Restrained Horse" but in this frame of reference "Rearing Horse"), in relevance to its famous brand logo, a cowboy sitting atop a rearing horse in the Venezuelan flatlands, a spectacle similar with that of the gaucho from the Argentine plains, or Pampas, and thus its title ("Pampero" simply means "from the Pampas", even though the Venezuelan lands are called Llanos).
Alejandro Hernández, the child of Dr. Amador Hernandez and Dolorita Hernandez of Juan Griego, Margarita, established Pampero in 1938.
The golden hue of older Pampero rums is the result of many years of maturation in oak barrels, the length of time dependent on the kind of rum.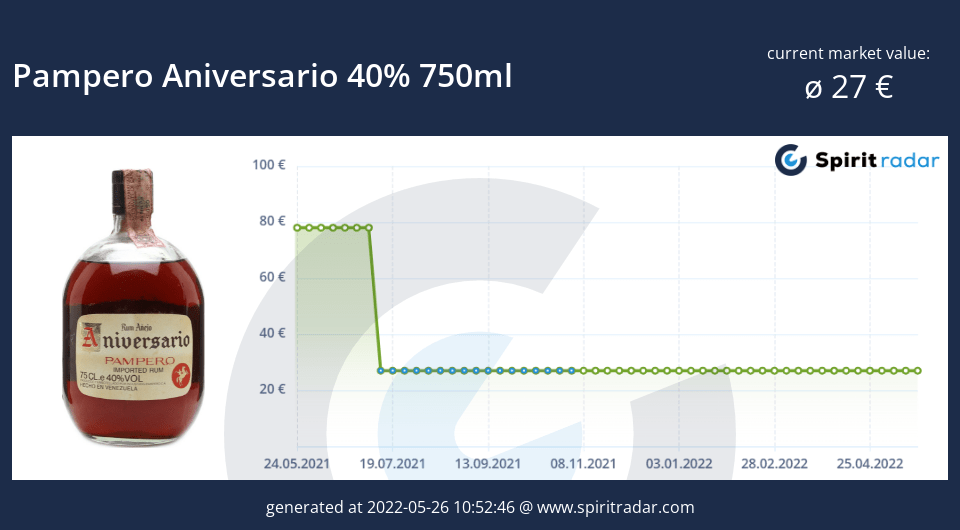 The Destilerías de Pampero, which was established in Caracas, Venezuela's capital, in 1938, is proud to produce Pampero Aniversario, their flagship liqueur. This gem was manufactured to symbolize the distillery's commemoration.
There are notes of caramel, raisins, vanilla, dark licorice, cinnamon, oak, and almonds in the Pampero Aniversario. Then, the whole sensation is completed with a touch of chocolate and fruit.
Rum from Venezuela, Pampero Aniversario, is a typical Spanish rum. Four to six years of rum maturation in oak casks go into making this mix. Considering the look, it's amber in color.
When smelled, caramel is the most prominent flavor. Wood, coconut, and chocolate are all included in a more subdued form. A mere 40% alcohol is enough to touch your nose lightly.
It has a delicate, velvety assault, and the notes of caramel, sauteed chocolate, and wood are consistent with those on the nose. Tobacco replaces the coconut as the dominant flavor.
There is a slight lingering of tobacco and a hint of vanilla in the aftertaste, which fades quickly. A superb, constant golden rum produced in Venezuela that's a real treat. The flavor is rich and delicious, and the taste lingers for a long time.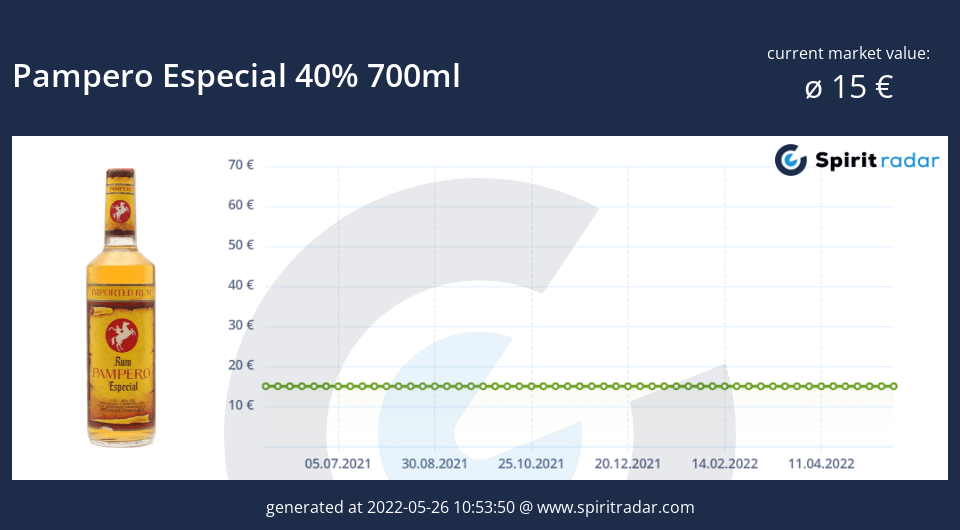 Pampero Especial is one of the famous brand's features. This fantastic rum from Venezuela is a real gem of its class, made entirely from the best sugar cane and robust components.
Its stellar reputation is well-deserved. Pampero Especial is known for its robust and hefty characteristics, which it acquires in oak casks. All credit goes to its maturation of two to five years time period.
This rum has an aroma of roasted bananas, vanilla, caramel, and fruits. The sweetness and overtones of butterscotch, toffee, and peanut butter complement its already pleasing flavor. The spice may be detected subtly until its full intensity emerges in the aftertaste with hints of oak wood.
Aside from its exceptional taste, one of its indisputable benefits is its ability to blend. Pampero Especial is an excellent partner if you like cocktails and lengthy beverages. The notes blend well with the various fillers. On the other hand, Connoisseurs like it as a tasting rum, so run your imagination wild.
It is dense and spiky on the nose, resembling nut paste smeared with maple syrup or molasses. The cask's wood appears to be highly toasted, giving off aromas of coal and a steely feeling of nutrients. This balance of fat and nutrients will quickly neutralize and restore equilibrium. Then the focus is on a lighter rum with caramel, vanilla, and some lovely spices.
The mouthfeel is round and rich, with a creamy vanilla caramel onslaught followed by a kiss of almonds that has the feel of soft nougat. The nuts are also very significant in the mouth. They're caramelized and nearly wholly coated in a chocolate coulis.
With delicious coffee, caramel, and chocolate, the finish maintains this tenderness and greed sense.
It's a very mellow rum for those who like to revel in a bit of luxury.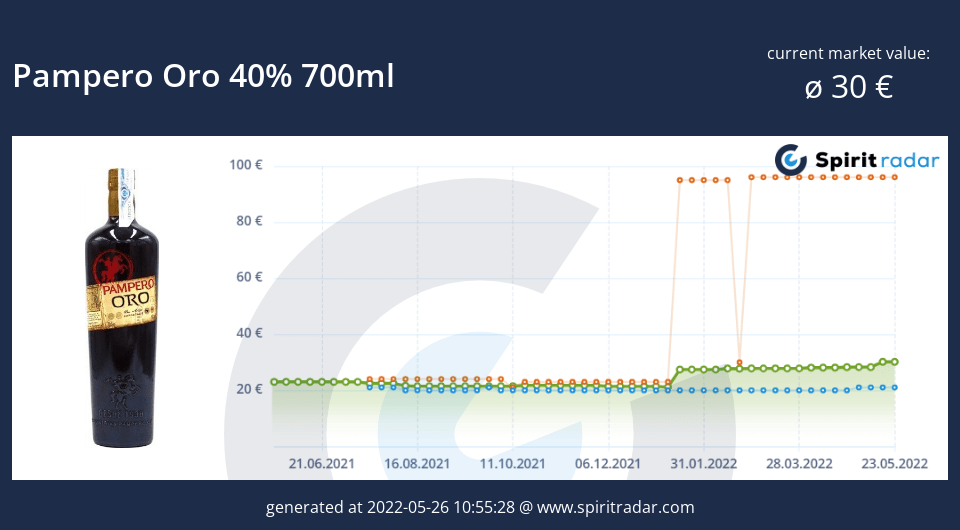 Pampero Oro's name is already a foretaste of what's to come. The tiny still distillation and oak cask aging give it an amber hue and overtones of wood and vanilla, making it an exclusive option for connoisseurs. Designed for mixing, this rum is aimed at the connoisseur who prefers excellence when sipping a drink. A smokey and woody perfume dominates at an early stage; then, it fades away to reveal a sweet and tangy aroma that lingers on the skin. Vanilla and tobacco notes are evident on the tongue, with a long, lingering finish.
Small copper still distillation and barrel refining give this rum its distinctive golden color and superb aromatic flavor finesse, making it suitable for sipping alone or adding to cocktails.
There are intense flavors of vanilla and white pepper as well as dried apricot and raisins in the aroma, with overtones of wood smoke and the toasty fragrance of coffee beans. The color is an exquisite golden yellow. Smooth, sensual, and sinuous in flavor, it embraces the palate with elegance and succulence while nailing it with an abundance of fruit and toasted allusions in a vacuum finish that lingers long on the palate.
Rum bottles from Pampero