That Boutique-y Rum Company is a British company established in 2021 by Atom Brands to bring the distillate enthusiasts of prey closer to a new level of knowledge. That Boutique-y is currently among the largest independent bottlers. The result of their rapid success is the fantastic ability to select the best barrels of rum purchased from the most prestigious distilleries. That Boutique-y Rum Company has a firm "No BS in rum" policy, and their continuous bottling makes no exception, in a signature blend.
Official website: thatboutiqueyrumcompany.com
Rum can be seen as an evocative spirit that transforms, transcends, and instantly transports the drinker to the sun-washed shores of the west indies. Moreover, it has a sense of glee due to its Caribbean origin.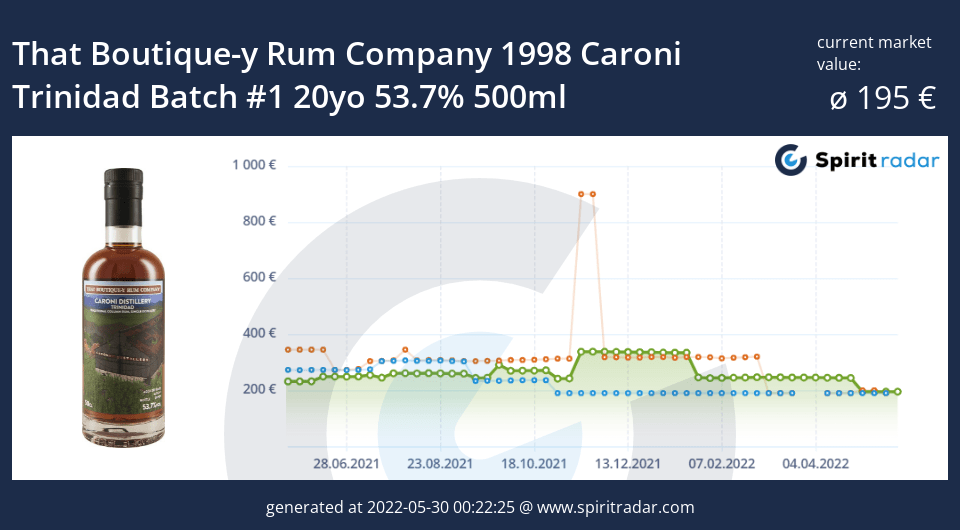 Caroni Trinidad is a 1998 rare vintage Rum from the closed distillery Caroni of the That Boutique-y Rum Company. It is a high-quality traditional column Rum with a lot of power, depth, and an excellent climate on site.
It also provides good storage conditions for the high quality of the extraordinary rum, bottled at a cask strength of 53.7%.
Caroni Trinidad, an excellent rum from That Boutique-y Rum Company, has a blend of Almond, hazelnut, and cocoa lead. Its oaky cigar box and floral vanilla add beautiful depth to the rum.
Caroni Trinidad has a thick and heavy palate that carries notes of sweet tobacco, rich molasses, and a little smoke against a butterfly biscuit base with a bit of pineapple juice. It has a bottle size of 500ml with a limited edition bottle series.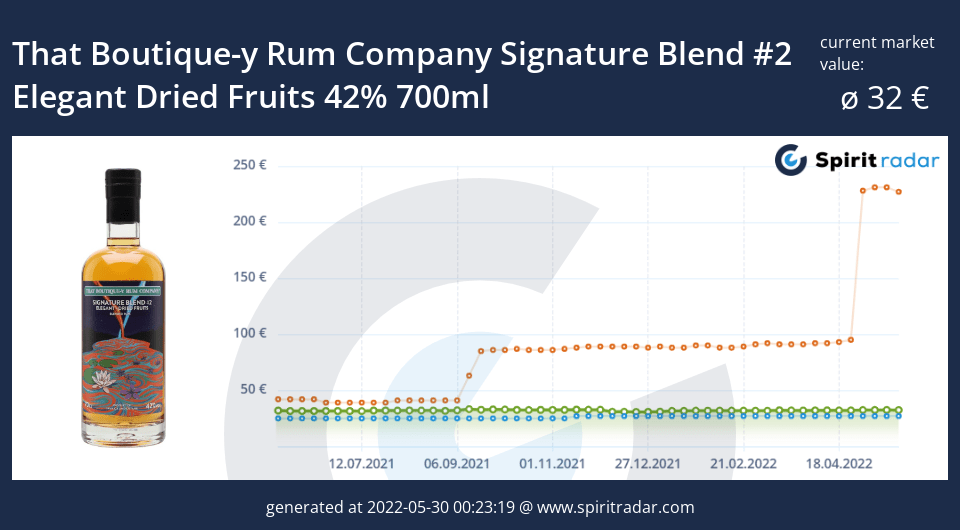 Signature Blend elegant dried fruit complements the delicious range of rum that forms the Boutique-y Rum range. The signature blend was developed by the floating Rum shack "Pete Holland" to create His dream Mai Tai cocktail.
The signature blend is a rich Guyana rum combined with heavier and funkier Jamaican rum to create a perfect combination. It is made of Ripe banana, dried raisins, dark chocolate, walnuts, caramel, molasses, nutmeg, ginger, papaya, and turmeric. It is a Jamaican-originated rum with a tea flavor, about 42% alcohol.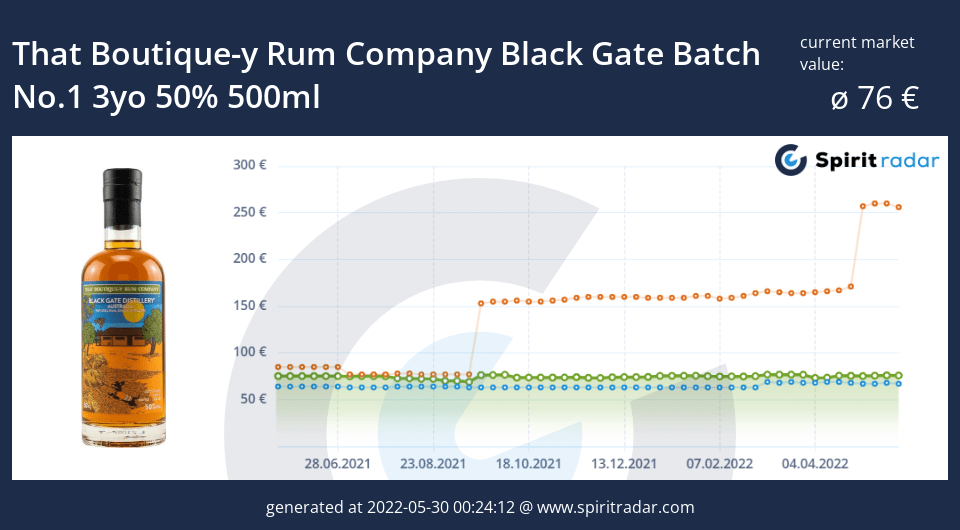 Black Gate Rum was established in 2009 by Brian Hollingworth and Genise Hollingworth in Mendooran, New South Wales, Australia. That Boutique-y Rum Company Black Gate is molasses-based, fermented for up to 2 weeks, pot steel distilled, and aged for 3years in 100litres Tawny(port)casks.
Due to That Boutique-y Rum Company policy, the rum is free from additives. Instead, it feels sweet and savory due to the ingredients that make up the smell, including Toffee, walnut, salted peanut butter, ginger biscuits, canned peaches, and pink grapefruit zest.
The black gate profile changed slightly on the palate compared to the nose. It has the ingredients of plums, smoked almonds, cocoa nibs, maple syrup, and toffee sweets. It's sweet and smoky.
On the palate, it's more reminiscent of a mild Hampden. The finish is long with black olives, smoke, and cocoa butter. The black gate is an Australian-originated rum with 50% alcohol and 500l liquid volume.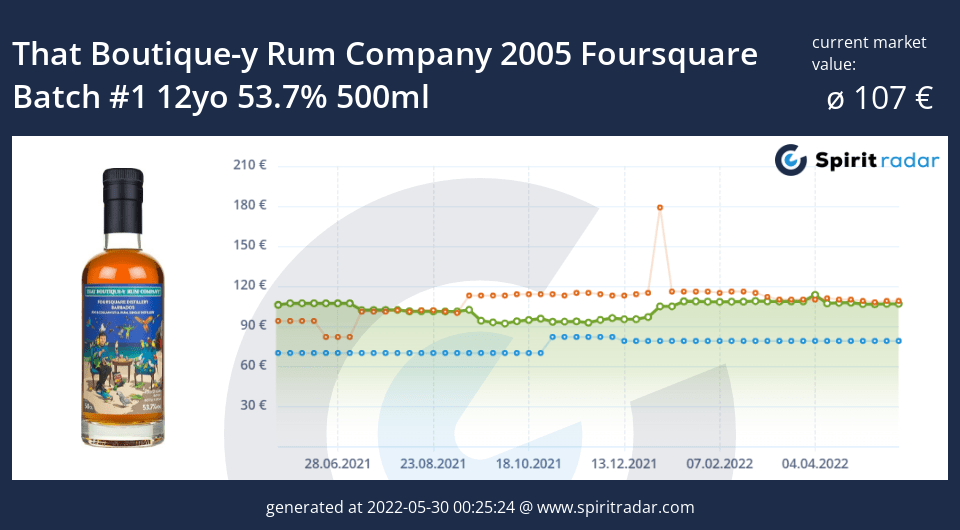 The Foursquare Rum was created in 1996 under the Will of the Seale family, established in the southeast of the island of Barbados. Foursquare is one of the youngest rum in the Caribbean, and its youth also gives it the status of one of the technologically advanced rums in the world. The distillations are made in a double-column with 40 trays or a magnificent still of a double transfer pot steel styled, equipped with a small column. The distillate of columns and the steel pot blended directly in barrels are one of the features of the Foursquare rum.
Although very recent in its formation, it is the fruit of a rum purist (Richard Seale) and therefore does not tolerate any addition to its raw material. As a result, the fruit of the work results in high-quality rum. The Foursquare rum is a Barbados-originated rum with 53.7% alcohol and 500ml liquid volume.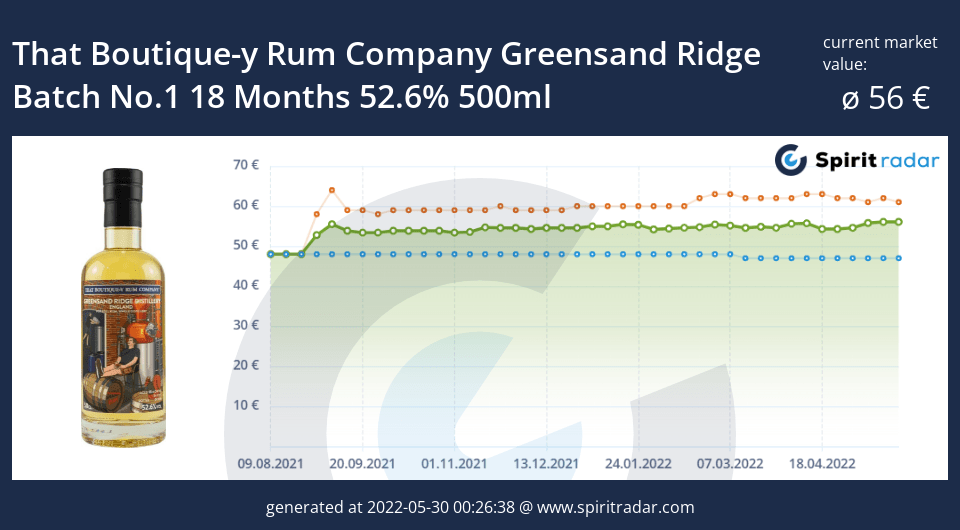 Greensand Ridge Distillery is a micro-distillery that focuses on gins, fruit, brandies, and rum.
Greensand Ridge is named after the hills surrounding the Weald, commonly known as Greensand Ridge or Wealden greensand. That Boutique-y Rum Company Greensand ridge batch 1 is a 100% pot steel rum. Greensand has been aged for 18months in an ex-apple brandy cask.
It has an alcohol volume of 52.60%, and upon release, there were just 444 bottles available. Greensand has a bottle size of 500ml. It is a very light-colored spirit, white/very light straw. It has the nose of molasses and caramel. It is quite sweet and, at the same time, savory.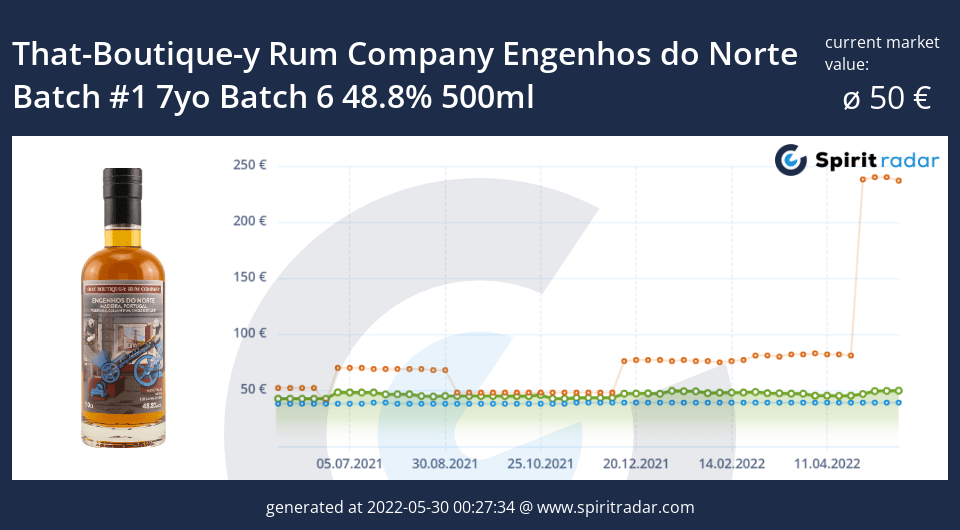 The Engenho's Do Norte Rum is a product of That Boutique-y Rum Company located in Madeira; an island considered part of Portugal. The rum is derived from cane and run through a crusher powered by a steam engine.
Fermented for about 4-5 days, passed through columnar barbet steel, and then left to age in French oak barrels. Engenhos has an alcohol level of 48.8% and a 500ml bottle size. It has a mild aroma, good solid heat, and a sweet smell of soda, coca-cola, and strawberries. There is a trace of coffee and rye bread and an excellent fruity background of apples, green grapes, yellow mangoes, and kiwi fruit. It has an initial dry and peppery taste. It tastes of marshmallows and tart white fruit like guavas, Thai mangoes, unripe pears, papaya, watermelon, and pineapple.
Rum bottles from That Boutique-y Rum Company