As we promised last month, today we are launching the next category, whisky, today. After logging into the app, you will find more than 40,000 whisky bottles. In total, we now have nearly 1 million offers and auctions just for whisky. The first offer dates back to 2011. We monitor more than 1,300 online stores and we discover thousands of new and exciting offers in stock every day. Be among the first to know when a new bottle becomes available!

Since the launch of SpiritRadar.com in September 2021, we have increased the number of bottles from a few thousand to over 50,000 bottles. And we're definitely not stopping there.
Whiskies are available without additional charge to anyone with an active subscription or an active trial. If you tried the application in the past and would like to try it again, just contact us via chat in the app and we will give you another 14 days of free trial, without any commitments.
Selecting a Spirit Category
After logging into the app, you can choose which bottle categories you want to have visible. This feature is intended for users who, for example, do not wish to see whisky or rum bottles.
You can adjust the categories you want to see in your default listing in your account settings.

A new "Category" filter has been added (Inbox, All Bottles, Shopping Tips, and more). This allows you to quickly filter out only rums, for example.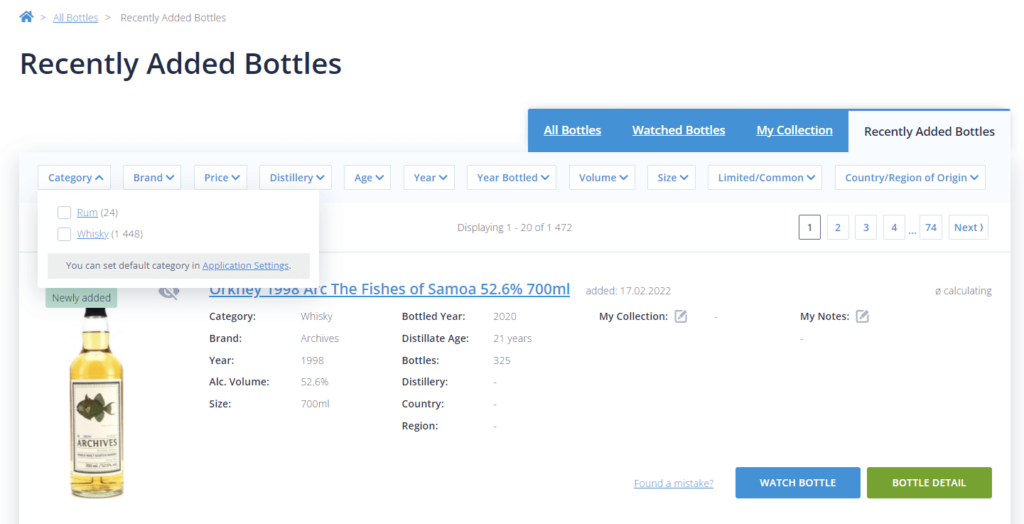 Of course, we know we don't have all the whiskies that exist and will be working on adding new bottles in the coming months. If you know about any bottles that shouldn't miss in our database, please help us by filling the reporting form in the All bottles section.