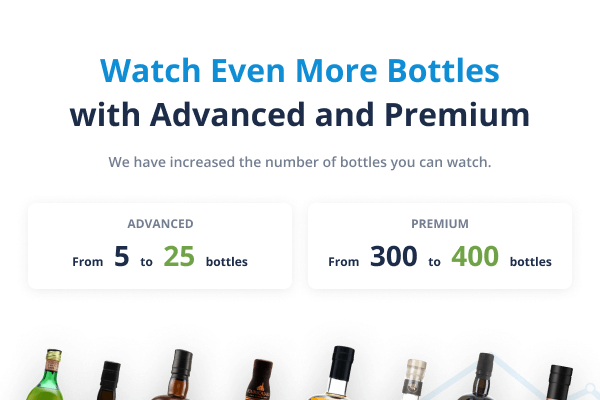 Great news! We have increased the number of bottles you can watch. Starting today, you can watch up to 25 bottles with the Advanced subscription and 400 bottles with Premium. Pricing stays the same.
The new limit is available to everyone with Advanced or Premium subscriptions. If you are still on Basic, consider upgrading to unlock the full potential of Spirit Radar.
Watching bottles is a powerful feature. Spirit Radar collects offers and auctions from more than 1 400 sites in one place. When we find a bottle from your watch list in stock, we will send you an e-mail. We check every site multiple times a day, the hottest bottles even every few minutes. Don't miss new releases and good deals!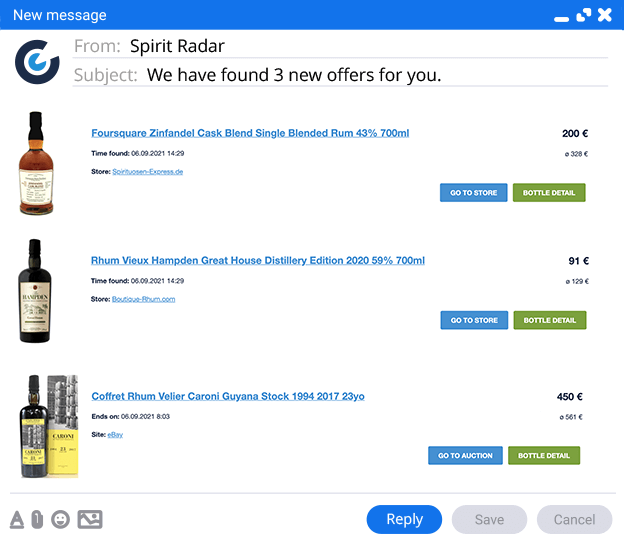 The previous limit is no longer enough. New releases come every week, and we have added more than 45 000 whisky bottles to our database.
We believe 25 bottles will fit most users, whether you hunt older bottles or wait for the next bottle in your favourite series. Premium users can now watch 400 bottles. These extra bottles are handy when hunting for an entire series or brands.
Hopefully you appreciate the changes in subscription plans. If you like Spirit Radar, share the news with your friends and fellow collectors. They might benefit from these changes as well.
We wish you a great summer and even better deals!
Spirit Radar team
Frequently Asked Questions
I have the Advanced or the Premium subscription. What do I need to do to watch more bottles?
Nothing. We have increased the limit for everyone.
Do you plan to increase the price?
No, we will do our best to keep the current prices.