Botucal Distillery is situated in Venezuela at the bottom of the Andes, where the cleanest water enables the company to manufacture the greatest rum. The site was carefully selected not only because of its closeness to the territory's main sugar plants. Botucal is an alternative brand of Diplomático in Germany due to a legal dispute over the Diplomatico name.
Don Juan Meléndez (commonly called "Don Juancho"), the gentleman who inspired Botucal's invention, liked to tour the region as a native aristocrat, zealously looking for raw resources, spices, and processes that gave rum and various traditional drinks their unique flavour. He was a firm believer in delving into the finer points and more intricate difficulties that might impact rum manufacturing. He also placed a high value on environmental preservation.
Official website: botucalrum.com
Don Juancho's face appears on Ron Botucal Rum Still, since the brand embodies most of the ideals and passions he was renowned for.
Licoreras Unidas SA (LUSA) was created in 1959 and served as the distillery's proprietor via its principal stakeholder Seagram's International, one of several world's leading wine and alcohol corporations.
LUSA was disposed of to a syndicate of Venezuelan businessmen in 2002, establishing a 100% private Venezuelan corporation known as Destileras Unidas SA (DUSA).
The distillery distinguishes itself from the competition by using three different distillation techniques. When the concentration is mixed, they produce unparalleled mixtures like the world-famous "Reserva Exclusiva" rum.
DUSA uses up to 10 sugarcane types, although Romana, Venezuela, and Canal Point are the most popular. Botucal also helps 'Fundacaa Venezuela', a non-profit committed to the nation's growth and research. The term 'Diplomatica' was given to a new kind of sugar cane following 10 years of study and experimentation.
Molasses and sugar cane syrup are used to make Botucal Rum; Molasses is required to make light rums, while Sugar Cane Honey is utilized to make more nuanced rums. As a result, the distillery obtains molasses with added sugar but minimal ash and stickiness.
DUSA creates its very own yeast strains, which are utilized to transform sugar into alcohol all through fermentation. Light rums made from molasses usually take at least a day to mature, but moderate and intricate rums produced from sugar cane juice can take about two days.
Botucal Rum is produced in various methods, each with particular regard to precision. They employ numerous stills for constant light rum extraction, a boiler kettle for mild rums, and copper stills for highly complicated rums, among many other factors.
The stills mentioned before are used to warm the alcohol generated after fermentation. That is how they distinguish between the multiple elements. Finally, the fresh spirit is made by condensing the evaporated alcohol.
This procedure allows for alcohol filtration and is crucial in determining the flavor and quality of a particular Botucal Rum.
Botucal Rum can be aged in various barrels, including ex-bourbon barrels and standard malt whiskey barrels. In addition, single Vintage Rum and Ambassador Rum are also matured in unique Pedro Ximenez and Oloroso sherry barrels. These two outstanding bottlings profit from the notion that the liquor is returned to the barrels after mixing (the union of the distillates) for optimum finishing.
Tito Cordero, Maestro Ronero, and his crew mix fully mature distillates from various distillation procedures and barrel varieties after preservation; this is how one-of-a-kind, fine rums are made. The Maestro Ronero is in charge of making extraordinary rums that are balanced, harmonious, delicious, and aromatic. As a result, he keeps an eye on all stages of the production process.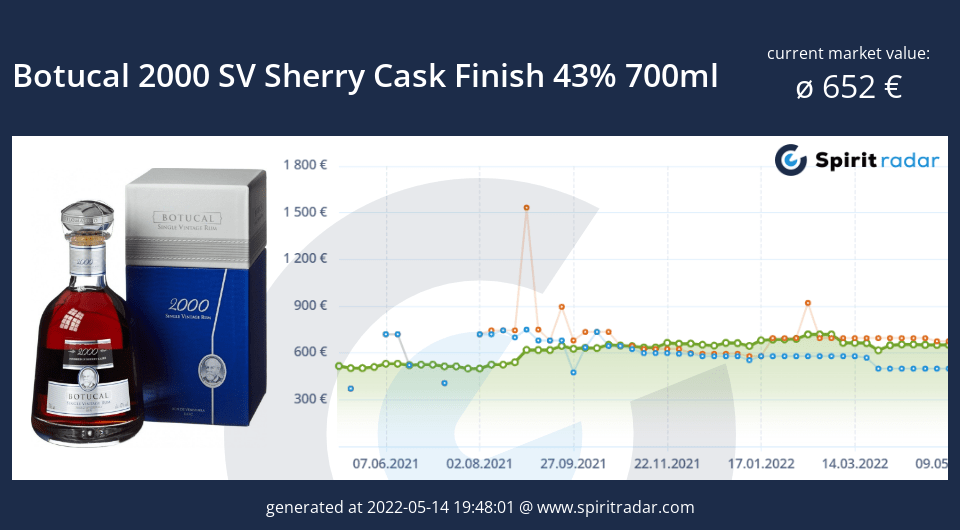 Diplomatico is a widely reputable rum that, in certain countries, is branded as Botucal owing to licensing agreements. However, this is one of a few single editions that have been finished inside sherry barrels. The base for this rum is molasses, and it has an incredible alcohol strength of 43%. The official packing region of Botucal 2000 SV Sherry Cask Finish is Venezuela.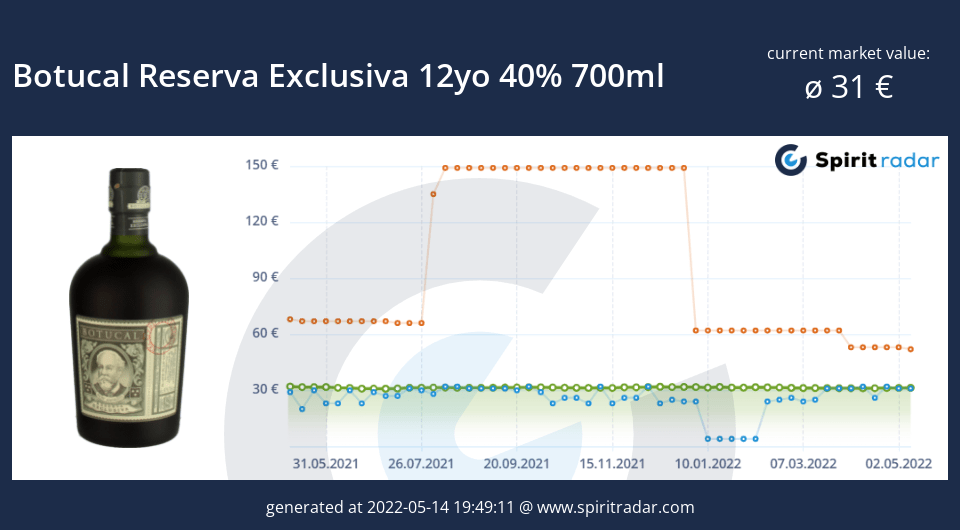 A fantastic Venezuelan murky golden rum made from molasses and matured for nearly 12 years in a copper kettle. You will like it because it has every pinch of rich, sugary, and fruity notes. Botucal Reserva Exclusiva has won over 20 honors, making it one of the most prestigious rums. This rum has a rich, warm smell with incredibly rich flavors of toffee. A tiny tingling alcohol, honey notes, undertones of copper, and very faint banana fragrances are all present. Botucal Reserva Exclusiva has a silky texture that covers your tongue well and is relatively smooth and round. You can feel the presence of toffee, honey, and undertones of oak and cognac-like sweetness. The palate has rich aromas of coffee and caramel, and the finish is pleasant and sweet. It's somewhat nutty and honeyed, with a hint of tobacco in the base of the throat and tongue.
Botucal Reserva Exclusiva is a delightful and straightforward sipper for individuals who wish to relax and unwind without having their palates stretched. Reserva Exclusiva would also go nicely with dessert.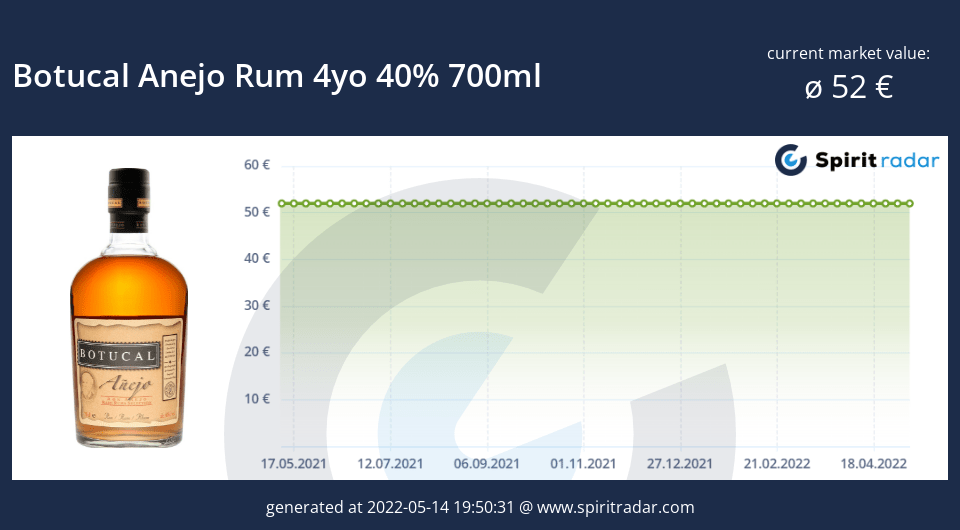 Botucal Anejo is a column-still produced and bottled 4 year rum from Venezuela. This luscious but not overpowering rum has scents of brown sugar, chocolate, coffee, raisins, caramel, and wood. Botucal Anejo rum has received several awards throughout the years, including a Double Gold Medal at the famous San Francisco World Spirits Competition in both 2007 and 2011.
Rum bottles from Botucal