The Depaz distillery is the only one to have been renovated and put into operation following the terrible volcano eruption on May 8, 1902. It is in a splendid location on the hillsides of the Mont Pélée volcano (Martinique Island), with a spectacular view of the Caribbean sea and the area of Saint Pierre.
Victor Depaz, the only surviving member of the family and a student in Paris at the time of the disaster, decided in 1917, against everyone else's desire, to purchase the 521 hectares of the "Montagne" and reestablish a distillery on the barren areas that had been devastated just fifteen years before the volcanic eruption. It is the only distillery constructed on the mountain, which is a big task!
Official website: depaz.fr
Today's plantation, which guarantees a variety of distinctive terroirs in Martinique, spans 400 hectares of ground on volcanic soil. Depaz uses a conventional French-style Creole column for distillation and keeps 5,400 barrels of aged whiskey in its cellars, along with eight 1,000-liter and three 4,000-liter foils made of Charente forest wood.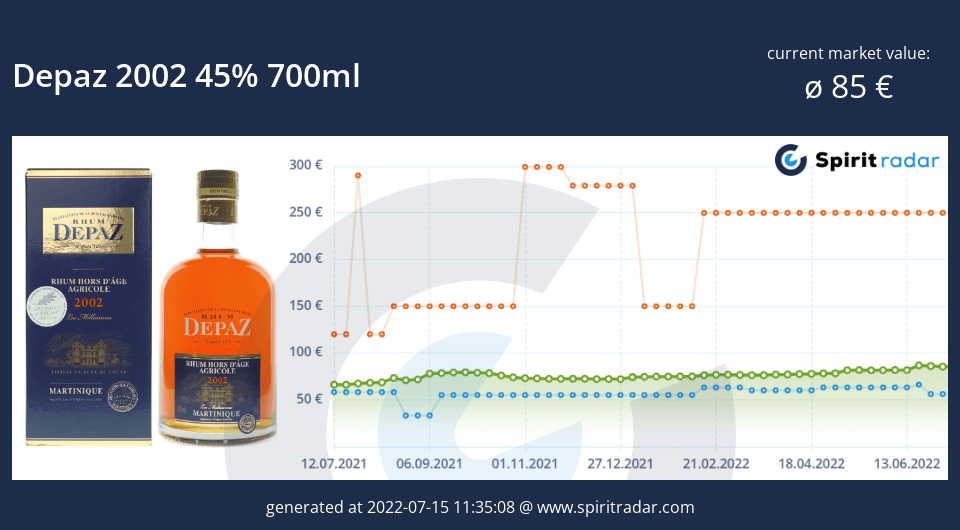 Depaz Vintage 2002 is matured in very tiny oak barrels for at least 11 years. A distinct palate brimming with scents is the end product. The scent of aged rum is deep and rich. Spices, roasted dried fruits, vanilla coffee and pastry, chocolate, rich cocoa, rose and violet jam are all present on the nose. Exceptionally superb aged rum that produces strong but well-balanced scents. Prawns that have been grilled with vanilla and garnished with a plantain mousseline pair wonderfully with the subtly spicy flavors of Depaz Vintage 2002. It is also a very delectable addition to vegetarian chilies presented with a dab of olive oil or spiced tuna tartare.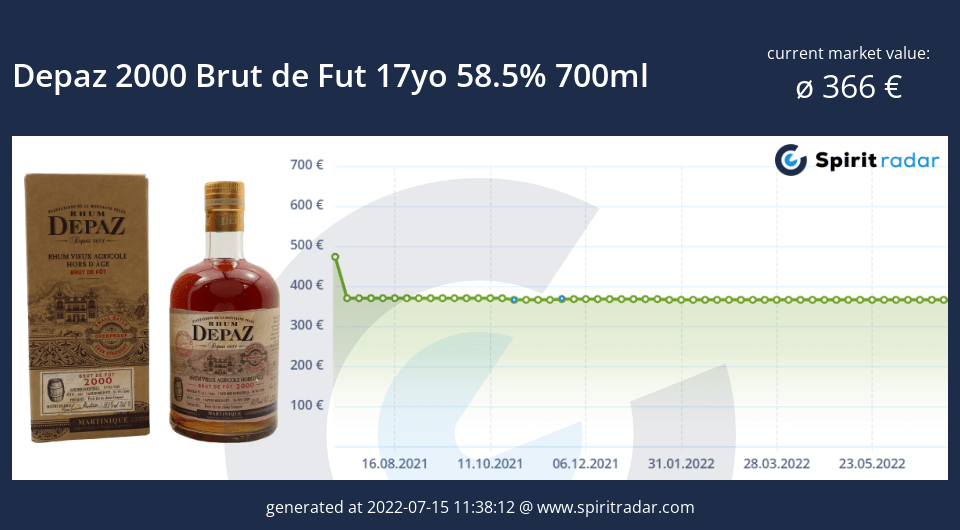 This Depaz vintage was produced in 2000 (an exceptionally warm year in Martinique) and afterward matured on-site in a tiny French oak cask for nearly 17 years. It was packaged "brut de fût," meaning "without water and filtration." A total of 980 bottles were made.
The initial sniff is strong and overpowering, beginning with a dense nut mixture. It requires time to appreciate all of the subtleties of this rum since its intricacy and dynamism emit an abundance of smells. The spice and Indian wood inject a wild spirit, and the wood is in excellent condition. This delicate woodiness is polished with encaustic, intensifying the sense of concentration while also introducing a more vegetable element that returns you to the cane.
The aeration provides this farmland rum a virtually Jamaican breeze, with a little volatile and incredibly luscious exotic flavors that would begin to generate an acidic fermentation. The toasted, waxed woodiness is firm and vibrant; the fresh fruit is still vigorous; agricultural rums seldom sustain such strength. Time transports you back to the lemon-scented cane that has been dried for the occasion.
The attack is straightforward and sweet, with an unexpected freshness. This rum is unquestionably complete. The fruit stretches out on the mouth for a minute, dry mango, aged apricot, brandied cherries, and then a bit of a quaint apple. The wood's tannins thicken in the tongue, and the spices become sharp, focusing all concentration on the roasted oak and its rich threads of years of the forest, soil, and rain.
The finish is lengthy and agricultural, with a cane that is nearly bare, vegetal, and faintly minty. It's easy to forget you're drinking old rum.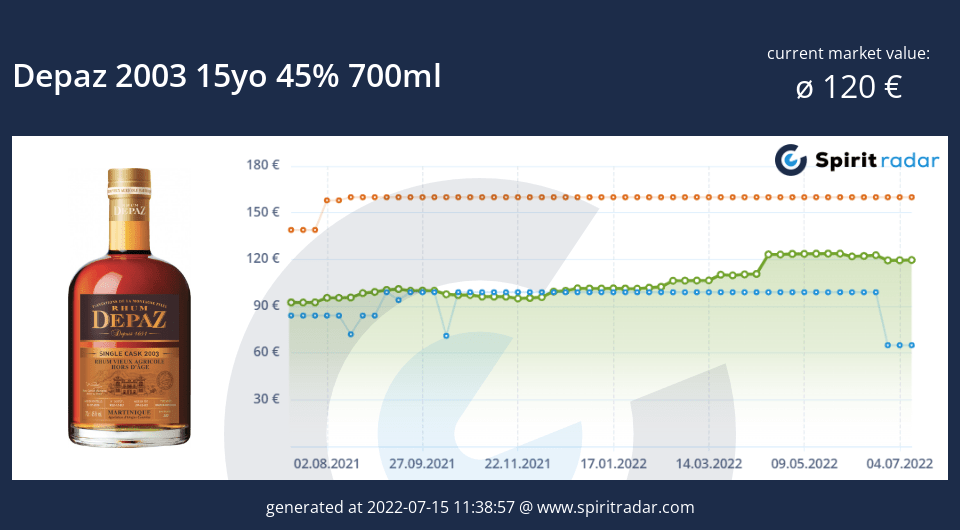 Depaz's 2003 vintage has been matured in a tiny French oak barrel for nearly 13 years. It's a single cask, which indicates it was matured in just one barrel. A total of 1015 bottles were made.
Depaz recommends pairing this 2003 Single Cask with a piece of dark chocolate.
You are instantly confronted with a wonderful agricultural rum on the nose. The textures are soft and delicate, with a subtle spice scent. The nuts also are liquefied, and they combine with oak notes. The luscious fruits take you to an exotic grocery store, where they are put in a beautiful, restrained, and exquisite arrangement. The sensation of originality and ripeness deepens with time. The woodiness is brilliant and waxed at first, then mellow and heavy. The nuts are gradually infused, and you enjoy noticing the nose change.
Aeration brings the wood to the spotlight, dry and polished. The nuts are perfectly melted, and so are the red and yellow fruits, which are somewhat jammy but not thoroughly mashed or gooey. The cane finds a position, is well maintained, and has citrus flavors that eventually grow into zest. The charred and smokey wood will provide the balance. With its vesou (sugar cane juice) aromas, time will build a delicate and tight nose, complex yet primary.
The taste is relatively standard. The nuts haven't yet split from the wood but somehow create a delicate harmony with the cane after some pineapple and lemon juice. With tannins and melting nuts hovering in an exotic fluff, this palate performs a traditional old farm rum tune.
The wood and bolts held up well in the finish. They strongly dominate the taste until the conclusion, bringing some great flavors.
Rum bottles from Depaz