Antigua Distillery, a business with a distillery headquartered in Antigua, a tiny Caribbean island, is the owner of the English Harbour rum brand. High-quality rums made entirely of organic ingredients are produced by Antigua Distillery Ltd.
Official website: antiguadistillery.com
This 1933-built distillery is home to a French Savalle copper still with four columns. This still was replaced in 1991 by another, this one from England (John Dore & Co., but still constructed of copper), which initially had three columns, to which two more were added when they came. The distillery is adamant that these columns continue to be made of copper because, more than stainless steel, the interaction of this metal with the alcohol results in rum that becomes rounder with age.
The distillery skillfully combines old techniques with contemporary technologies for the most fantastic rum production.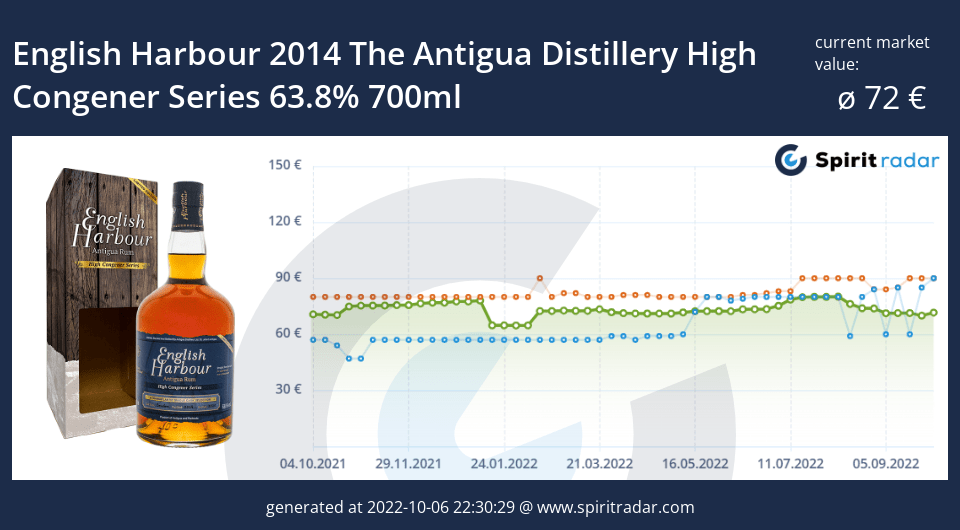 The Antigua Distillery hopes to demonstrate what authentic rum is to devoted rum drinkers with the English Harbour Congener Series. It is fresh out of the barrel. Molasses from the factory's own sugar serve as the foundation. The distillate has a 63.8% vol. and has been matured for a minimum of five years in ex-bourbon casks that have been meticulously chosen. As a result, the rum has an exceptional full-body taste and a rigorous, powerful scent that gives it a recognizable structure due to the high proportion of congeners.
Sharp ethanol greets you on the nose. After that, solid and lingering smells of caramel, vanilla, cinnamon syrup, and honey emerge. Almond, toffee, and marzipan odors are perceptible below and between them. Finally, you smell mild citrus fragrances while choking on the strong ethanol—bits of kumquat, tangerine oranges, jackfruit, dry lemon peel, and cascara tea spring up.
A celebration of sweets fills up your mouth. You may taste more subtleties since the ethanol isn't as intense here as it is on the nose. Medium notes of almonds, marzipan, caramel, toffee, butterscotch, honey, muscovado sugar, vanilla, and cinnamon syrup are also present. Oddly, a quick ethanol bite follows. Orange zest and a tannic flavor are present in the finish.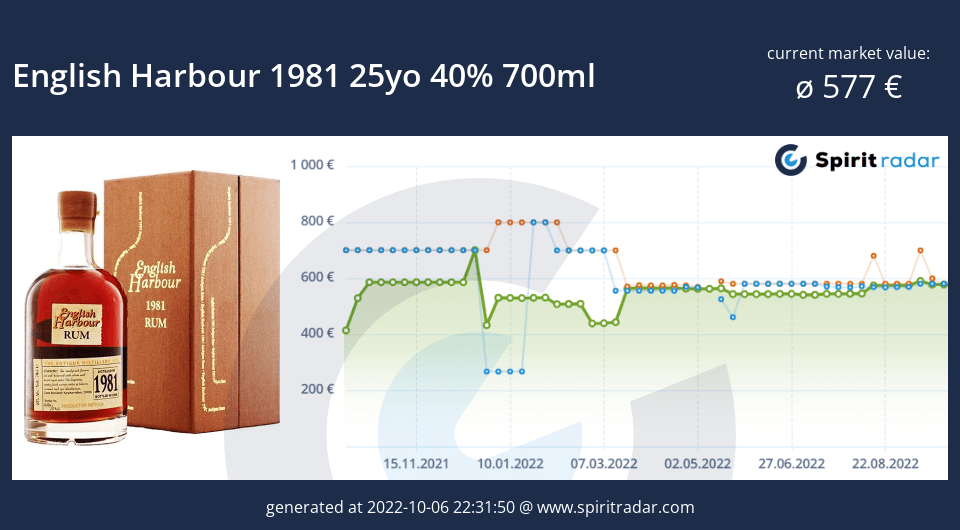 The Antigua Distillery produced English Harbour in 1981 from fermented molasses, and it was bottled in 2006. The 25 years it spent aging in old whiskey and bourbon barrels pay off in the complex aroma and flavor. A wax-sealed cork keeps in the copper and dark cedar hues, and a whiff reveals a soft, smokey wood aroma accompanied by black cherry and currants. There's enough dry wood, caramelized black fruit, and burnt cashew in the first taste that doesn't disappoint you. However, you won't find the slightest bit of a bite to it as it goes down. Smoky oak dominates the finish, but cinnamon and nutmeg provide a nice counterpoint. It tastes like Hagen-Dasz caramel ice cream but in liquid form. Only 5712 bottles of this unique rum were produced.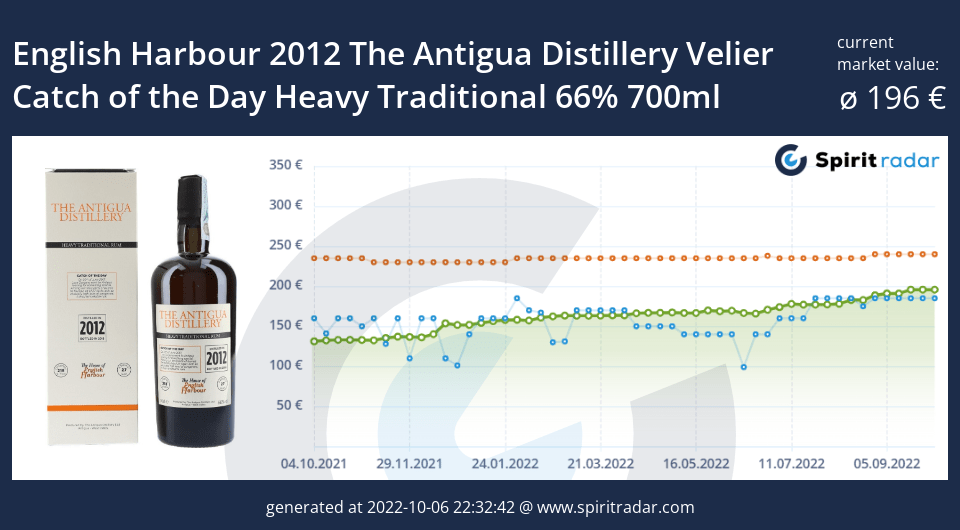 This rum was distilled in 2012. It was matured in ex-Bourbon barrels. The exact age is unknown. However, given that it was bottled in 2018, it likely spent between five and six years aging in Antigua.
According to the proposed rum classification system developed by Richard Seale and Luca Gargano, this would be classified as a "Rum" — Rum produced using a conventional column still. In this case, though, Luca has taken it a step further, legally labeling the rum as "Heavy Rum" because of its exceptionally high levels of congeners.
Featuring the tale of Luca's invention of this rum and the congener levels, the cream-colored outer box has Velier's signature presentation.
The inside bottle is recognizable to Velier drinkers since it is almost tinted black glass with a dumpy little design. The label is consistent with the packaging, but it additionally contains the distillation year (2012), bottling year (2018), and alcohol by volume (66%). A genuine cork shell protects the contents.
The rum appears medium to rich amber in the glass, suggesting the use of caramel coloring. If you move the rum around in the glass, you'll see that it forms fine, speckled legs that fall extremely slowly and look almost oily. However, it's not overwhelming, despite being 66%. Though not exceptionally intricate, it has dried fruits, orange peel, mild citrus, and maple-glazed bananas.
The initial introduction, like the nose, masks the actual alcohol content of this rum. It's smooth and creamy, with subtle hints of pepper and orange peel sweetness. It has a sugary aftertaste without being too sticky or overpowering.
The rum excites the taste receptors in the center of the tongue. The peppery flavor comes through after a few sips, mainly when you drink it straight. This is not cloyingly sweet despite having a nose reminiscent of maple syrup and bananas. Its flavor character shifts back and forth between sweet and dry. Initially sweet, with a trace of maple syrup, then somewhat bitter, oaky notes, balanced by peppery, vanilla, and other spicy undertones.
The pleasant aftertaste of this rum lasts long after it has been swallowed. The pepper's stimulating heat goes well alongside the maple and oak. Yet, despite its potency, it manages to maintain a silky texture.
Rum bottles from English Harbour