Lamb's Navy Rum is a Caribbean rum famous in the UK and Canada. It is made from sugar cane. Lamb's is a high-end rum that tastes buttery smooth, clean, and unique. The recipe for Lamb's comes from the home of Alfred Lamb and goes all the way down to 1849.
Official website: lambsrum.com
Alfred Lamb has been making the best-tasting rums since 1849. He is known as "the name for rum", which means that other rums try to reach his level of quality. At a time when most rums were made by roughly squeezing sugar beets, Alfred struggled to make his rum known as a pure spirit made from sugar cane. Today, Lamb's is still made with real Demerara rum, which gives it a smooth, mild taste.
In 1849, Lamb's Navy Rum was made by blending 18 distinctive rums from Barbados, Guyana, Jamaica, and Trinidad. At that time, Alfred Lamb was 22 years old and from London, the son of a wine and spirits merchant named William Lamb. Alfred Lamb & Son was to be the name of his business.
The word "navy rum" comes from the time when the Royal Navy gave rum to their sailors every day. The Navy used to provide their sailors with French brandy, but when they took over Jamaica in 1655, it got access to rum, which was used right away. So in 1970, when the British Navy decided to stop giving their sailors rum daily, the brand came up with the advertising slogan "Join the Lamb's Navy."
During World War II, Alfred Lamb & Son had to leave its building on Great Tower Street in London because it was bombed. White Keeling Rum Merchants, a business that competed with it, was also bombed out of its building. Portal, Dingwall & Norris helped them both by allowing them into its building at 40 Eastcheap, London. This led the three companies to consolidate in 1946 to establish United Rum Merchants.
Corby Distilleries, a Canadian company, made a deal with United Rum Merchants in 1952 to pack the product line under license in Canada.
In 1984, Lamb's joined Allied Lyons. In 2005, the French drinks giant Pernod Ricard bought Allied Lyons (Allied Domecq). Pernod Ricard agreed to dispose of some of its brands to come to an accord. Lamb's was bought by Corby Distilleries and turned into a Pernod Ricard partner when it bought Allied Domecq.
Corby Distilleries puts Lamb's in bottles in Canada for sales in North America. Outside of North America, Halewood International in England bottles it and sends it to Europe, Africa, and Asia.
The six-sided hexagonal Lamb's bottle is very different and well-known all over Canada. The story goes that Alfred put his rum in bottles with the identical shape as the ones used today so that they wouldn't slide from the table of a ship and could be stored by laying them on their sides.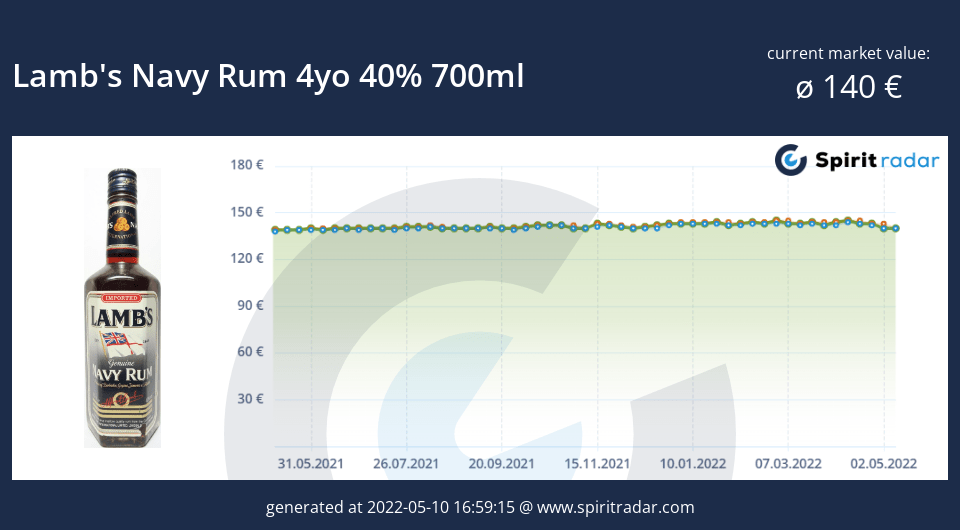 Lamb's Navy Rum was influenced by the rum provided to British navy ships until 1970 and bore 300 years of heritage. Long-drink cocktails can be made using Lamb's Navy Rum.
Lamb's Navy Rum has an amber hue with crimson undertones as seen with the naked eye. The smell of the rum is heavy and rich, with hints of caramel, vanilla, and cherry. It is one of the few that sticks out in a world where originality is praised, it is authentic, no-nonsense, and an utter joy to drink. It's a drink of real British character, both in its history and its current flavor.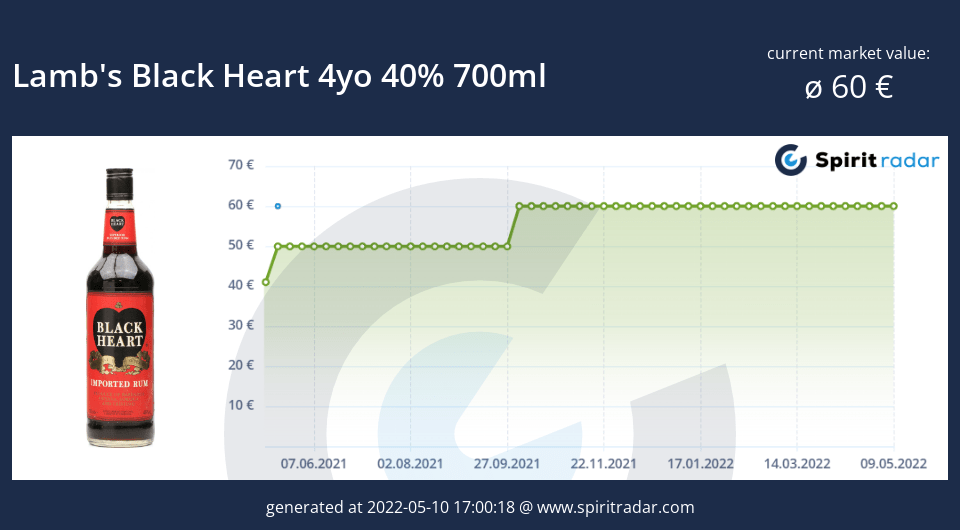 Black Heart is a popular dark rum made by Lamb's in Scotland. It is a blend of rums from locations such as Barbados, Guyana, Jamaica, and Trinidad. Black heart has a strong and powerful taste, with a sugary finish. It has strong aromas of molasses, honey, and chocolate. The color of Black Heart is very intense.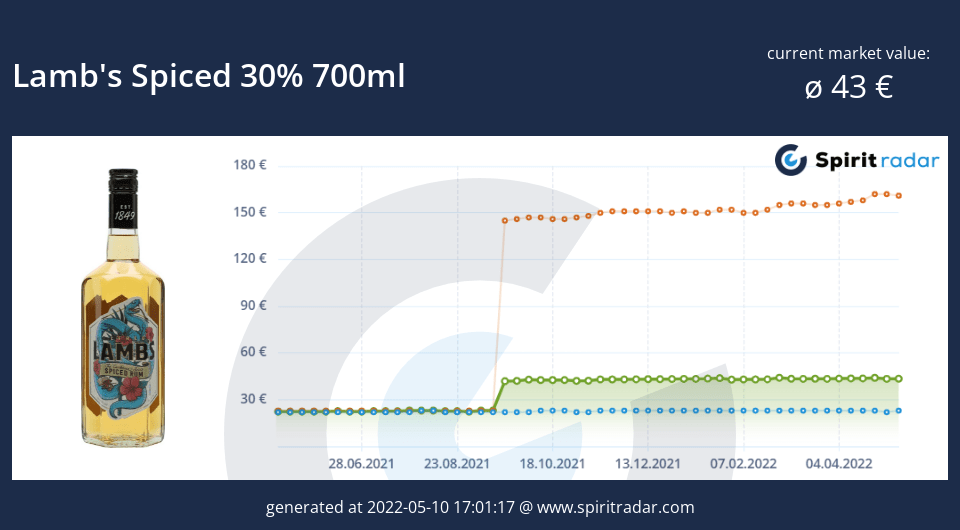 Lamb's Spiced Rum is a mix of 18 rums from Barbados, Jamaica, Trinidad, and Guyana that have been enhanced with natural spices and herbals. Demerara sugar is used to make it taste pleasant. It tastes warm and persisting, with a punch of sweet vanilla and a taste of caramel. The vanilla, cinnamon, and nutmeg flavors you know and love are all there, and they are made even better by remarks of delicious fruit and indications of lavender. This Lamb's Spiced Rum is round and creamy, and the strong spice makes it unforgettable and tasty. It is a rum essence that tastes best on its own with a glass of ice or in a long drink.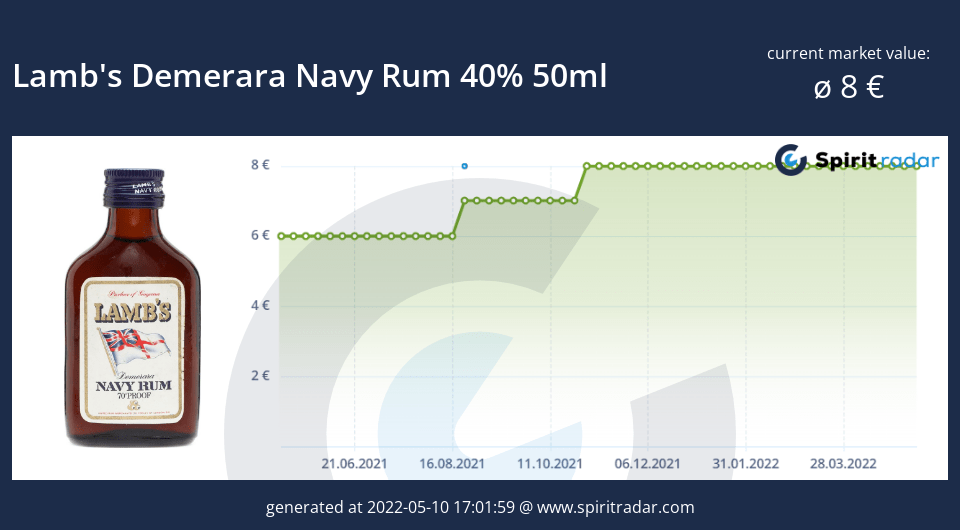 Dark, rich, and made with molasses, this rum smells like caramel, fudge, lemongrass, licorice, citrus, dates, tobacco leaves, and green grapes. It also has sawdust and pencil shavings in it. It's fresh, somber in colour, rich, thick, and the standard strength gives it a fantastic mouthfeel. It hits you with a mix of both light and dark fruits, like pears, peaches, prunes, mint leaves, and fresh pancakes slathered with syrup. The finish isn't anything special, but it's nice and firm. It doesn't try to change what Demerara is, and it tells a good story about Guyana, though in less of a Navy fashion.
Rum bottles from Lamb's