L'Esprit was formed by Tristan Prodhomme, a Frenchman of Welsh, Scottish, and Breton heritage. He released two whiskies and one rum under the L'Esprit brand in 2010 (the name means "the spirit" or "the mind"). In the years that followed, he painstakingly sourced each barrel of rum and rum from brokers rather than distilleries; as a result, most of his inventory was aged in Europe. Even though Tristan is a purist who refuses to dilute his spirits, most of his sampling packs contain a sample water bottle so that customers may adjust the strength to their liking. He typically bottles at 45–50% ABV, but in response to consumer demand, he has recently begun offering more proofed rums. These rums are always bottled hundred lots and come from the same casks as his standard bottlings.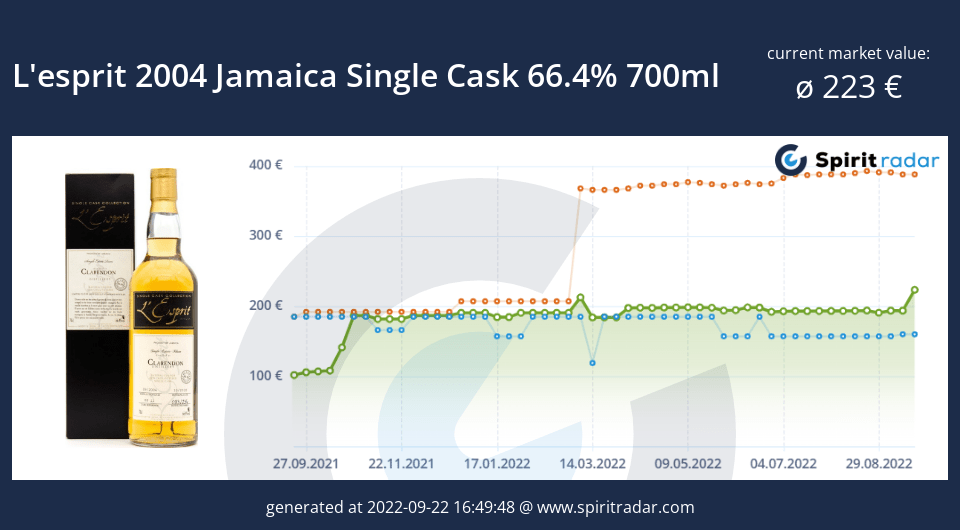 The molasses rum, L'Esprit 2004 Jamaica Single Cask, comes from Jamaica. L'Esprit's experts, who are also in charge of choosing whiskies, hand-picked this single-of-a-kind barrel from the Monymusk rum distillery. The exquisite pot-stills in Clarendon's distillation process are reminiscent of those in Scotland, which is why the spirit is often compared to whisky. This rum was packaged 16 years after it was made, in October 2020. The distillation took place in September 2004. No coloring or cold filtering was used in this bottling, and the rum was bottled "brut de fût," or straight from the barrel. Only 234 bottles of this limited edition were ever made.
Right from the bat, the nose reveals an extraordinary power that doesn't hurt the nostrils but does keep the rum's true essence hidden for the time being. When the varnish breaks, a pleasant pear brandy emerges, with hints of freshness and oxidation. After some time in the air, the vanilla aroma spreads over the glass's entire surface. As a result, the fruit is cloaked in a blanket of sugary spices and even takes a dip in a luxurious custard. The rum has a vibrant flavor and thick texture that instantly covers the tongue and palate. In addition, this bright and pleasant rum has fruit flavors that radiate like the sun. When this mouthfeel disappears, it also understands how to be cozy and lovely. Almonds and somewhat coppery fruit jellies provide a pastry-like note to the finish.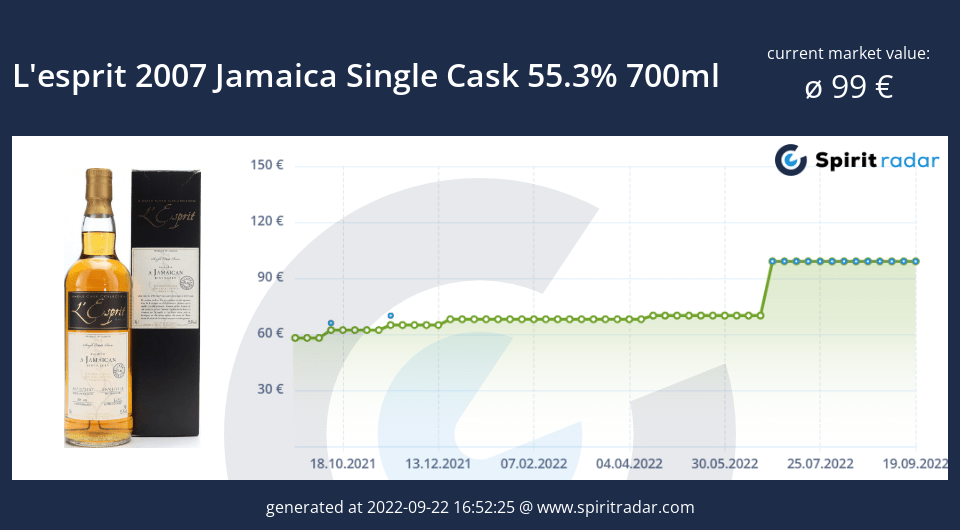 The bottler L'Esprit chose this rum from Jamaica's Worthy Park Estate Distillery. It is packaged at natural strength after being distilled from molasses and pulled from a single barrel of white American Bourbon. This is a limited edition rum and is scarce in supply, and there were just 240 bottles produced.
The rum has a hue of antique gold. It contains an unusual aroma of fresh citrus and mango; a sweet and creamy taste of vanilla, pastry cream, dry banana, date, coffee cream, walnut, and almond; an aftertaste of nuts and coffee. Vanilla and ripe fruits set the tone for a smooth and creamy mouthfeel, which evolves into subtle spices, toasted oak, leather, and dried fruit flavors while maintaining a bright citrus presence.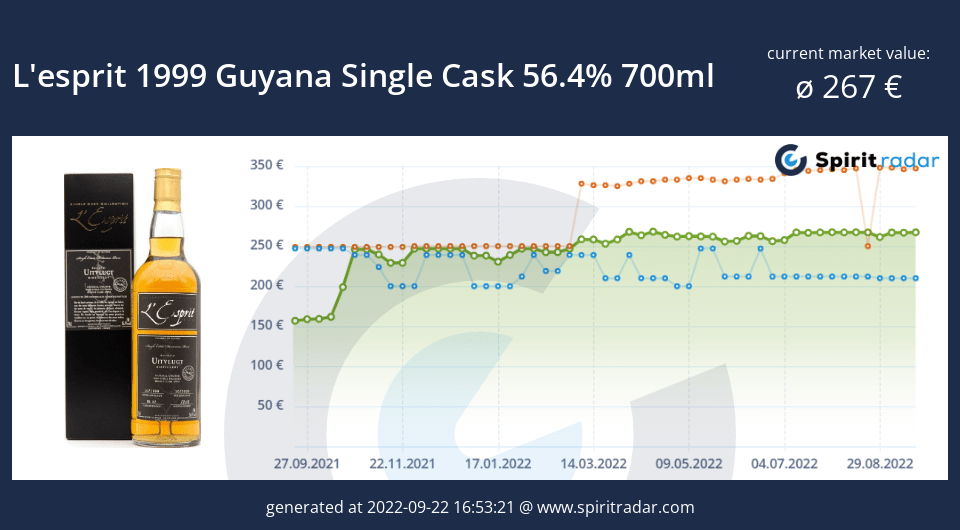 L'Esprit 1999 Guyana Single Cask marks the French spirits breeder's 10th anniversary. This rum was made from molasses in October 1999 at Uitvlugt Distillery and packaged in October 2020. So, it's been aged for 21 years in a single barrel and is rather old. There were only 208 bottles made of this limited edition rum.
A rum aroma, at once fruity and coppery, greets the nose first. There's a hint of chocolate in the woodsy perfume that leads to roasted oak, and the fiber is still moist and has a forestry feel. This classic rum takes on a soft and melting appearance after exposure to air. The exotic fruits have calmed down well and are lying atop a bed of almond powder that is still somewhat green. The toasted wood gently caresses the rum's malty and sweet undertones.
A few drops of this rum into the mouth will reveal its very high proof. Its coppery, metallic undertones help us become quieter. The nuts are next roasted until they have a burned caramel coating, and the insides of a deeply toasted barrel are gently caressed. A hint of minerality lingers on the tongue at the end, followed by a deliciously long aftertaste of caramelized exotic fruits.
Rum bottles from L'Esprit