You can add a bottle to your private collection from the bottle detail. You can search for a bottle (as we introduced yesterday) or use the All Bottles section and the robust filtering it offers to find it. It also works as an encyclopedia of existing rum and whisky bottles. Like Your Collection, it is accessible to all users.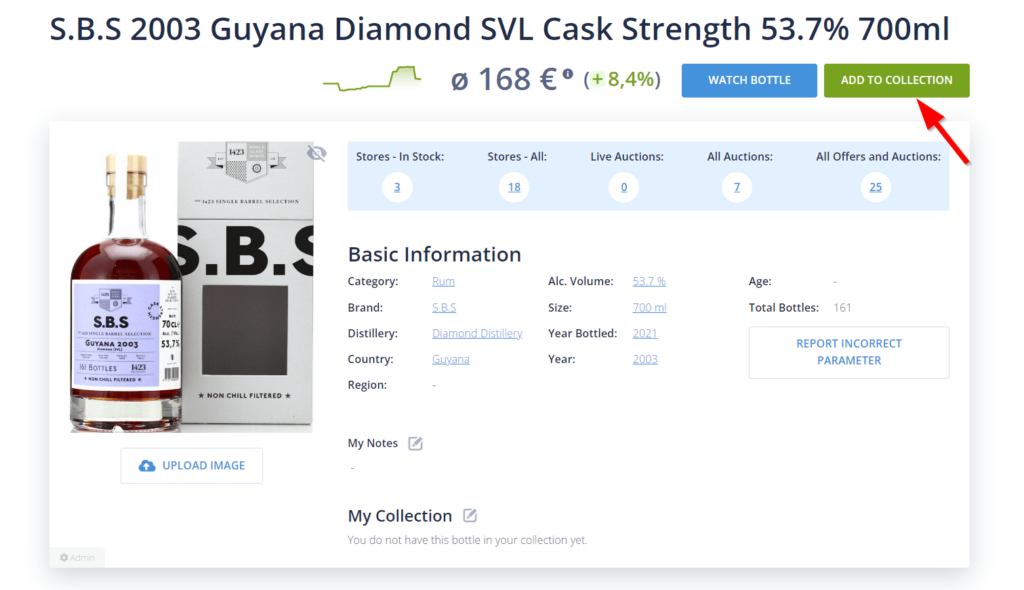 While browsing the app, you might have noticed the "Current market value" in many places. Current market value is the estimated price that Spirit Radar determines with its algorithm from the offers of a given bottle in stock in shops and from the winning bids in auctions. You can also see the price evolution of your bottles in the collection.
We can shed some light on this. The auction values carry a bit more weight than those in stock in the shop. We also try to exclude those where the seller disproportionately attempts to increase the price. Of course, we don't include offers that contain multiple bottles or are somehow damaged. We typically check the price and availability of each offer several times a day. The current market value is more accurate the more offers we have on it. If we have only a few offers for a bottle (this happens with new bottles, for example), you will see the price "calculating". If we have not found any bottles in the last few months, the price is calculated but greyed out to indicate that the price may not reflect the current state.
TIP: Try to search for a recently bought bottle and add it to your collection.
You can enter the price in any supported currency when adding a bottle to the collection. Spirit Radar will convert it at the given exchange rate on the date of purchase. You can also add any additional information - where you bought the bottle, the shipping cost, and any other notes. Again, if you can't find your bottle in the app, you can request to add it.

TIP: If you are new to bottle collecting, starting tasting and choosing a direction according to your preferences is a good idea.
The first stop may be The Key Rums of the World by The Lone Caner.
Another great way is to taste samples/drams of premium spirits. You can find them e.g. here:
And finally - attending an event will broaden your horizons. You can find a list of them on the Dashboard.
Today we've shown you how to add a bottle to your collection from its profile. In the next part, we'll take a closer look at the bottle detail.