Alberta Premium (made by Alberta Distillers Ltd in Calgary, Alberta, Canada) is among the few surviving 100% rye grain rye whiskies in North America. Beam Suntory owns the company. Alberta Premium was named "Canadian Whisky of the Year" at Jim Murray's Whisky Bibles in 2006, 2007, 2008, 2009, and 2021. For a Canadian whiskey, the whisky is highly flavorful and may be less accessible. The rye grain imparts a characteristic firm, somewhat acidic flavor that identifies Alberta Premium in a blind tasting of Canadian Whiskies. Alberta Premium, unlike its 10-year-old mixed protege, Alberta Springs, is just five years old, which may explain part of the comparable feistiness. Alberta Premium is now solely accessible in Canada; however, it has previously sold several limited editions in the United States. Amidst its unusual composition, it is sold on the same shelves and in the same price range as the standard Canadian whiskey brands.
Official website: albertadistillers.com
You can find their whiskies throughout Canada, from Tofino, British Columbia, to their homeland in Calgary, Alberta, and St. John's, Newfoundland. Hence, they are happy that their products are produced from the finest in Canadian prairie grains, farmed by farmers who have collaborated with them for years. These grains are meticulously combined with water sourced from the snow-capped summits of the Rocky Mountains to make their prize-winning liquors and unique characteristics. As a result, Alberta Distillers is constantly pushing the limits of what Canadian alcohol may be, delivering distinct quality at a reasonable price.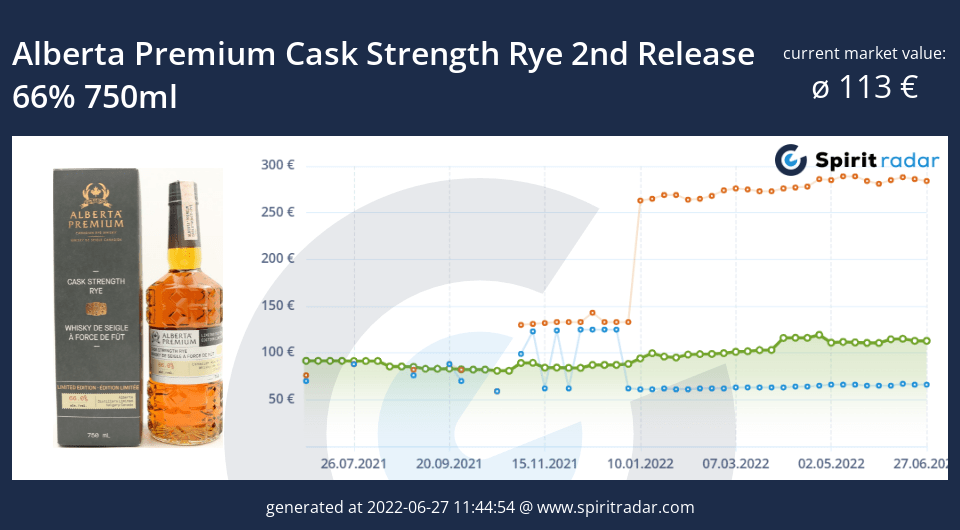 In an attempt to diversify within the Canadian Whisky sector, Alberta Premium chose to develop a Cask Strength. Alberta Premium is thrilled to play a prominent role in the renaissance of Canadian Whiskies, with a strong history anchored in tradition and quality. Alberta Premium Cask Strength is the trophy-winning consequence. It exemplifies the potential of a distillery: they laid their cards on the round table and provided a terrific product.
It comes straight from the barrel, an uncut bottle. A powerful aroma of caramel, fresh fruit, citrus, and berry gives way to rich flavors of pepper, earth, spice, and tropical fruit. On the taste, it's soft and creamy, with rye spice and chocolate on a mellow, lingering finish. You can serve it either neat or over ice.
There's a little sense of rye spiciness on the scent surrounded by the richness of simple sugar, honey maple wood, and cinnamon.
The very first thing that will come to your mind is lovely. However, it seems to be much more advanced than it is. Not at all scary; its mild sweetness combined with a reasonably substantial body allows for an appealing taste.
Medium to lengthy, with a little bite for rye. It has a wonderful sweet aftertaste.
Whisky bottles from Alberta Distillers Ltd.