The Dalmore has been the gold standard in multi-barrel aging for more than 150 years.
A great and complex whiskey of legendary elegance is created using hand-picked barrels from the best vineyards and bodegas around the globe.
Official website: thedalmore.com
It is a whiskey with renowned refinement and richness. The Dalmore has consistently raised the bar for whiskey production.
The Dalmore family and its history dates back to 1263 when Colin of Kintail, Head of the Clan Mackenzie, shielded King Alexander III from the wrath of a charging deer that year. The King awarded the Mackenzie Clan permission to utilize the 12-headed Royal stag insignia on their coat of arms to appreciate this excellent deed.
The Royal Stag, a recognizable symbol that boldly labels every bottle of The Dalmore today, was created when the Clan's successors took ownership of the distillery in 1867. It symbolizes a rich history while also promising that The Dalmore would continue to be the best single malt.
The Dalmore has a long-standing tradition that values the integrity of the cask. Their priceless essence is diffused in exquisite barrels that Master Distiller Richard Paterson personally selects and purchases from the most prestigious vineyards worldwide.
The tight and dependable connection that was established with the sherry house González Byass more than a century ago is the source of the Dalmore house's distinctive design. The coveted barrels, which were once filled with 30-year-old Matusalem oloroso sherry, are only available at The Dalmore. These barrels provide rich, nutty flavors to our whisky's distinctive cocoa and orange flavor.
Some spirits benefit from a further flourish in various barrels to provide a more nuanced flavor. Each barrel they get is carefully selected and of the highest quality to make their famous Single Malt Whisky.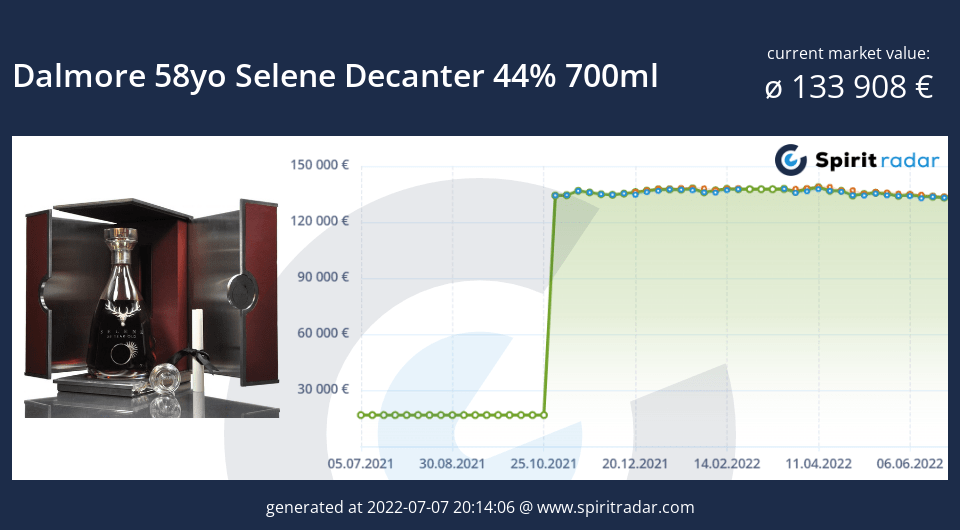 Selene, titled after the Titan deity of the Moon, has been packaged after almost 60 years of maturation in the distillery's gloomiest storage. It is the cohabitation of two Dalmore barrels loaded on the same date in 1951. Only thirty corked bottles have been made, each housed in a sturdy metal shell with leather inlay.
On June 7, 1951, Barrels 1781 and 1782 were both filled. They were then left to rest in a pitch-black storeroom where not even the moonlight could reach. Finally, after more than 50 years, the Master Distiller decided the moment was perfect and merged their distinctive scents, tastes, and finishes to create a unique blend fit for the gods.
The barrels for Dalmore 50yo were set down in the 1920s, and part of the whiskey is said to have been produced in the late nineteenth century. It was produced in 1978 into only sixty exquisite carved crystal decanters. One of the finest 50-year-old whiskies ever made is this. Single malt Scotch whiskies from the 1920s that were produced at such an old age and a high bottling grade are rare. For several years, this whiskey struggled to earn its rightfully deserved respect.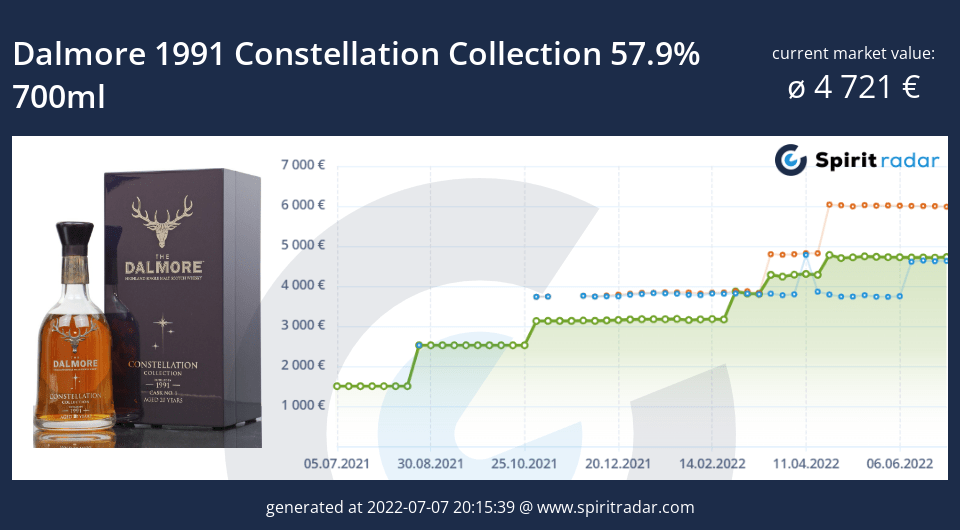 For over two centuries, the fabled conjurers of excellent Whisky north of Inverness have been caressing the palates, demonstrating that capturing rare stags of excellence is a piece of cake for Dalmore.
A long line of beloved Scotch Whiskies led to the creation of the Dalmore 20 Year Old Constellation Edition in 1991. It was refined when Bryan Adams handled everything for them, aged in ex-Bourbon American oak for eleven years, transferred to Lepanto Jerez Sherry Brandy for yet another six years, and then finished for three years in a Dalmore Bourbon cask. This line arrives from the initial cask and is remarkably lush. Well, lovely Scotch gods, how does this posh Highlander taste? Rich, sweet, complex, and scrumptious!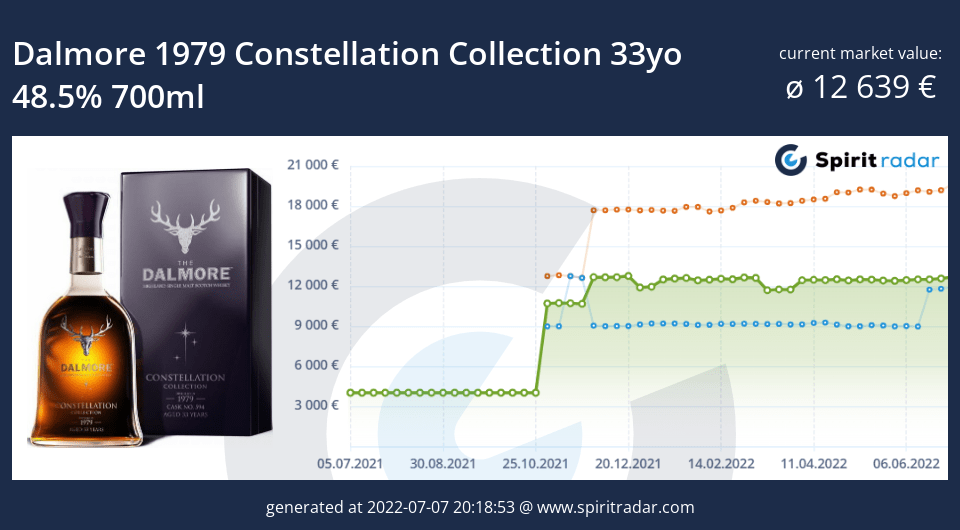 This whiskey, one of two 1979 rare vintage productions in the Dalmore Constellation series, spent its entire 33-year maturing period in barrel 594, a Quercus alba American white oak barrel.
This intriguing product from the Dalmore Constellation Series has spent 33 years in a barrel of American white oak. This one of just 199 bottles, distilled in 1979, is a rare treasure for any serious hedonist.
Honey, peaches, nectarines, and vanilla ice cream may all be detected on the nose. Fresh apple, pear, apricot, and lemongrass notes come next. Next, the palette is made up of tropical fruit salad, hot pineapple, caramel fudge, and macaroons, followed by kiwi fruit, Turkish delight, spiced sherbet, then Bramley apples with sweetness.
The finish is silky and opulent, stimulating the taste receptors.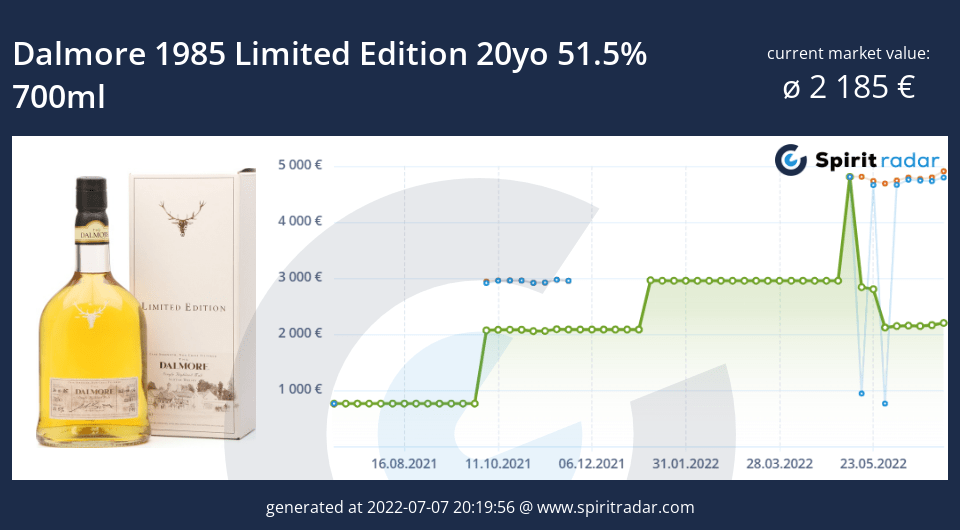 This 20-year-old whiskey was produced on October 30, 1985, and it was only available at the distillery's tourist center when it was packaged on June 22, 2006.
Initially alcoholic, it transitions to fruits, with particularly lovely aromas of white peach and pear. Beeswax adds a little white pepper. It's a bourbon barrel; there are hints of vanilla with aeration; it's fairly energetic elsewhere. There are verbena-like notes on the second nostril. With water, the flavor first becomes sweeter and more vegetal (charlotte with peach, icing sugar, and vanilla ice cream).
On the palate, there is a pleasant freshness. Pear with spices, vanilla, and syrup. It becomes somewhat more bitter in the back of the tongue (green tea). In comparison to the nose, the impact is less effective with water. The vegetal notes grow more prominent, and the harshness becomes more significant. Then taste the peach kernel and green fruits.
Long and tart, with constant undertones of peach in syrup. Water makes the bitterness worse. A dramatic reappearance of verbena, especially lemony verbena that produces a delightful aftertaste, occurs a short while later.
Whisky bottles from Dalmore