The western Akashi coast was known as Nada during the Edo era. Because of the abundance of water and high-quality rice on the Harima Plain, sake brewers in Nada are widely recognized as experts in the field. Nishinada is the name given to the eastern side of Kobe (identified as the Nada in Kobe). Sake production originated in the Nishinada region during the early Edo era (western Nada). Their family's sake production may be traced back to Hachibei Urabe, the scion of the illustrious Urabe family. The younger Urabe brother, Hyokichi, had a successful sake company in the Meiji period.
Official wesbite: ei-sake.jp
He founded the Eigashima Shuzo Co., Ltd. in 1888 with an initial investment of 30 000 yen. Our story has just begun. "Yamato Damashii," which translates to "the essence of Japan," was the first trademark, followed by "Yuri Masamune" in 1894 and "Kamitaka" in 1895.
Research and development have been iterated to keep up with rising demand, much as Hyokichi Urabe's zeal, curiosity, and enthusiasm have been passed on. The distillery factory was finished in 1919, and that year saw the introduction of Shiratama Shochu, Shiratama Mirin, White Oak Whiskey, and Charmant Brandy.
The first vintage of Shiratama white wine occurred in 1921. In the Showa period, the Yamanashi winery was finished, and Charmant wine was produced in 1963. In the same year, a shochu distillery was established in Oita, and in 1981, the Oita traditional barley shochu "Fukuju Tensen" was introduced.
An additional whiskey distillery was built close to the existing headquarters in 1984, three years after the first facility had opened. They use cutting-edge machinery and state-of-the-art technology to distill Japanese beverages like sake, shochu, and mirin and western beverages like whiskey, brandy, and wine. They also release a plethora of high-quality items to enrich your life.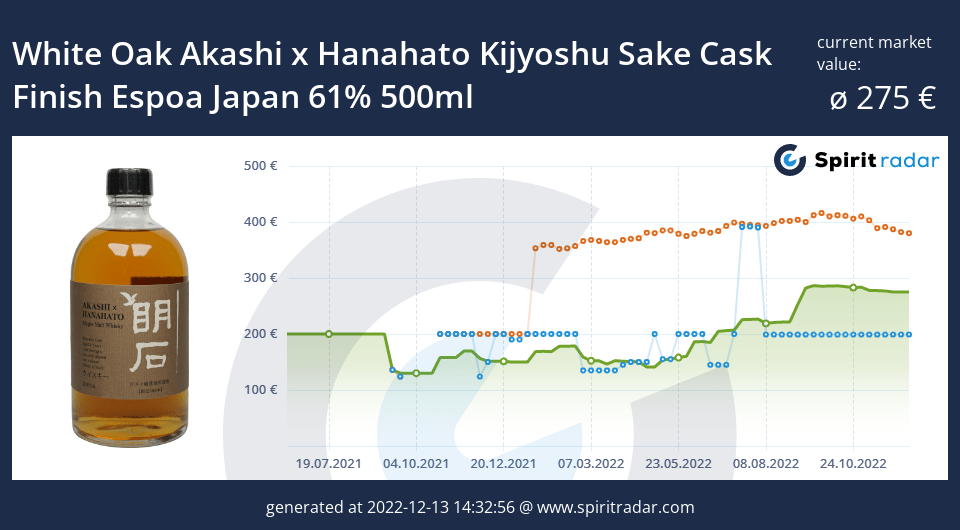 This single-cask bottling was created for the Japanese liquor retailer ESPOA in 2018. The whiskey was aged in American white oak barrels for just three years before being aged for one year in a Kijoshu barrel from sake brewer Hanato. In the 1970s, Hanato became the first Japanese elite sake manufacturer to succeed in making a sweeter top-quality sake. Merely 388 bottles were produced.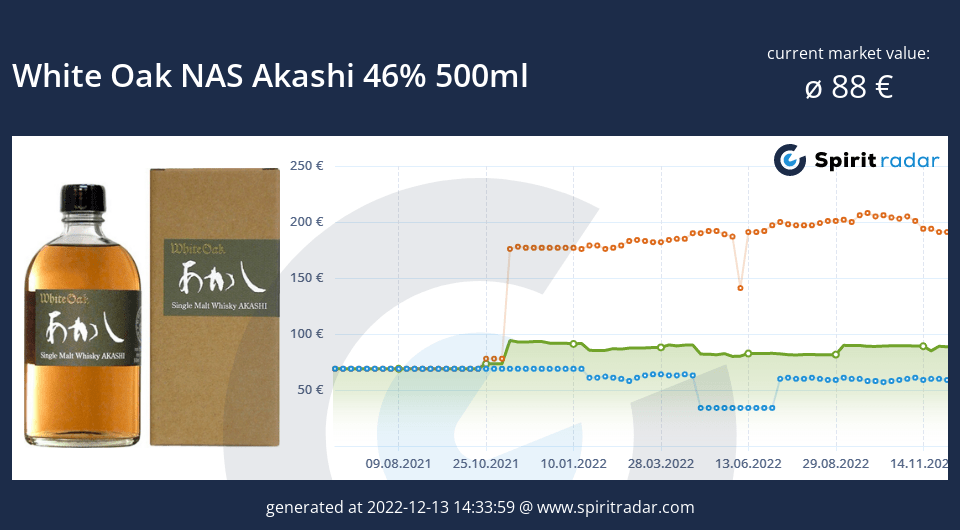 The Akashi NAS Single Malt combines three single malts of varying ages and finishes in oak casks. Thus an age indication is absent. The four-year-old, five-year-old, and seven-year-old single malts were aged in Spanish sherry wood, American oak, and Bourbon oak barrels. The No Age Statement Signature Single Malt debuted in September 2012. In total, 2100 bottles were produced.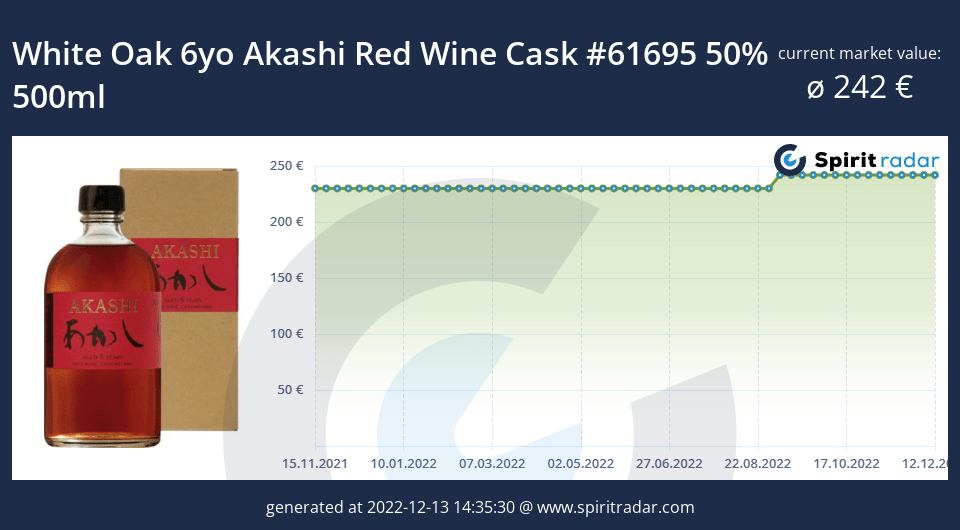 This 6-year-old Akashi single malt originates from Japan's White Oak distillery. The whiskey was matured in Cognac barrels for five years before being moved into a first-fill red wine cask for ten months. A fantastic after-dinner whiskey that pairs well with a square or two of dark chocolate. There are well-rounded woody scents and plenty of red fruits on the nose. The structured and powerful aromas of dried red fruits are present, along with citrus, tropical coconut, pineapple, a dash of ginger, pepper, cinnamon, pine, oak, and tannins. The finish has balanced, fading, fruity aromas and persistent pepper and cedar wood.
Whisky bottles from Eigashima Shuzo