The Glengoyne Distillery was founded in 1833 and is located in Dumgoyne, Scotland. This distillery originated when heavy taxes were placed on whisky producers, which forced many whisky producers to make their whisky illegally and in secret. In addition, the area around Glengoyne was covered in hills and forests, making it easy to hide from the officials.
During these challenging times for whisky distillers, George Connell decided to try his hand at the business. Luckily, laws had recently passed that made it easier to obtain a distilling license. In 1833, Connell took out a lease on the land and built a warehouse, which is still in use today. Connell's distillery was profitable, and he sold the company in 1876 to the Lang Brothers.
Official website: glengoyne.com
The Lang Brothers named the distillery "Glengoyne," which means "Glen of the Wild Geese." The distillery remained under the ownership of the Lang Brothers Company all the way until 1965, when it was taken over by the Edrington Group, which increased sales by a third within a year! In 1984, Glengoyne became a whisky supplier to the Queen Mother, earning the company a Royal Warrant.
The distillery once again changed hands in 2003 when Ian Macleod Distillers acquired it. Macleod drastically increased the sales of Glengoyne, leading the company to a level of success it had not previously known. At the time, Glengoyne had one warehouse and produced 450 000 liters of whiskey annually. Today, the distillery has eight functioning warehouses and produces more than two million liters per year!
Interestingly, it is hard to classify Glengoyne whisky as either a Highland or Lowland whisky. This is because the distillery sits on the line dividing the Highlands from the Lowlands. Technically, the whisky is distilled in the Highlands and matured in the Lowlands. Many locals describe the distillery as the "most beautiful distillery in Scotland."
Glengoyne uses only the best barley available: Golden Promise barley. There is only a few Golden Promise barley produced, but it is among the highest-quality barley around the world. Glengoyne also does not use peat smoke to dry the barley; instead, the distillery lets the barley air dry. This is very time-consuming, but a difference can definitely be noticed in the quality of the whisky.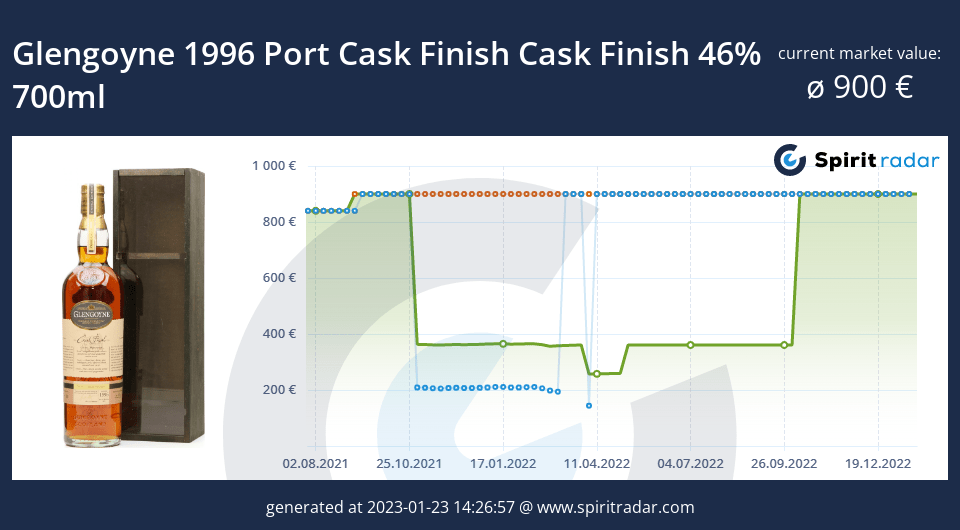 This single malt whisky was aged for 13 years in a cask made of American oak, giving it a very unique taste. There were produced more than 84 000 bottles available, meaning that you will not be forced to shove your neighbor out of the way to ensure yourself a bottle. The bottle is an attractive shape, and the label is classic. The liquid has a beautiful red tint that is sure to pique your interest at first glance.
It is usually agreed upon that the smell of this whisky is one of the best aspects, giving sweet and sugary hints of strawberries and dark cherries. You may also notice hints of toffee apple. A small sip will verify those hints of strawberry and toffee, with additional tastes of cinnamon and honey. The finish is rather short, with only small tastes of spices and fruits.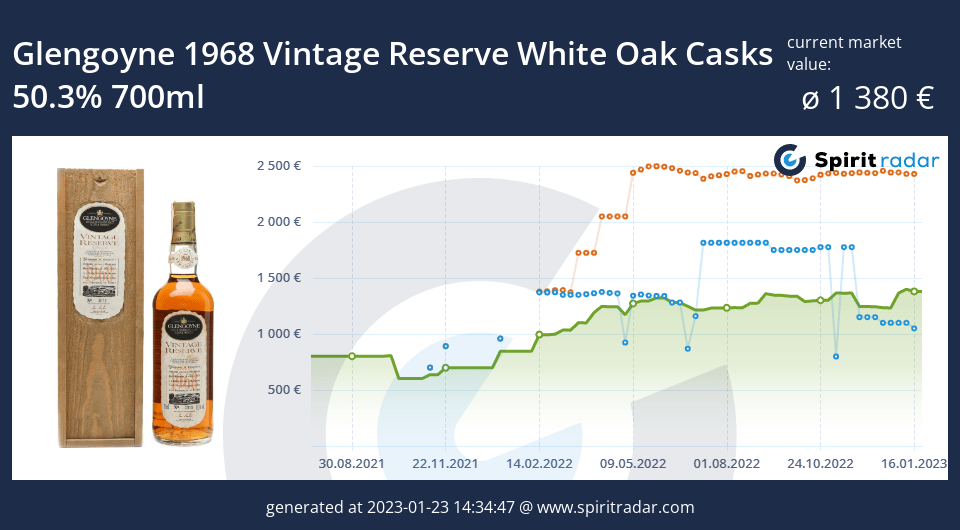 Upon first glance, you may notice the classic amber color of this whisky, whispering of the great taste you are about to experience. The label is a traditional black and white label, boasting the Glengoyne name proudly on the front, along with the year the whisky was made. There were only 4 500 bottles of this whisky bottled, so make sure to try it if you ever get the chance.
The smell of this whisky is intense, giving off hints of chocolate, pear, and the scent of a freshly-mown lawn. Your taste buds will jump at the taste of oak, singing the praises of the cask the whisky was aged in. You may also be able to taste hints of apricot and grapes. The finish is a respectable length, but not too long, with lingering tastes of toffee, honey, and sweet candy.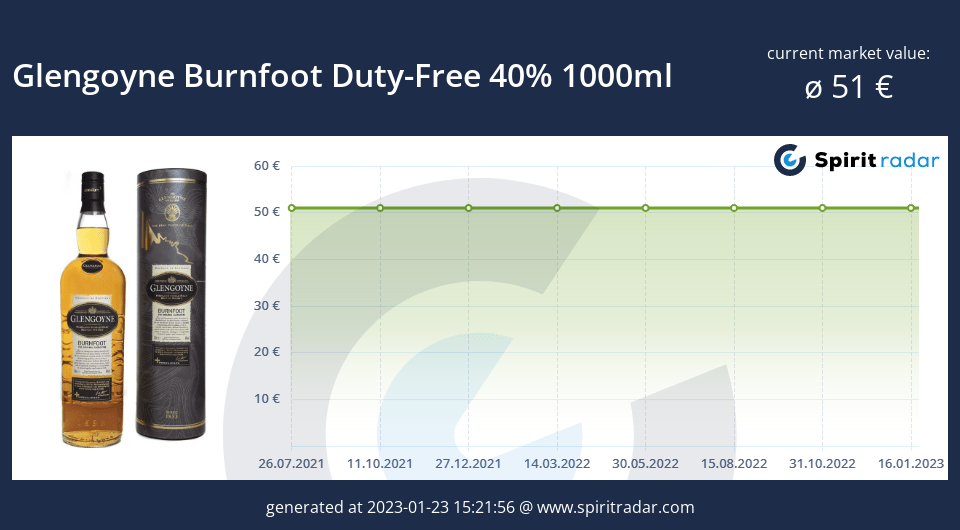 This single-malt whiskey is rather dark, gently reminding the viewer of freshly-brewed tea. With its classic black and white Glengoyne label and uniquely-shaped bottleneck, there is no denying that you are about to taste something wonderful. Though this whisky was distilled in 2010, you will not be disappointed in your experience with this relatively new whisky.
Your nose will be delighted with the smell of honey, tobacco, and just a light trace of a beer brewery. The taste is sweet and spicy, bringing to mind buttery biscuits slathered with cinnamon and some lovely chamomile tea on the side. The finish is a perfect length: neither too long nor too short, and it is bound to leave traces of coffee, cocoa powder, and oak dancing on your tongue.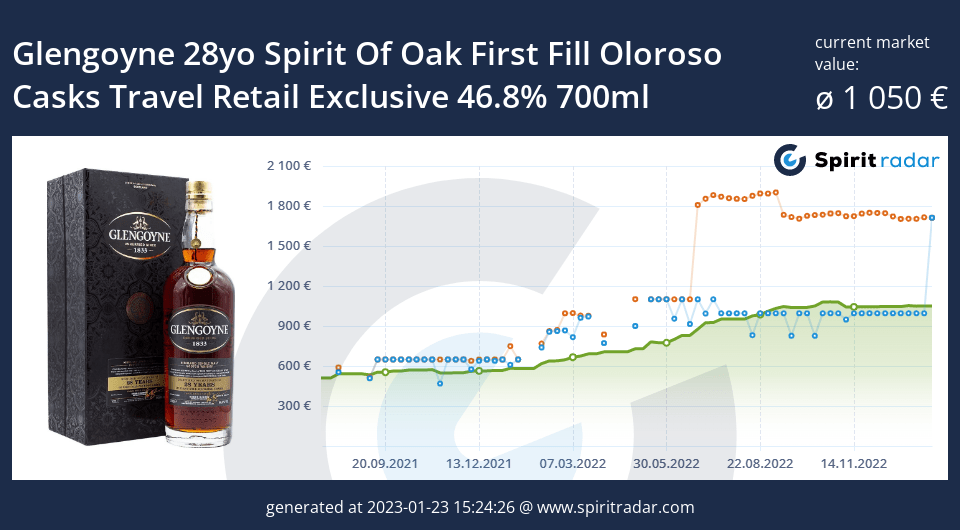 This beautiful bottle of limited-edition whisky was aged in brand-new oloroso casks for a total of 28 years! This means that you can go ahead and prepare yourself for the whisky experience of a lifetime. A beautiful dark amber color and gorgeous black label only add to the suspense of opening and sampling this bottle.
Due to its aging in the oloroso casks, you can expect a very strong sherry smell upon your first sniff and not many traces of anything else. The taste is also highly reminiscent of sherry, though you may also notice hints of oranges, chocolate, and coffee. The finish is rather watery and short-lasting, but it makes up for that with the taste. Deliciously sweet hints of candy, chocolate, and fruits will leave you ready for the next sip.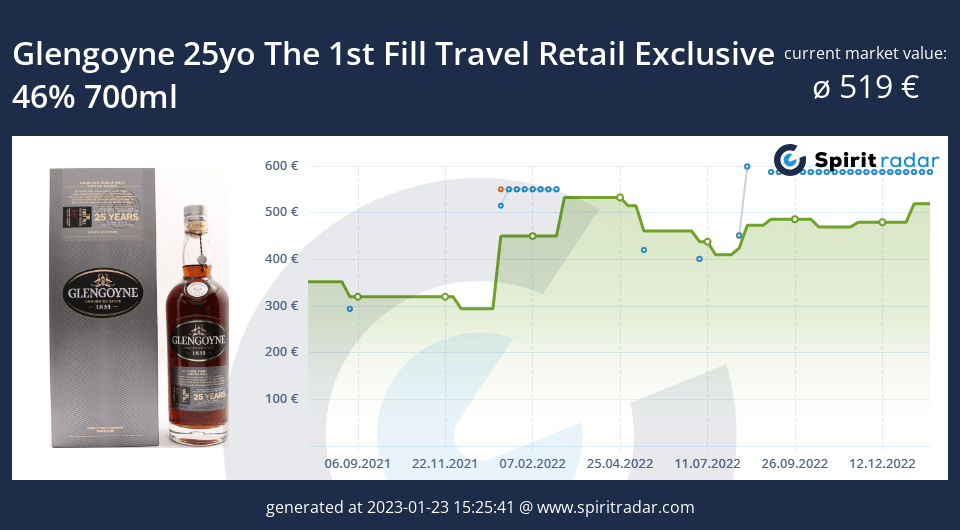 Like the previous bottle, this one was also aged in brand-new sherry casks, though for not as long: only 25 years for this bottle. This whisky is a very dark color, almost appearing coke-like rather than as a whisky. Here we see another all-black label boasting the Glengoyne name loudly and proudly. Additionally, this bottle comes in an adorable wooden box that gives it a certain amount of sophistication.
Unsurprisingly, the sherry casks this whisky was aged in have left it with a very strong and sweet whisky smell. You may also notice hints of oak, chocolate, and coffee smells. The taste is a sweet sherry, with additional traces of cherries and blueberries. The finish is short and bound to leave you wanting another taste. Hints of apricots, raisins, and honey will coat your mouth in the meantime.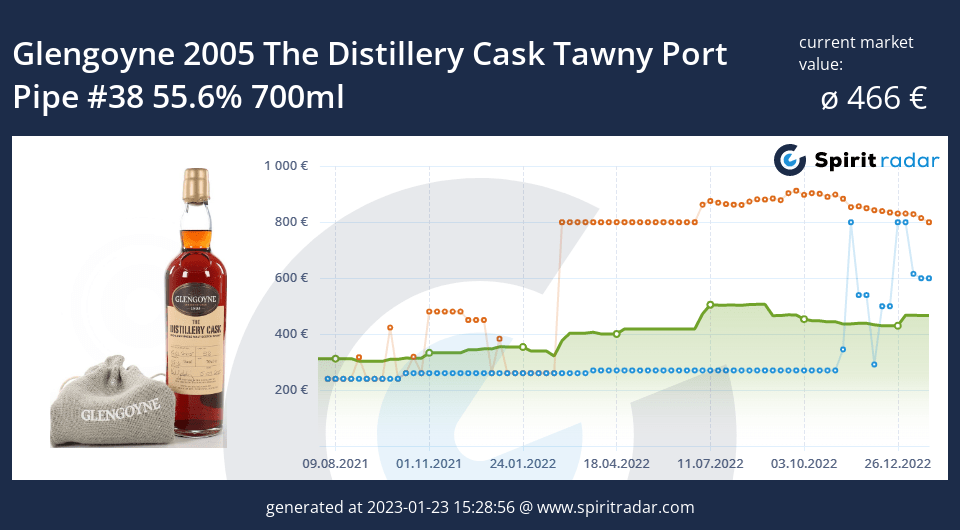 This single malt whisky was distilled in 2005 and aged for 15 years in tawny port pipe casks. This whisky comes from a limited edition of only 789 bottles. This is an amber-colored whiskey that promises an upcoming party in your mouth. With its classic white label, you will be proud to pull this bottle out for all your friends.
Take a small sniff, and your olfactory senses will be met with the scents of prunes, plums, and vinegar. Before tasting, adding just a touch of water to your glass is probably best to ensure the best experience possible. Your taste buds will thank you as traces of grapes, tobacco, and pepper wash over them. The finish is very long, meaning you can go between sips and make your glass last longer. The hints of raisins, chocolate, and honey will satisfy your mouth for a while!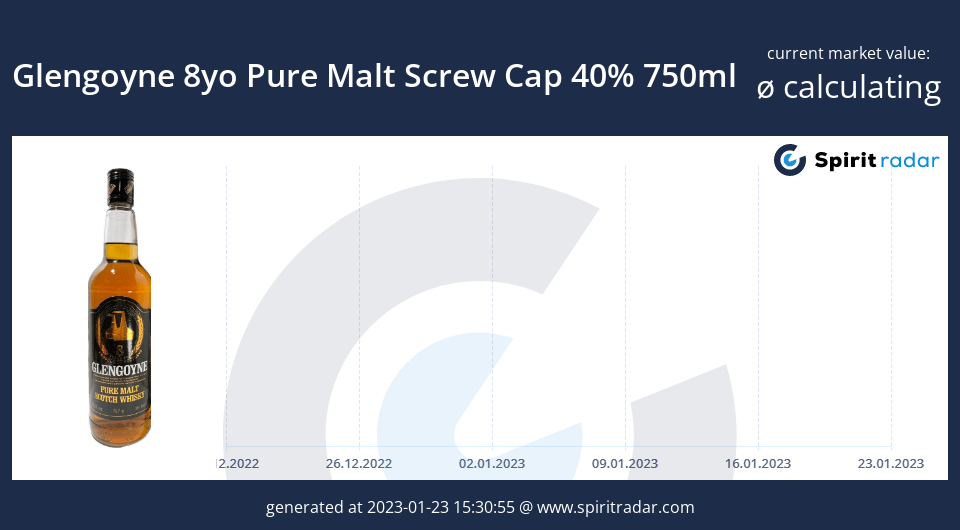 This bottle is tall and thin, filled with a beautifully-colored pure malt whiskey that has been aged for eight years. The gorgeous black Glengoyne label and stately box it comes in might make you a little hesitant to open it. The short aging time for this bottle may make you question its integrity, but that would be a mistake; you will be satisfied with this young whisky.
Your first slight whiff of this whisky will remind you of dried fruit, honey, and vanilla, though none of these smells are overwhelming. Your taste buds will be delighted with the sweetness similar to sherry, peat, and hay, giving it a taste that will remind you of autumn. The finish is very relaxed, coating your mouth with hints of nuts, leather, and tobacco.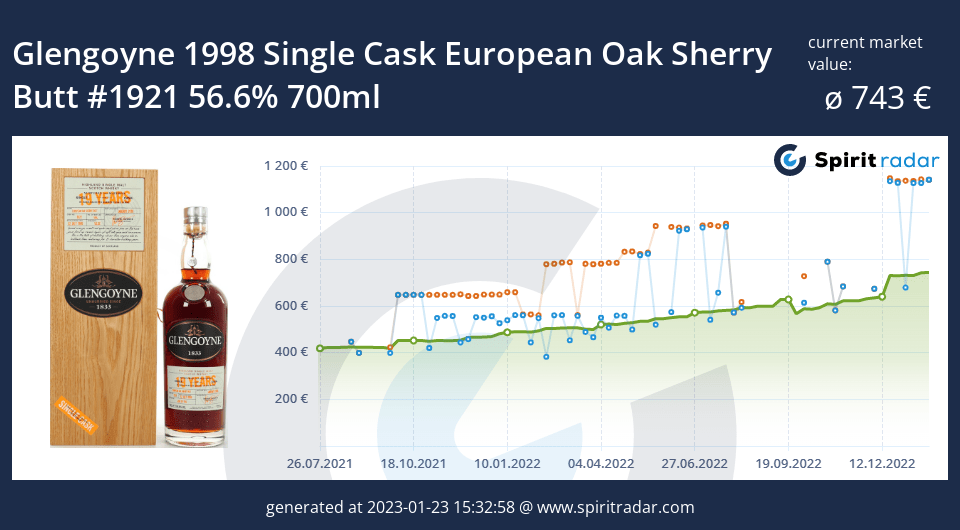 This single malt whisky was aged for 19 years in a European Oak sherry cask, meaning that we foresee a lot of sweetness in your future. This is a truly dark whisky, with hints of a wine-colored red peaking through a sunlit bottle. The classic white Glengoyne label stands out against this limited-edition whisky's darkness. Speaking of the limited edition, there were only 594 bottles produced.
As promised, your nose will be greeted with the sweetness that is often associated with sherry. Additionally, to go along with the wine-red tints of the whisky, you will also be able to smell a little wine there. The taste is also reminiscent of sherry and hints of papaya and delicious cream. The finish is uplifting, bringing caramel, honey, and dark fruits to mind.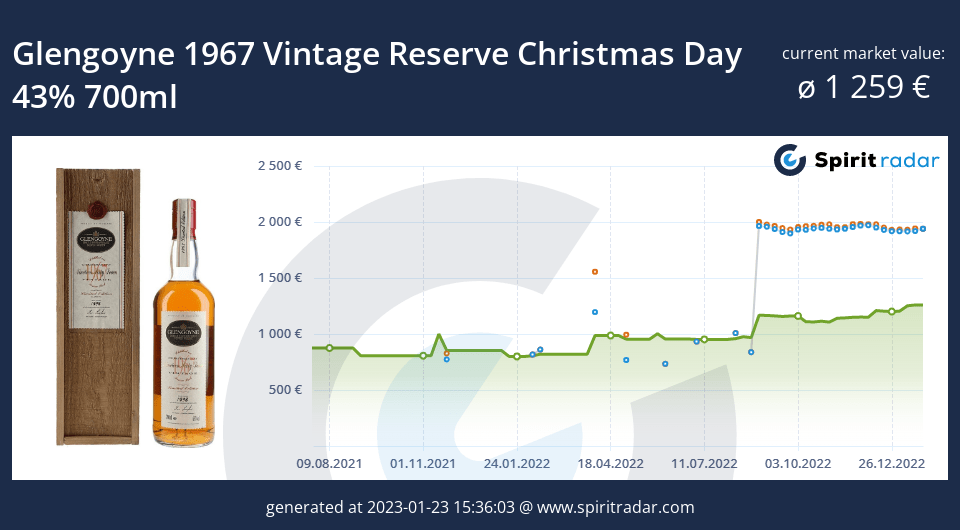 There were only 2 500 bottles of this whisky bottled. It is not one of the rarest whiskies from Glengoyne, but it might still be challenging to find. Do not hesitate to give it a try if you ever get the chance. Aged for 24 years and released as a special Christmas-edition bottle, this whiskey is a light amber color and comes swaddled in a traditional white label.
The nose of this whisky is quite simply wonderful, with scents of fruit, sugar, and nuts. The taste will also not disappoint, and this is where you will be able to see why this is a special Christmas edition whisky. Your tongue will delight at the tastes of Christmas spices, dark fruits, and toasted almonds. The finish is as soft as your Christmas morning pajamas, coating your mouth with the tastes of more spices, almonds, caramel, and plums.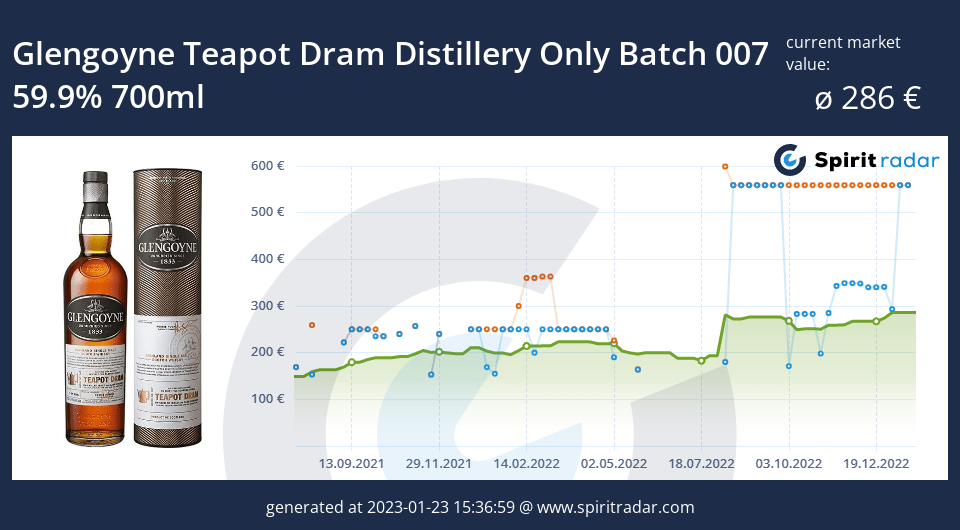 This teapot dram is sufficiently named based on the fact that this whisky greatly resembles freshly-brewed tea. However, the traditional white Glengoyne label graces the front of the 3 993 bottles of this whisky and proudly declares that this is not tea but a very delicious whisky. Aged in oak casks, this whisky might surprise you with the strength of its flavors.
Your nose might just be surprised at the hints of beef that come barrelling out of this bottle of whisky, along with more subtle traces of cinnamon and fruits. The flavor of this whisky is reminiscent of chocolate, coffee, and spices and is sure to help you relax after a long day at work. The finish will leave a lingering taste of citrus, spices, and sherry, leaving you eager for your next sip.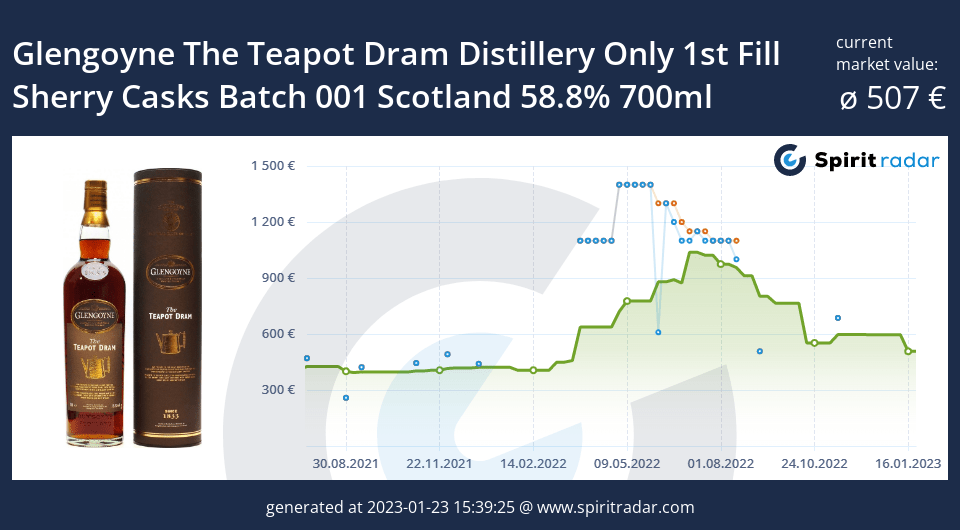 This whisky is similar to the previous one, though some key differences exist. This whisky has the same close appearance to tea as the previous whisky, but this whisky was aged in brand-new European oak oloroso casks. There were only 3 993 bottles manufactured of this delicious whisky.
Your nose will be immediately greeted with the sweet smell of sherry, thanks to the oloroso casks it was aged in. You will also be able to sniff out hints of peaches and almonds. The taste is also filled with that sweet sherry taste, along with traces of oak and coffee. The finish on this whisky is surprisingly bitter, though that is eventually replaced with the sweetness of sherry once again.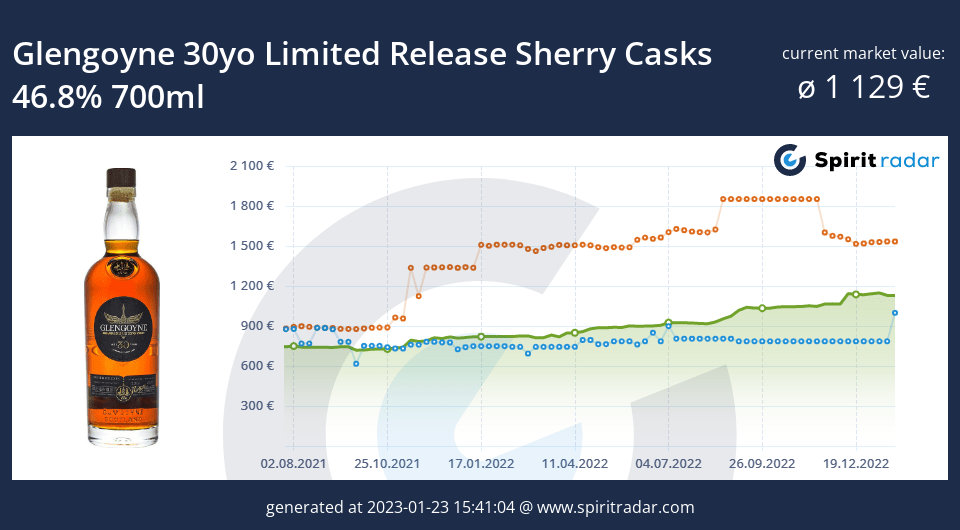 As the name suggests, the 5 200 bottles that were produced of this particular whisky were aged for 30 years in sherry casks. There is a delightfully dark amber color to this whisky, and it comes in a stately wooden lockbox. There is a more modern style of black label on this bottle, though it still proudly declares its origin: The Glengoyne Distillery.
This 30-year-old whisky gives off the scent of a freshly-brewed beer, along with additional traces of raisins and fresh plums. The taste is simply delicious and reminds you of coffee, caramel, and more raisins. With the soft yet complete, balanced flavor, you will surely be desperate for another sip. The finish is long and smooth, with aftertastes of nuts, sherry, and vanilla.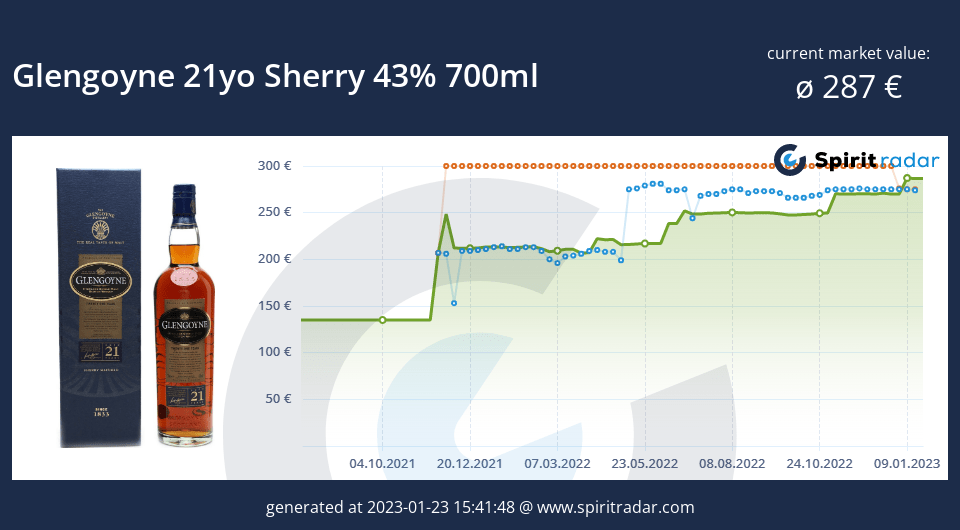 This whisky has a delightful honey color that pairs well with the modern black Glengoyne label. It was aged for 21 years in sherry casks, guaranteeing a sweet ride you will not regret. This bottle comes in a handsome black box, proudly declaring itself a product of the Glengoyne Distillery.
There are sharp scents of sherry that will meet your nose immediately upon cracking the seal of this bottle. You may also notice a disappearing smell of oak and a curious aroma of pine cones. The taste is also intense sherry flavors, tingling in your mouth with follow-up flavors of raspberries and cranberries. The finish may remind you of fresh milk, oak, and cocoa.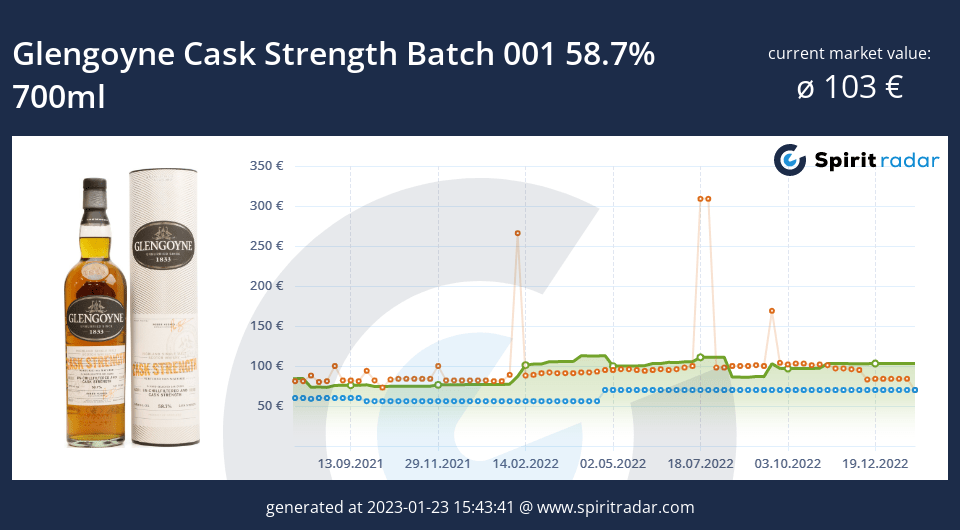 The first thing you will notice about this bottle of whisky is the unique white cylinder in which the bottle is purchased. Upon opening the cylinder, you will notice a light amber-colored whisky with a modern black label and a more traditional white wrap. This wrap proudly states any additional information you may want to know about this delicious whisky from Glengoyne Distilleries.
Hazelnuts and chocolate are the first scents you will notice after opening this bottle of whisky, reminding you of a fresh jar of hazelnut spread. You may also notice hints of apples and figs sneaking into your nasal cavity. Hazelnuts once again make an appearance with your first sip, along with figs and coffee. The finish is extremely long and extremely intense, giving you strong hints of oak, vanilla, and cinnamon.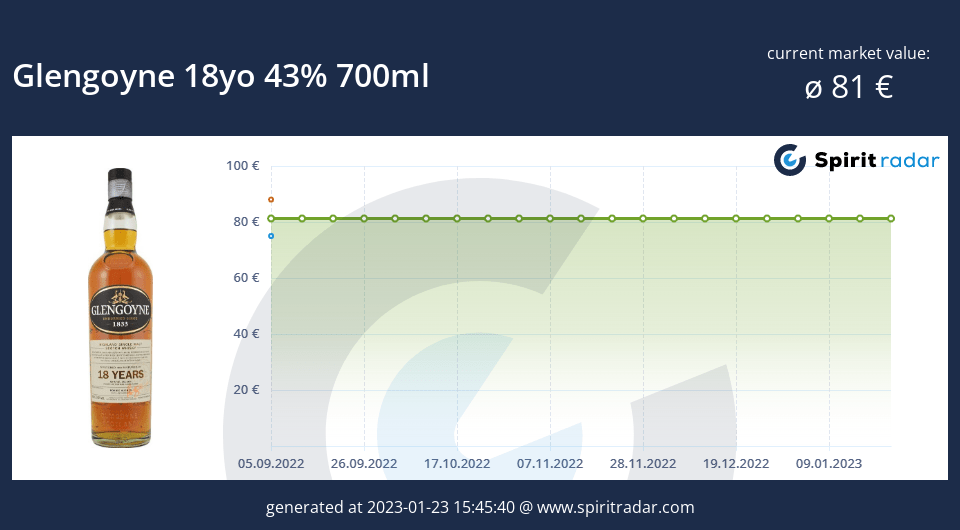 Here we see another bottle with a mixture of a modern black label and a traditional white wrap that provides additional information about the whisky. This particular whisky is a gorgeous light honey color, immediately piquing your interest and invoking fantasies about the tastes you will soon experience throughout this bottle. Aged in bourbon and sherry casks, you are sure to experience an enlightening mixture in this whisky.
Your olfactory senses will be delighted with grapes, sherry, and even old wood scents. The taste of this whisky is mild and soft, reminiscent of sweet sherry, strong oak, and spices. The finish of this bottle is gentle and medium-length, resting on your tongue for just long enough to not become overwhelming with its tastes of cocoa, cinnamon, and oranges.
Whisky bottles from Glengoyne