Jim Beam is a brand that is able to boast its existence in the United States before there was even a United States. The history of Jim Beam spans across seven generations and 262 years! A German family named Boehm first arrived in America in 1740. Forty-eight years later, they relocated to Kentucky and changed their last name to Beam. Once settled in Kentucky, the family realized that their new home was perfect for growing corn.
Official website: jimbeam.com
Jacob Beam used his father's recipe, most likely brought over from Germany and passed down through the generations, to begin distilling any extra corn he had. When done with his corn, this process formed a kind of whiskey/bourbon that was sweeter than anything they had up until that time. So what better to do with a delicious, new type of spirit than to sell it?
Jacob sold his very first barrel of bourbon in 1795. He quickly became one of the favorite distillers among the more than 2,000 distillers that lived in Kentucky at the time. In 1820, Jacob passed his torch to his son David, who was quite the revolutionary. David took many measures of foresight that eventually led to the enlargement of the distillery and the stills that were used.
A wise businessman, David Beam also had the foresight to realize that steamboats and trains could mean an even more significant profit and sales than the distillery was already receiving. By 1854, David's son, also named David, took over the distillery and decided to capitalize on his father's and grandfather's success and popularity. With advanced knowledge of a new route for the railroad, the second David decided to relocate the distillery to be closer to the new track. After all, better transportation meant better sales, more popularity, and more money.
David also decided to begin bottling his bourbon. Before this, large barrels of whiskey were shipped to different areas. But, with the bottling and branding of each bottle, he was able to ensure that people all over the nation would grow familiar with his family's brand of whiskey. As a matter of fact, General Ulysses S. Grant declared that it was his favorite drink. As we said, David Beam was a savvy businessman and quite the risk-taker.
In 1894, James Beam, better known as Jim and the namesake of the brand as we know it today, took over the distillery from the second David. However, the brand was still known as "Old Tub" then, and the company continued to grow and flourish until Prohibition. Jim found several odd jobs through the dark times and was able to rebuild his entire distillery in only 120 days after Prohibition ended. It is said that Jim waited two years for his first post-Prohibition batch of bourbon to be finished before taking his first drink after Prohibition.
In 1935, Jim's son T. Jeremiah, also known as Jere, renamed the new distillery the "Jim B. Beam Distilling Company." Then, the family's bourbon became known by the name "Jim Beam." Jere officially took over the distillery in 1946 and aimed to send his whiskey overseas to the Americans fighting in World War 2. This would help introduce the Jim Beam brand of bourbon throughout the entire world.
Since then, Jim Beam has continued to grow and flourish, passing down generation through generation. The current master distiller is Frederick Booker Noe III, a direct descendant of Jim Beam and the seventh consecutive Beam family master distiller. Jim Beam filled the 10-millionth barrel of its brand in 2005. So by today's time, if anyone has ever drank any bourbon, chances are that they have tried a bottle of Jim Beam.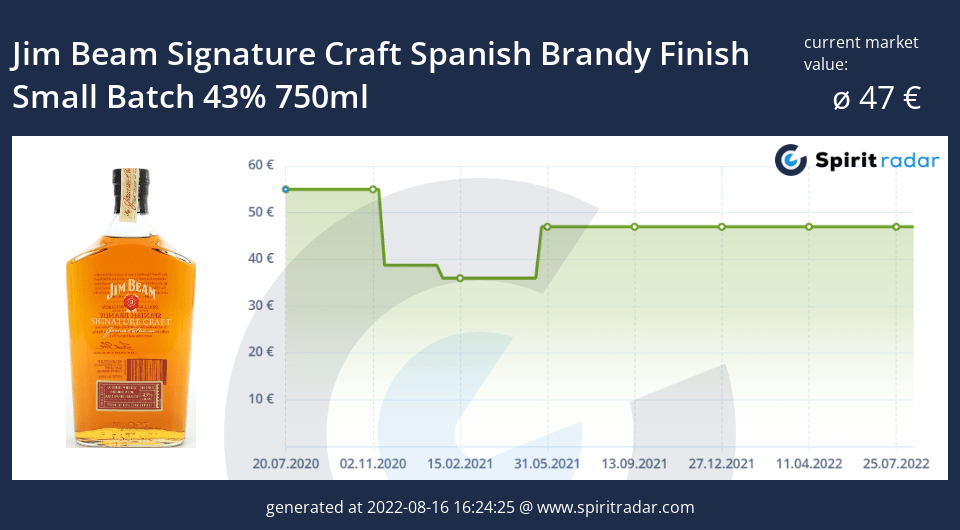 This is a gorgeous colored brandy that is mostly amber but has a little red tint. It looks wonderful in its clear, almost unadorned bottle and is sure to make you think of summertime sunshine. A first sniff will give you hints of vanilla, figs, and spices, tickling your senses and inviting you to take a sip. When you finally give in and take that sip, you will be met with the taste of vanilla to match the smell and hints of oak and plums. The medium-long aftertaste will remind you of nothing much besides fruits.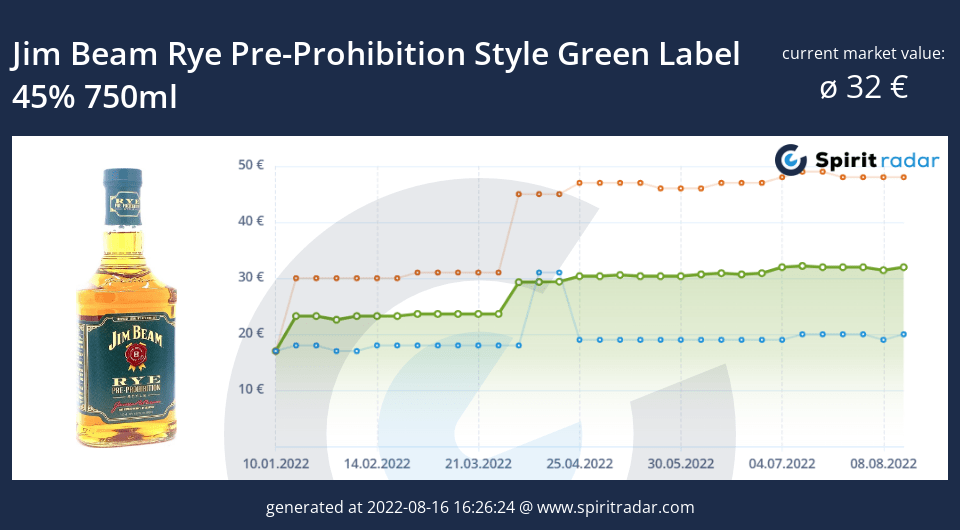 This bold and spicy recipe has origin dates before Prohibition and is one of the Beam family's oldest recipes. Distilled with the exact same method as it was almost 200 years ago, this whiskey is sure to become a staple in your liquor diet. The smell of this spirit is all-natural: hints of corn, green apple, and freshly-mown grass. Your taste buds will scream for joy when the flavors of caramel, baking spices, and coffee beans wash over them. The finish is relatively short, giving bursts of apple and more corn.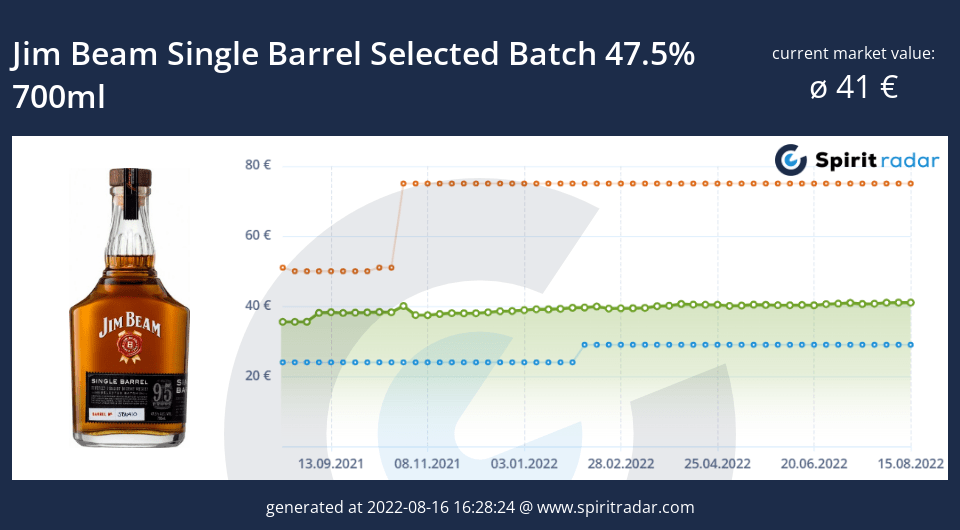 This unique-tasting spirit owes its thanks to the barrel it was made in. Quite literally. For this bottle, Jim Beam strived to put the perfect barrel in all of the perfect conditions, creating one of the most different-tasting whiskies in the entire world. Your nose may detect hints of caramel, vanilla, or apple, and your tongue will dance at the subtle tastes of vanilla, nuts, and brown sugar. The finish is short but powerful. You may taste initial hints of apricot and oak, but there is a strong kick of baking spices at the very end that will leave all of your senses begging for another drink.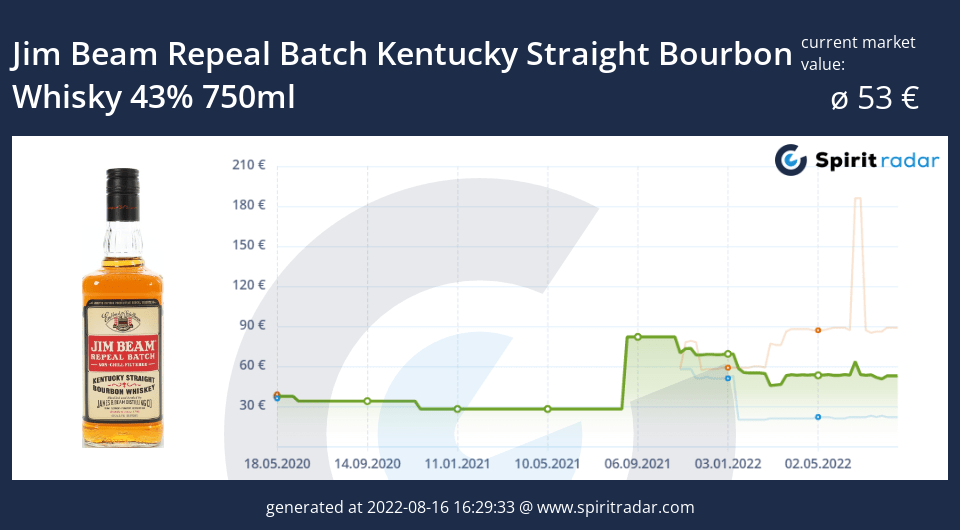 What a rough time in American history: The Prohibition. But for all that it was rough during Prohibition, can you imagine the pure joy and happiness felt around the country when it was repealed? Now imagine that joy bottled into one batch of whiskey, and you will picture the Repeal Batch. This batch was made using the same styles as was used right after Prohibition. Your nose will be met with the delicate scents of raisins, citrus, and clove. The taste is very straightforward with the flavors of honey and tobacco. The finish is reminiscent of cinnamon gum: strong and somewhat spicy.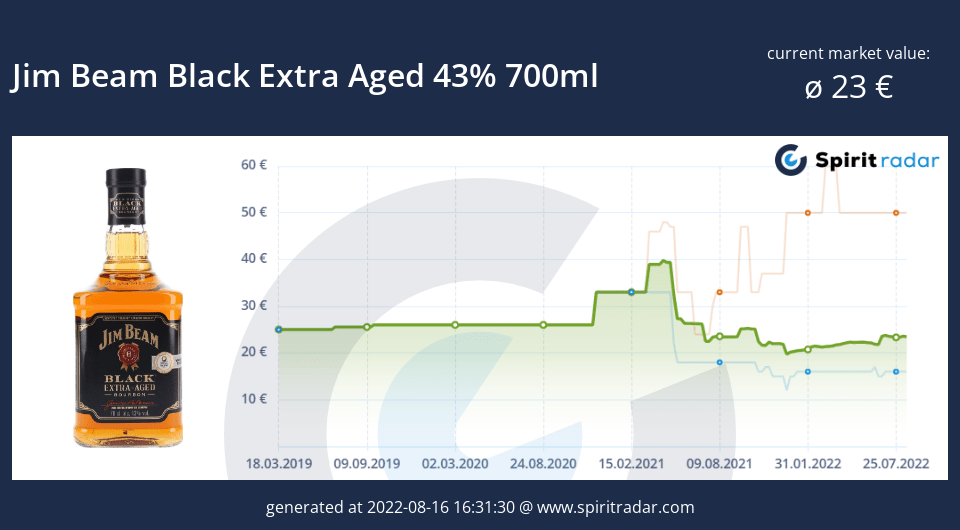 It's all in the name with this whiskey: extra-aged. If you think aged whiskey is impressive, imagine how much better it will be when it is extra-aged. Aged in American white oak barrels, it is easy to see how this bourbon won ten awards, including the 2022 New York International Spirits Competition's Bourbon Trophy. It's just that good. With a first sniff, you will be able to get hints of caramel, tobacco, and fruit. The first sip will delight your tongue with toasted nuts, oak, and vanilla tastes. The finish is short and relatively simple, leaving the taste of vanilla and toffee on your tongue.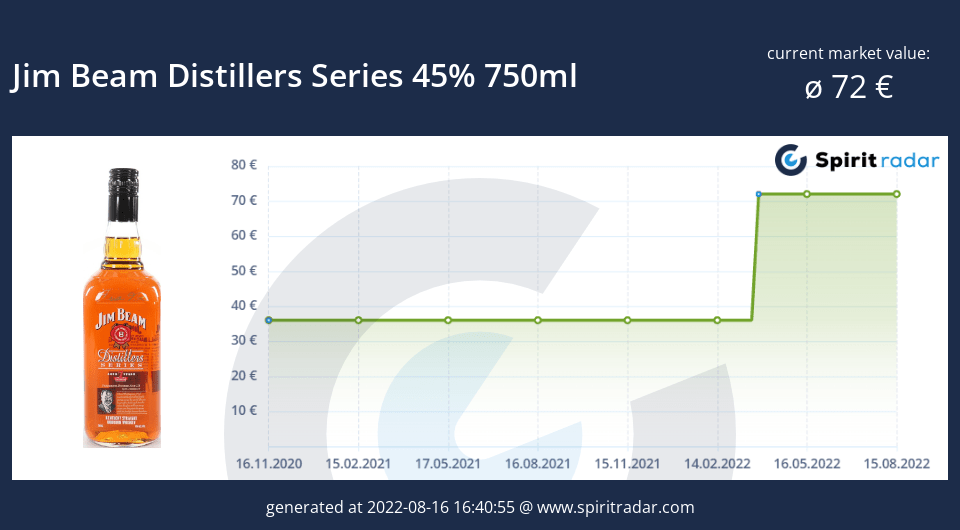 Specially overseen by Jim Beam's Master Distillers, this series is a unique-tasting bourbon with a beautiful dark amber color. Your nose will be met with a strong pepper, cherries, and honey aromas. With your first sip, taste buds will be joyful at the hints of pepper, wood, and cherries. The finish is both smooth and long, lingering on your tongue for quite a while. You will have the aftertastes of roasted corn lingering in your mouth, reminding you that it is time for another sip.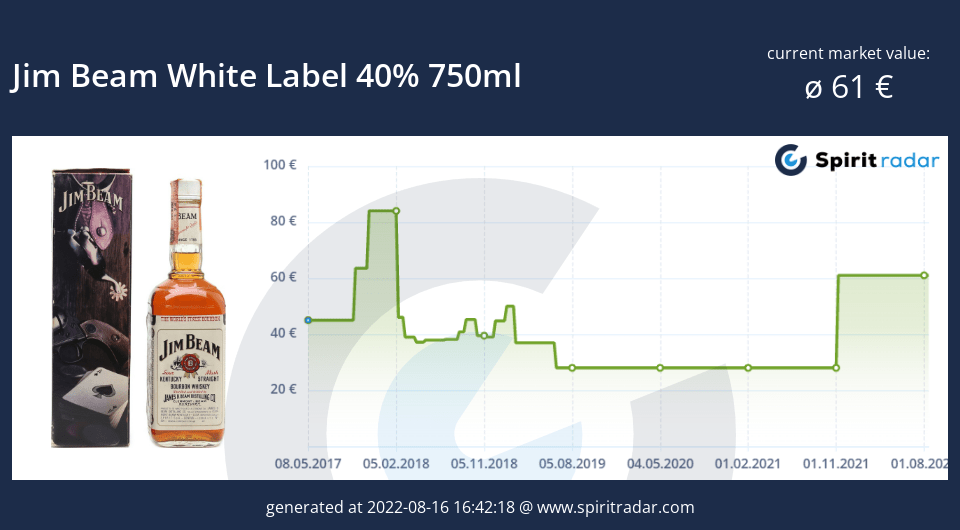 Jim Beam White Label is a pale gold-colored liquor that glistens in its white-labeled bottle. This also happens to be one of Jim Beam's most widely-drank bottles, with America, Japan, and even China usually having an entire stock in all of their liquor stores. With a bourbon that is so widely produced, you may be wondering whether this bottle will have anything original to offer at all. However, it is essential to keep in mind that it must be so widely loved for a reason. The aromas of peanut butter, cinnamon, and orange peel will greet your nose, followed by the tastes of honey, vanilla, and apricot. The finish is a delightful mixture of honey, toasted oak, and licorice.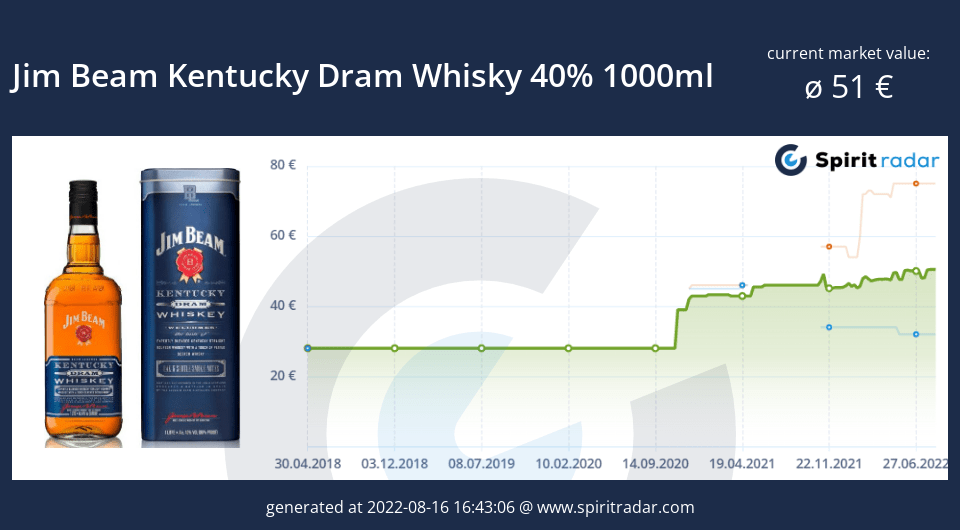 This bottle of whiskey may strike you as very elegant at first glance, and the taste will not disappoint when it comes that. Seen as simple as some, others would argue that it is in its simplicity that this whiskey finds its elegance. The color of the liquor is an interesting dark, golden orange, a fact that is reflected in its aroma. Not only will you be able to smell oranges, but you may also recognize hints of grapefruit and chalk. Your first small sip of this watery whiskey will give you subtle tastes of caramel, salt, and oak. The finish indeed improves the entire tasting experience, growing with passing time and leaving the flavors of caramel and vanilla in your mouth.
Whisky bottles from Jim Beam