In 1955, then-owner Daikoku-budoshu chose to join the Japanese whiskey business, which was still in its youth, and establish a distillery in the twilight of Mount Asama, an erupting volcano.
The distillery was modest and aimed to produce excellent whiskies on a limited scale. Karuizawa employed 100% Golden Promise barley, wood washbacks, tiny stills, and Spanish sherry barrels.
Karuizawa's whiskies are likely the closest thing in Japan to the Scottish malt type, although they have their own distinct taste. The water was purified via lava, and the factory also saw sweltering summers and frigid winters, resulting in a peculiar maturation pattern.
The most popular Japanese whisky has been discontinued since 2001. Its reputation has grown considerably in subsequent years because of its powerful, sherry barrel-aged drams. Prices are increasing as demand rises and the amount of barrels available diminishes.
The Mercian Wine Company, which focused on Japanese wine and liquors, built Karuizawa, the most legendary of all Japanese distilleries, in 1955.
Erected at an elevation of 850 meters on the steep slope of Mount Asama, one of several archipelago's most aggressive volcanoes, the distillery benefited greatly from a climate zone whose moisture allowed the removal of moisture from the whisky, resulting in a greater alcoholic degree and extraordinary aroma intensity.
The whiskies created at Karuizawa, primarily matured in Sherry barrels and prepared from "Golden Promise" barley, are now widely sought after since the distillery formally discontinued operation in 2000 and have been the subject of wild conjecture.
Kirin purchased Mercian in 2007, which was more excited about the grapes than the distillery, and opted to shut it down. However, number One Drinks Firm (on account of an Asian organization) purchased the leftover stocks in Karuizawa in 2011 and transported them to Chichibu for warehousing and packaging.
In 2021, it was believed that a Japanese entrepreneur planned to reconstruct the legendary Karuizawa distillery by attempting to restore pieces of the old distillery and enlisting the assistance of past staff willing to share their knowledge.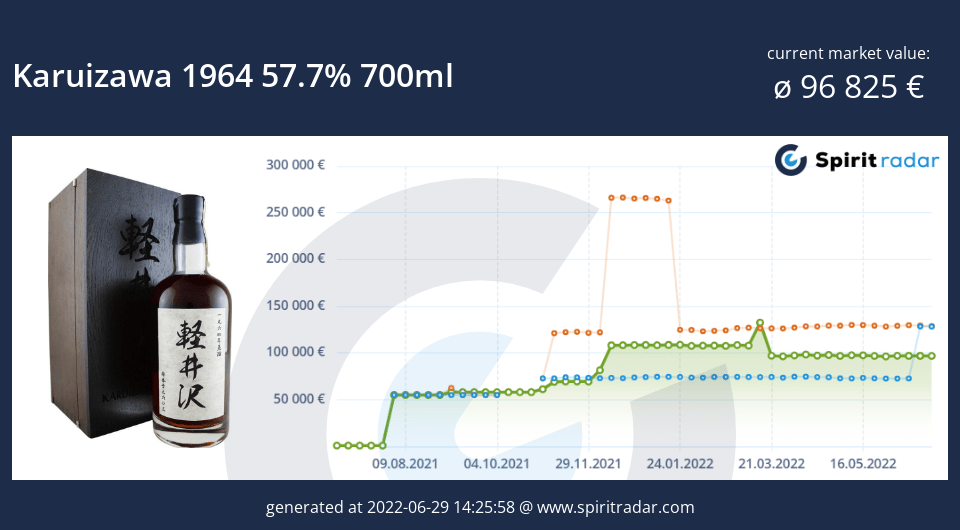 This is a scarce, exceptionally old bottle from Japan's renowned Karuizawa distillery. It is the most prolonged-expression from this now-closed distillery, having been aged for little above 48 years in a 400-liter Sherry Oak barrel. This single malt whiskey was left untouched in a conventional dunned storehouse in Karuizawa before being sent to Chichibu for packaging. Only 143 bottles of this unique barrel whiskey are offered, each individually marked and packaged in a black wooden box made partly from Polish black fossil oak.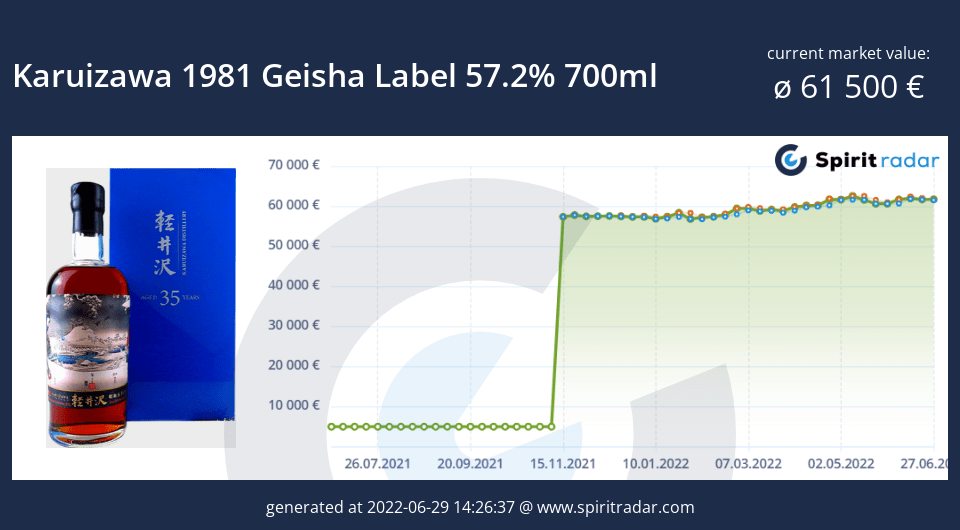 Karuizawa created exceptional whiskies, several of which have earned worldwide recognition. They have issued almost 300 unique barrels, becoming more scarce as demand grows. This limited edition was created in 1981 and packaged in 2012. Only 440 bottles were manufactured from single barrel #2042. Karuizawa is the gold level when it comes to rare Japanese whiskey. Even though it hasn't been making alcohol for nearly a decade, the distillery sealed its operations in 2011.
A delicious spicy nose with a touch of peat and traces of sugar. Coated using milk chocolate and cocoa, conceivable in the most lovely manner. Then there's some soy sauce and an almost seaside fragrance. Salted peanuts are also available. Perhaps not the most complicated, but certainly quite rich and well.
There is a little touch of peat (stronger than in the nose) and little brine on the mouth. Then some old, soiled sherry. Leather, burlap, and wood polish are all options. With a decent bit of pepper, it's rather hot.
Peat smoke, yet highly delicate. Spicy with a flavor of caramel and crisp oak. The finish is lovely and lengthy.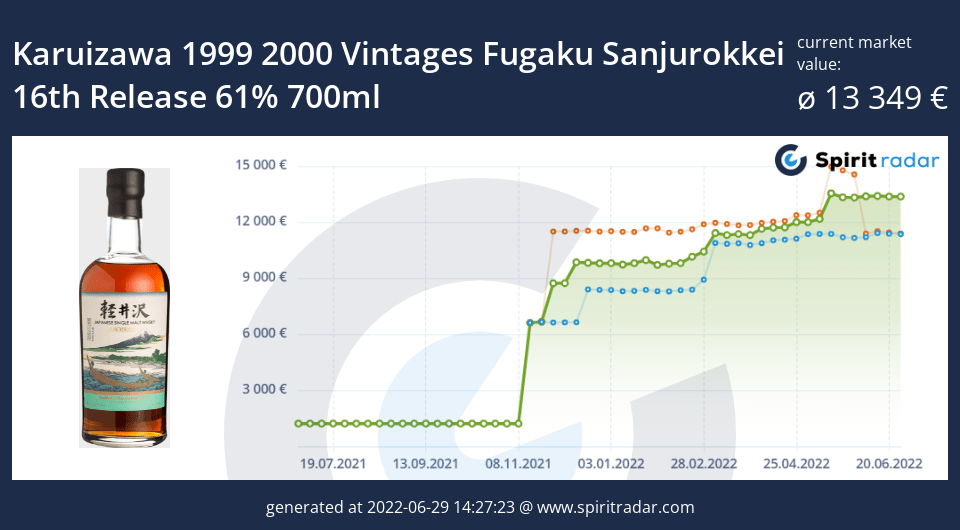 Karuizawa was formed in 1955 to create high-quality whiskey. It was closed in 2000 and gained the mythical status reserved for just a handful of distilleries. During manufacture, it only utilized Golden Promise barley sourced from Scotland, which was thought to be essential for extended maturity. Straight-fired stills, Sherry barrels from Spain, and an on-site oak cask all added to its whisky's outstanding quality. Number One Drinks purchased the existing inventory in 2011 and has played an essential role in the phoenix-like revival of a distillery that seldom issued bottles throughout its lifespan.
Fugaku Sanjurokkei (Thirty-six Views of Mount Fuji) is a panorama print set by Japanese ukiyo-e artist Hokusai. Each portrays Mount Fuji from various perspectives and in varied weather circumstances.
These Karuizawa bottles, each with one of these eye-catching images, were taken from barrels from the 1999 and 2000 vintages and packaged at cask force.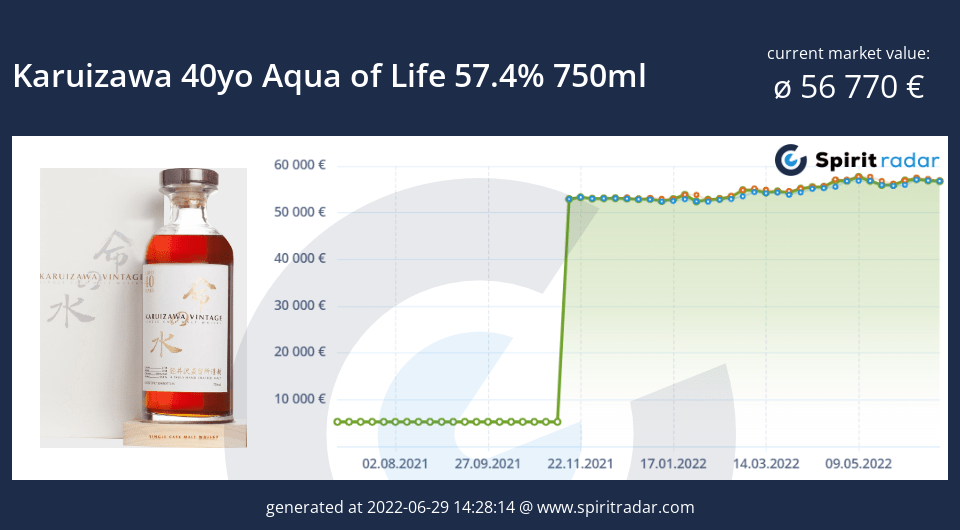 This Karuizawa whiskey was made in 1974 and aged for a minimum of 40 years before even being packaged. "Aqua of Life'' is influenced by the old dialect of whiskey - "Uisge Beathe signifying water of life" - and the Tai Chi Yin-Yang philosophy — a life cycle. It comes with a genuine box.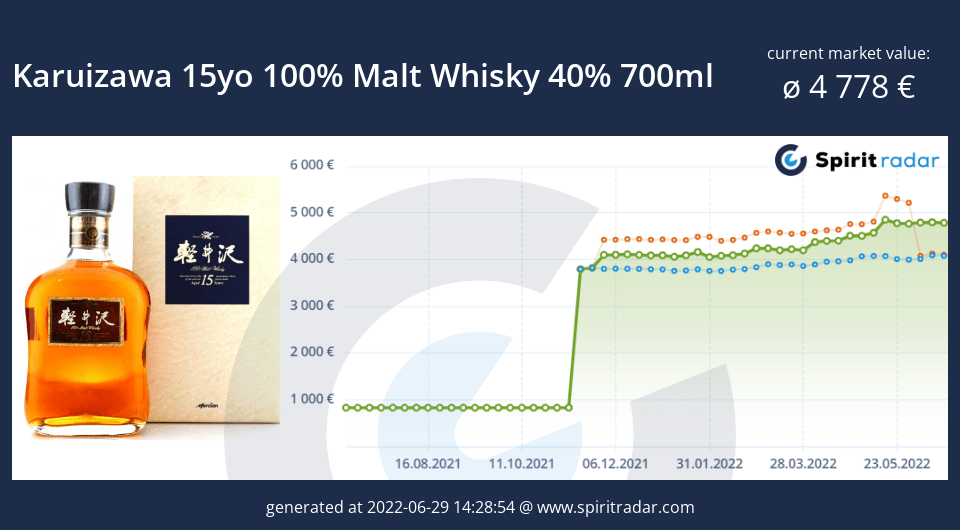 A nice sherried dram, smooth, rich, buttery, and mellow, although with a brief aftertaste. With some oak, it reflects the age. It's decent, but it's not a vast slayer. There is peppery sherry, vanilla, oak, wood spice, bubble gum, and a lot of juicy fruit, especially melon and akebia, on the nose. Cinnamon, raisin, and wood dominate the tongue. It has a lovely vintage bottle effect. Very silky and delicate. It's a little harsh at first, but it keeps getting better. This Karuizawa 15-year-old 100% malt whiskey bottle is a wonderful specimen from this discontinued distillery. A superb malt in a lovely bottle.
Whisky bottles from Karuizawa