Nikka Whisky has almost 80 years of history brewing whiskey, but the brand's history goes back much further than that. In fact, the founder of Nikka Whisky, Masataka Taketsuru, was born into a family who had brewed sake for generations and provided it to the city of Hiroshima, Japan. Taketsuru graduated from high school in 1916, where he majored in brewing, apparently with the idea of brewing whiskey instead of sake already on his mind.
Official website: nikka.com
Two years after graduating, Taketsuru left Japan and headed for Scotland, though he would stop in America on his way. Upon his arrival in Scotland, he enrolled at the University of Glasgow while simultaneously apprenticing at Longmorn Distillery in order to gain experience with malt and whiskey production. He also apprenticed at James Calder to learn Coffey grain whiskey and Hazelburn Distillery to improve his malt and whiskey production skills. Taketsuru filled two notebooks with notes and tips during his time studying and apprenticing. These two notebooks later became a whiskey production guide for all whiskey makers in Japan.
After two years in Japan, Taketsuru returned to Japan, where he worked with the Settsu Shuzo Company. However, he decided to leave two years later when the company abandoned whiskey production. Luckily, there was another Japanese company that was interested in making whiskey. And luckily for Taketsuru, he was the only man in all of Japan at the time who knew how to do that. He worked with this company for ten years, directing the building of Japan's first whiskey distillery. In 1934, Masataka Taketsuru established the Dai Nippon Kaju company and began whiskey distillation, launching their first whiskey, Nikka Whiskey, in 1940. The name of the company was changed in 1952 to The Nikka Whiskey Distilling Co., Ltd.
In 1963, the first Coffey still in Japan was imported from Scotland and put to work in the Asahi Breweries plant and was used to produce grain whiskey. The Miyagikyo Distillery began operation in 1969 and began producing whiskey, as well. Masataka Taketsuru was, more or less, the father of whiskey in Japan. He was the first Japanese person ever to master the craft of making whiskey. He traveled far and studied his entire life to perfect his distillation and bring his whiskey knowledge to Japan. He died in 1979, but his legacy lives on both in Japanese love for whiskey and in the Nikka Distillery.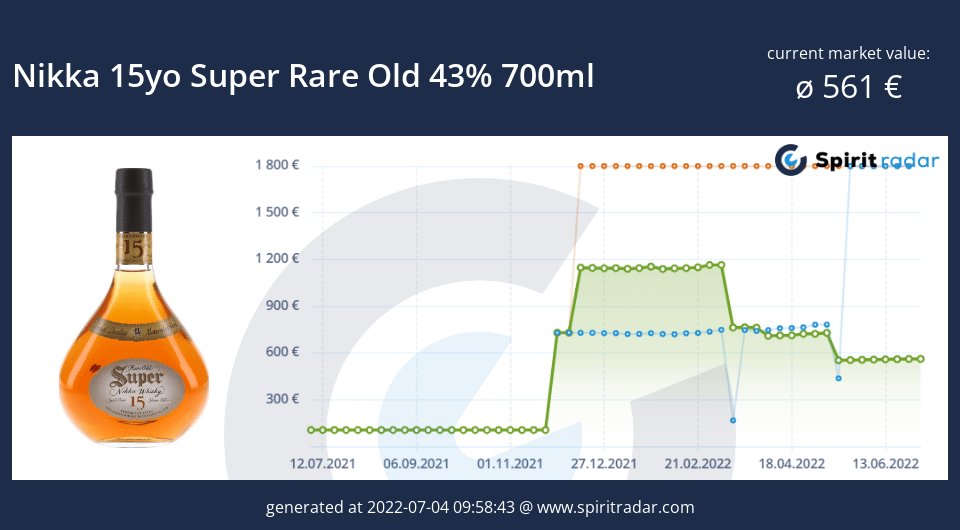 This classic bottle of Japanese whisky looks a little like an upside-down lightbulb, and the whiskey itself is simple and light. Though it is generally agreed that it is better used as a mixer, you will be able to drink it straight and still be delighted. A first sniff will give you essential smells of honey, caramel, and nuts. Sip it slowly and allow your senses to be satisfied with hints of chocolate, tropical fruits, and peanuts. You may also notice a slight burn as you swallow, but nothing overbearing. The finish is relatively short but still delightful. You may only notice a hint of oak in the aftertaste, but you may also get something that makes your mouth pucker.
This bottle of whiskey is a delight just to look at. The whiskey itself is a beautiful light caramel color, and the bottle has a sophisticated stopper at the top. The sweetness of this whiskey will delight your nose and remind you of a bouquet of flowers, but you may not experience that same sweetness on your tongue. Your tongue will be delighted with cinnamon, apple, and black licorice tastes. The finish is fabulous all on its own, with aftertastes of nutmeg, almonds, and butter beans. However, if you add some water, you may also get hints of lemon and oranges.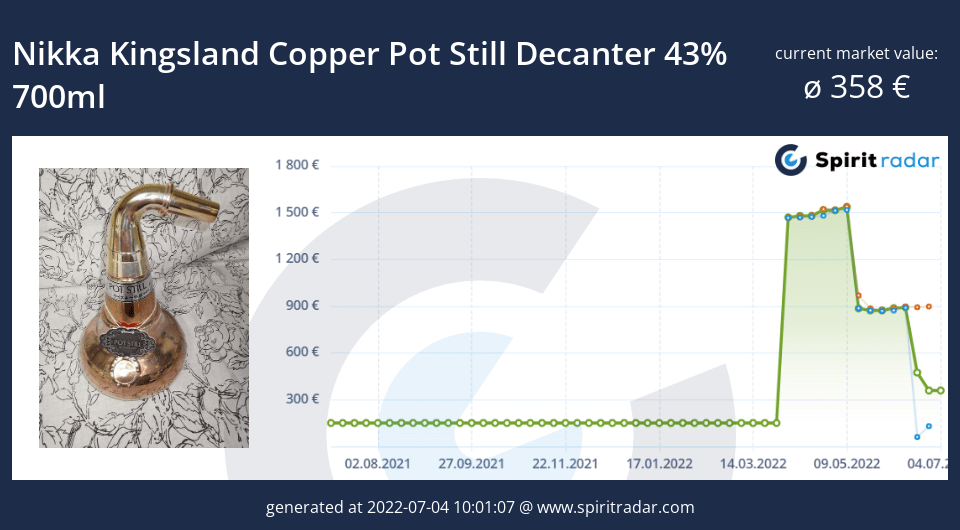 The first thing you will likely notice about this bottle of Japanese whiskey is the cute bottle it comes in. It looks just like a miniature copper pot still! This does make it hard to admire the color of the whiskey, but it comes with the added plus that it can be refilled when you are done with it. That means you will be able to admire this gorgeous bottle even after you have admired all of the whiskey that came in it.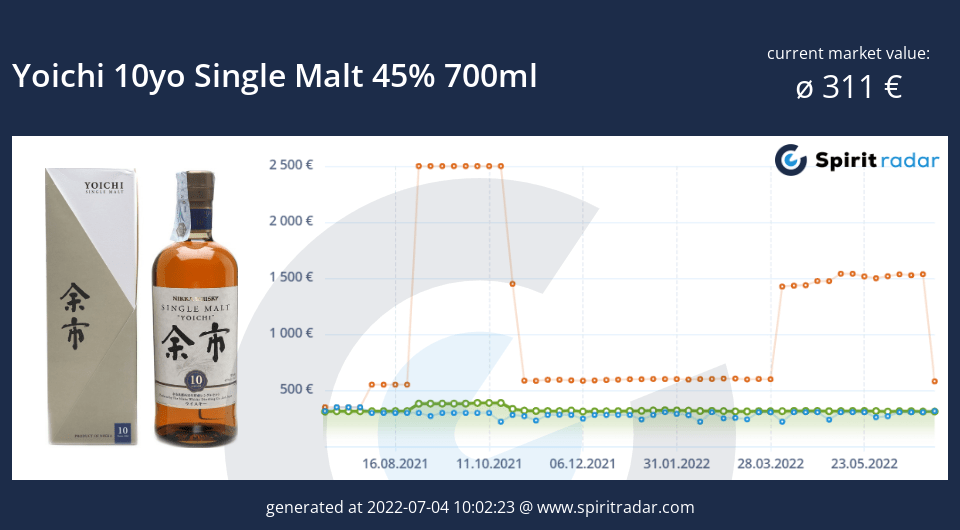 This bottle brings us back to the typical shape of a whiskey bottle, but that does not mean that it is any less unique. Also, it should be noted that this whiskey is a very unusual and intriguing color: it is a light amber color that looks almost cloudy. This bottle of Japanese whiskey has won six awards, including the Best Japanese Single Malt Whiskey in 2011 and second place in the International Spirits Challenge four different times! Subtle hints of oak, apples, and ginger will greet your nose, inviting you to take just a tiny sip. When you do, your taste buds will be bombarded with blasts of dark chocolate, flowers, and nuts. A rich and dense finish will remind you of spices, espresso, and a little bit of saltiness.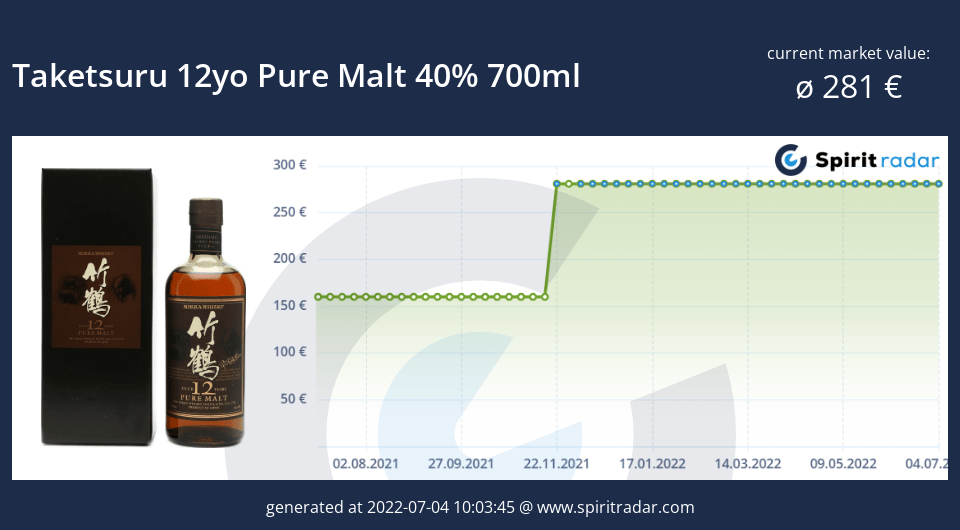 Let's start by noting how beautifully colored this whiskey is; it is a gorgeous dark-colored amber, which gives it an intriguing look. This whiskey is generally agreed upon as being harmonious; all of the different tastes and flavors mingle together and help enhance your experience. Fruits, flowers, and spices are all scents you may recognize, enticing you to take a sip. That sip will lead you to experience the tastes of green apples, nuts, and honey. Finally, enjoy this long aftertaste of wood, orange, and delicious rhubarb. This whiskey has won several awards, including the Best Japanese Blended Malt three times!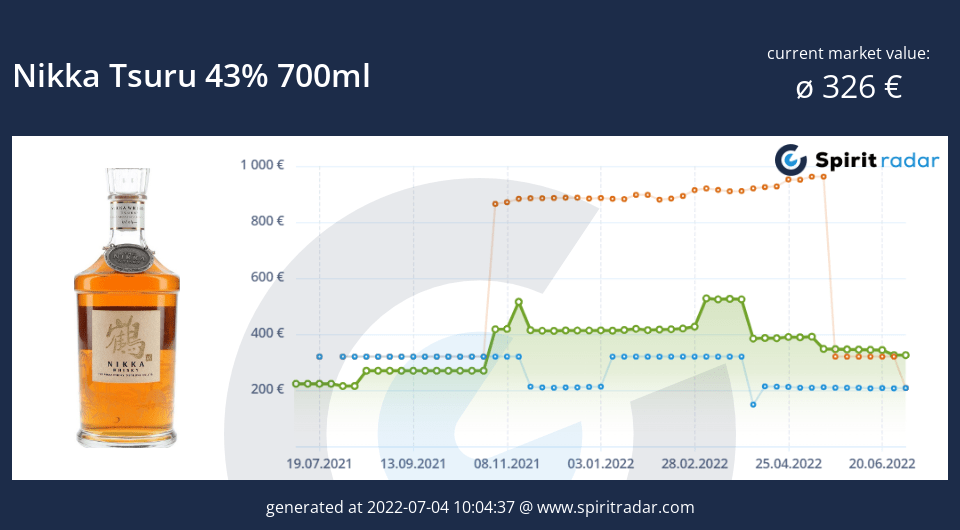 This cute bottle of whiskey looks almost as though someone has tightened a corset around her waist. It is a beautiful amber color that allows light to shine gorgeously through it. There are luscious scents of prune, vanilla, and oak, though you will want to avoid swirling it. Swirling this whiskey can make it harsher, which we should try to avoid. With your first sip, you will first notice hints of cherry, cinnamon, and oak, while the aftertaste of prunes, coffee, and oak will leave you ready for your next sip of this delicious whiskey.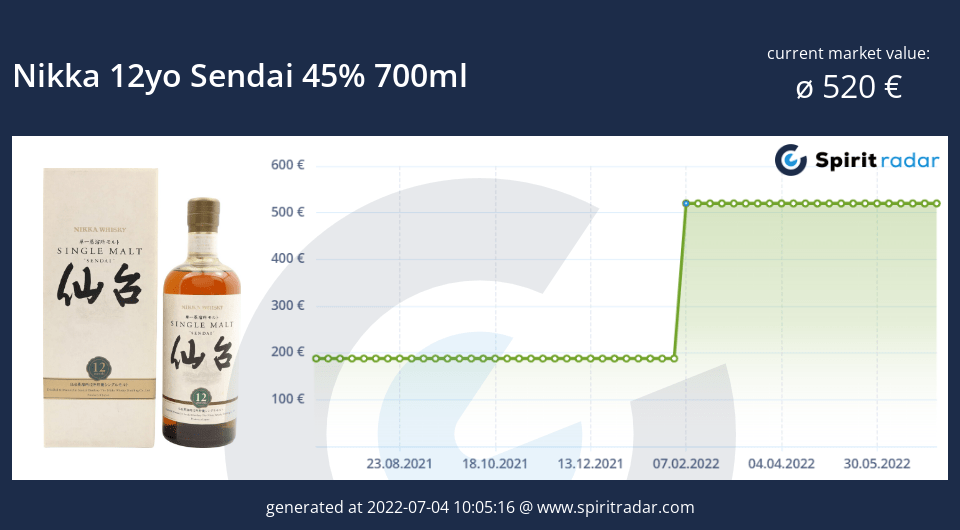 The white wrap on this bottle and the golden wrap around the lid both work together to lend an old-timey look to the bottle. The whiskey is a golden color that looks inviting to sip on. This is a very fresh-smelling whiskey, reminding you of delightful items such as citrus fruits and sherry. Prepare for your tongue to be amazed at the combination of tastes: citrus, spice, and dark chocolate. That sounds like a great combination, so you can only imagine how unique that combination will be in a whiskey. There is a long finish, so make sure to come to the end of it before your next sip; you will not want to miss out on all the hints of hot spices and chocolate.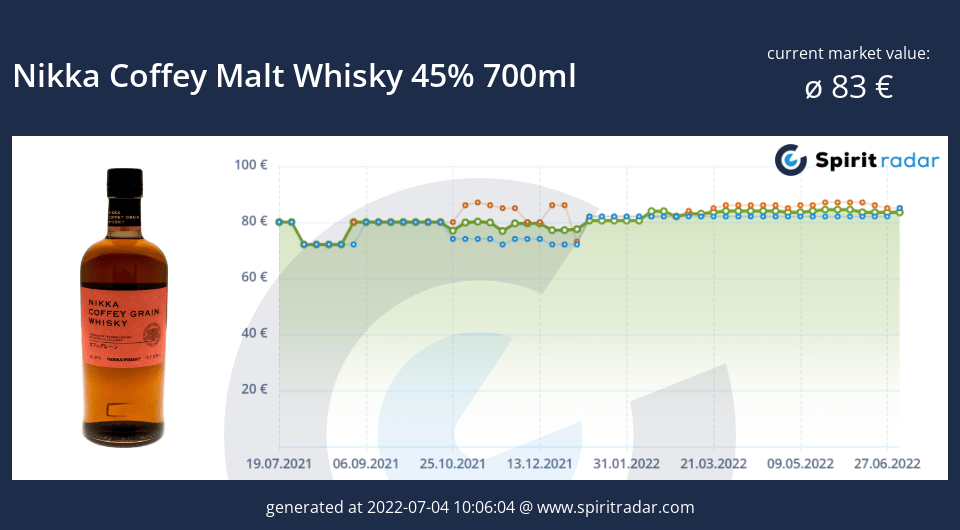 This whiskey is a genuinely gorgeous old gold color that is quite intriguing just to look at. It was made in Coffey stills, which has helped contribute to this whiskey's delicate flavor and lighter body. Your nose will be greeted with scents of lemon and nutmeg, while your tongue will thank you for the robust liquid you just poured onto it. Cinnamon and citrus will be followed by a fascinating aftertaste of spices, oak, and citrus. With its combination of fruits and spices, this whiskey is sure to become a crowd favorite at any get-together. It is obviously well-loved, judging by the fact that it has won the International Spirits Challenge in both 2019 and 2020.
Whisky bottles from Nikka