WhistlePig is dedicated to producing the best and most unique whiskeys on the entire globe. Over ten years ago, they revolutionized the Rye Whiskey industry and still set the bar today. They won't ever give up coming up with fresh ideas on how to provide you with the finest that Rye can offer. They push the envelope in every stage of the whiskey-making procedure at their farm distillery in remote Vermont. They want strong, robust tastes and large mash bills for Rye. The greatest finishing barrels purchased from the world's best cooperages, especially those in their personal backyard, are used to refine a core line of whiskeys.
Official website: whistlepigwhiskey.com
They produce true, pure liquor while inspired by nature's abundance. They have established a bespoke toast/char character for their regional, sustainably sourced Vermont Estate Oak casks. They also sow unique grains and collect their own harvests each year. They utilize their ex-Rye containers to mature regional maple syrup for specialty artisan drinks once their whiskey has been bottled. And the adventure has just begun.
They will experience unforeseen plot twists while creating progress in American whiskey. As their illustrious Master Distiller, Dave Pickerell famously observed that people drink their errors in his business, and he is alright with it. But there is no denying that WhistlePig is by far the world's most prestigious Rye Whiskey producer. So they may proudly raise a glass to that.
When they bought their ranch in 2007, WhistlePig had its debut. After some time of careful thought and introspection, they decided to devote themselves to producing the best and most intriguing rye whiskeys possible. They uncovered and acquired a magnificent supply of 10-year-old blended alcohol in Canada, which was being gravely mishandled with the assistance of Master Distiller Dave Pickerell. They will always appreciate the first stock that started their fantastic enterprise.
There is always more to investigate. WhistlePig is aware that not every step forward is straightforward. They thus encourage themselves to experiment and find comfort in their blunders.
Their dedication to providing a genuine sensation doesn't stop when the bottles are closed; during the process of cultivating, gathering, storing, and packaging their preferred grain, the livestock are also reproducing and procreating. Their farm is home to many animals, including horses and sheep in Kunekune. In addition, they extract 20 acres of maple trees for sweet syrup. They believe their farm, which covers over 500 acres, is the ideal setting for experimentation since it gives them plenty of exposure to the finest ingredients.
The grain rye is brattish. It's challenging, and much like a fine Bordeaux, it requires time to develop fully. WhitlePig is privileged to have a large stock of highly aged rye whiskeys. Age, though, isn't everything. So they put themselves to the test to see whether they can grab this fantastic whiskey and turn it into something exceptional. They were very fixated on completing it because of this.
They searched the world for the most distinctive and fascinating barrels, creating their custom barrel using wood from their private farm. Finally, they reluctantly gave up a small amount of their whisky to settle in these barrels before starting the most challenging portion of their task.
The first batch of completed Rye Whiskeys was their 12-Year-Old World Cask Finish Rye, which was first marketed as three distinct completed Ryes: Sauternes, Madeira, and Port. With each successive launch, The Boss Hog has a new fan-favorite finish.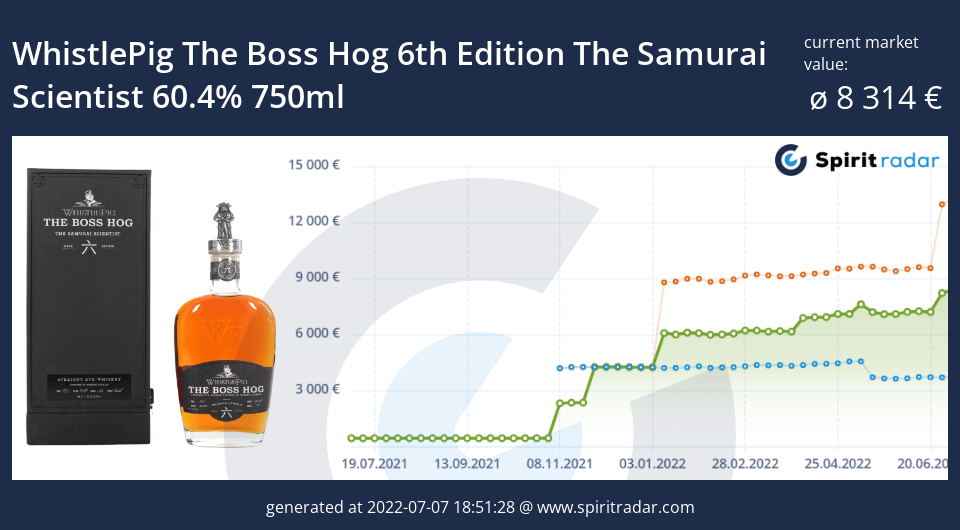 The distillery produces a whiskey that personifies WhistlePig's journey to achieve the propensity of rye whiskey when Dave Pickerell's five pledges are fulfilled, which happens seldom.
Because WhistlePig and Kitaya distillery in Japan's Kyushu region collaborated, The Boss Hog Edition is the debut American whiskey finished with Japanese umeshu.
Koji fermentation was used to produce this Straight Rye Whiskey that has been nicely matured. The Samurai Scientist, Jkichi Takamine, who invented koji processing in the American whiskey business more than 100 years ago, is shown on every bottle.
Each cask is packaged at a proof around 120 and 122.
The wine's complex aromas, cinnamon, maple, and toasted marshmallow with duration in the bottle develop.
Tobacco, ginger, baked spices, and salty umami combine on the tongue to create a surprisingly rich, subtle, and elegant character, which contributes to the mellow, fruity sweetness that further accentuates the flavor mosaic.
Exceptionally lengthy, lingering notes of the oak grain, char, and hardly any smoke as the aftertaste dissipate.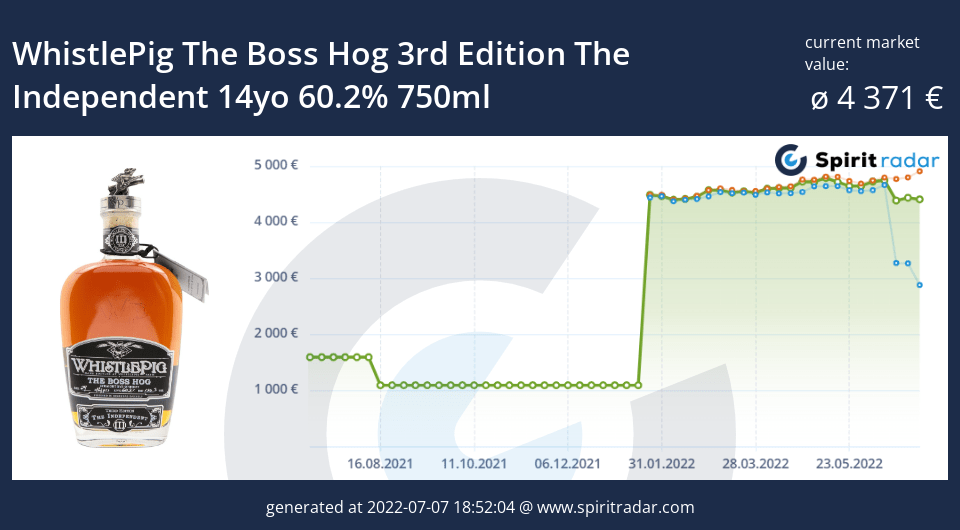 The Independent, the Third Edition of Boss Hog, honors the essence of creativity and entrepreneurship. This is their first rye whiskey completed in 250-liter Hogshead Scotch casks, which are the biggest barrels in the industry and have new American oak tops.
The outcome is extraordinary: a precise balancing act between sophisticated spices and subtle delicacy. The Independent, a bold, enormous, and unyielding whiskey, exhibit the mellow taste that results from the union of two of the world's largest whiskeys, Rye and Peated Scotch, which find harmony in one another. An unusual love tale.
The nose is dominated by oak and vanilla, with nuances of mint, toffee, and baking spice.
With loads of spices, it is cozy and strong. Very slight traces of smoke and wood. It is a little rustic.
With a lengthy, warm, peppery aftertaste, the 125-proof liquor is surprisingly simple to consume.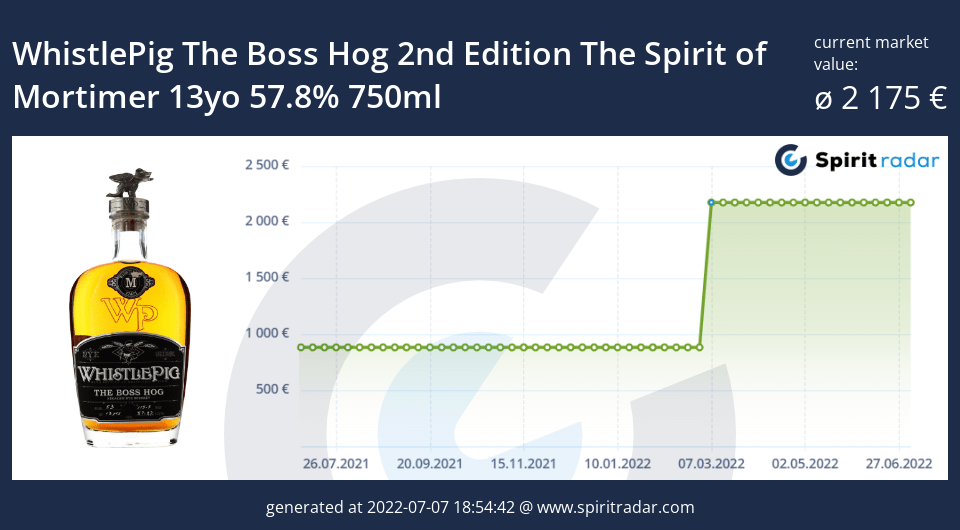 WhistlePig officially presents the Mighty Boss Hog. This is their most valuable and uncommon potentiation.
Just 50 barrels, hand-picked from their oldest and best, make up "The Spirit of Mortimer." It has endured a lengthy and distinctive multi-barrel aging process and is over 14 years old. As a result, the Boss Hog is the cleanest, most potent, and most primitive representation of the best Rye globally and is packaged at full barrel intensity.
It is dedicated to the late Mortimer WhistlePig, the Kune Kune mascot, and bearer of the company's moniker. The "Spirit of Mortimer," a floating pig etched and handmade by Danforth Pewter Works just down the road in Vermont, will serve as Mortimer's actual memorial. The unmatched whisky contained in the glass will serve as Mortimer's transcendental memorial.
Rye spice, rich toffee, raisins, baking spice, black peppercorn, and undertones of anise and tobacco seasoning are all present in the scent, along with energetic brightness.
Full-bodied and contains instant warming rye and undertones of vanilla and oak that are both delicious and spicy.
With notes of butterscotch, maple, baked stone fruit, and caramel popcorn, brown sugar and other flavors swirl in the shadows.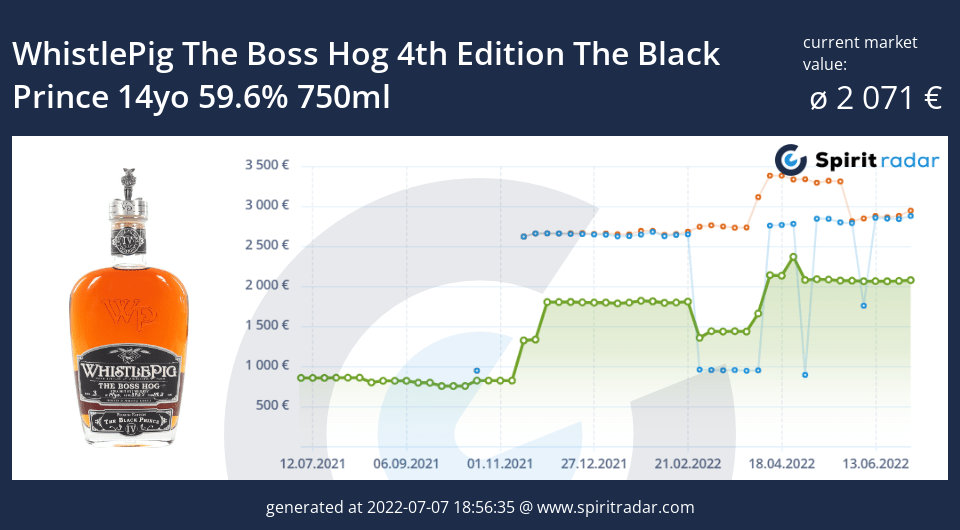 The Boss Hog IV: The Black Prince gives homage to the good spirits of Europe. Directly from France, it's the first rye whiskey ever to be aged in Armagnac barrels. The whiskey expresses for itself, displaying a distinctive fusion of sweet and spicy tastes with a perfect harmony of American strength and French refinement. Nothing else compares to that.
Mulled cider, cardamom, dried ginger, and a hint of pipe tobacco may all be detected on the nose. With age, the flavors of caramel, vanilla, and mild rye spice meld in the bottle.
Palate: Rich chocolate and French oak spiciness counteract the sweetness of the pears and maple syrup. The spices assume a more prominent role with water, and a lively, fruit-forward personality emerges.
Finish: Extraordinarily lengthy, with roasted marshmallows, burned sugar, fresh apricots, and a little oak spice.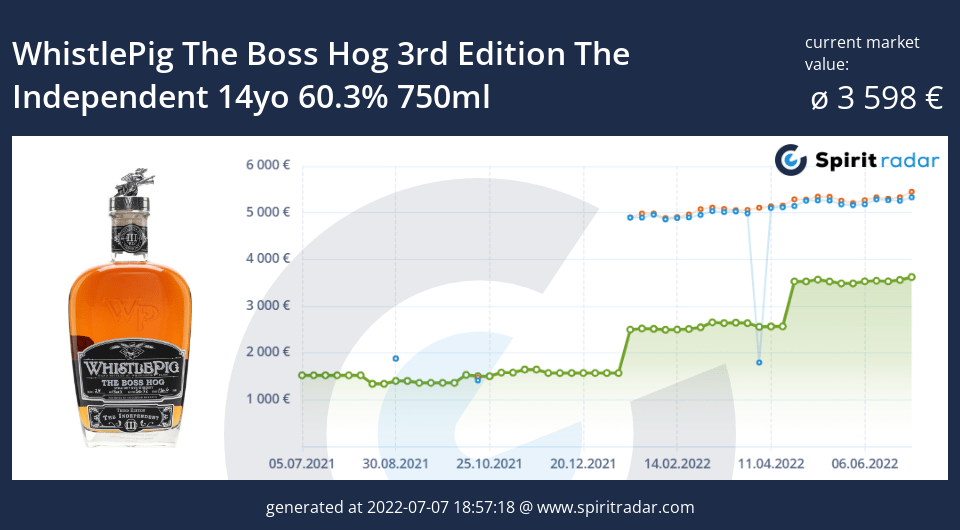 A handful of 50 barrels were bottled, and it is the result of a single barrel.
The Rye's intense flavors are subdued by the maturing process' use of subtle vanilla, caramel, and butterscotch aromas. Every bottle of this whiskey is distilled from a sole barrel at barrel intensity during maturation.
For more than thirteen years, WhistlePig Boss Hog has matured in a blend of modern American oak and bourbon barrels.
Whisky bottles from WhistlePig