Duncan Taylor was founded in Glasgow, Scotland, and began as a dealer and brokerage of Scotch whiskey barrels in the industry.
The company has a long history and dedicates itself to supplying only the best barrels stocked at Scotland's major distilleries. As a result, scotch whisky, gin, and rum from the Duncan Taylor distillery are some of the best in the world.
Official website: duncantaylor.com
Duncan Taylor possesses one of the greatest privately owned inventories of classic and exotic scotch whiskey barrels, thanks to decades of setting down casks from premier Scottish distilleries.
Duncan Taylor relocated its operations to Huntly in 2002. Speyside is the most significant whisky-producing area in Scotland, and in Huntly, you can find the company's cask storage, packaging, cooperage, and soon-to-be distillery.
Duncan Taylor Scotch Whiskey has been around for over 80 years. In that time, it has established itself as a leading whisky trader, mixer, bottler, and barrel broker, earning it a reputation as among the most innovative and active whisky enterprises worldwide.
This firm has won several awards, and its brand image primarily boasts it as one of the world's most fabulous privately owned exhibits of exceptional and elegant whiskies.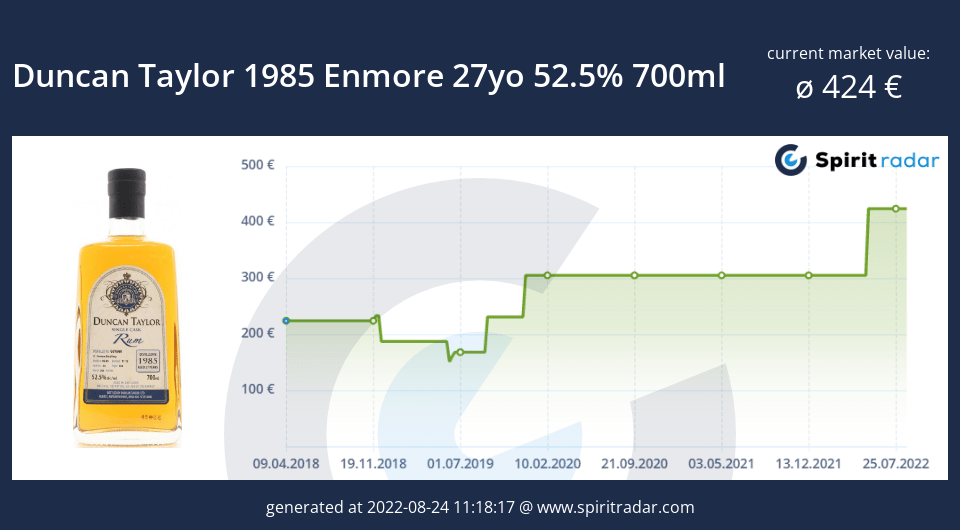 This bottle by Duncan Taylor is a 1985 batch of Enmore's Demerara rum, made in a single wooden pot still. Though the Enmore distillery and its wooden Coffey alone shut down in 1993, their respective types are being made today at Uitvlugt and Diamond (where the Versailles still had been before).
The rum gives off a golden amber glow in the glass. Only continental maturation is in doubt if the vintage age of the bottle is taken into account. There is a reasonable amount of oiliness, and it's acceptable given the bottle's age. Several thick streaks slowly make their way to the glass's base. Pieces of pearls are stuck on the glass.
You will get the smell of something like a new pencil lead. But, without any doubt, there is a lot more to consider. It is incredibly intricate and condensed. Faintly, fruity scents may be picked up in the distance (oranges). There are also delicate vanilla undertones. Herbal tones are complemented with oak (basically basil or thyme).
You will find a delicious blend of sweetness and sour herbs on the tongue. The rum tastes intense and incredibly delicious. Slight traces of citrus and fruitiness remain in the background.
On the palate, there are spontaneous bursts of nutmeg and pepper. This is then followed by a fruitiness that is both more noticeable and robust than before. After that, this is braided together with the faint aroma of smoke. Finally, sour herbs complete the taste (basil or thyme). As time passes, the flavor gradually diminishes, leaving behind just a lingering aftertaste of smoke and acidic herbs.
There were just 260 bottles of this limited edition rum produced. After 27 years of distillation at the Enmore Distillery, the spirit was finally bottled.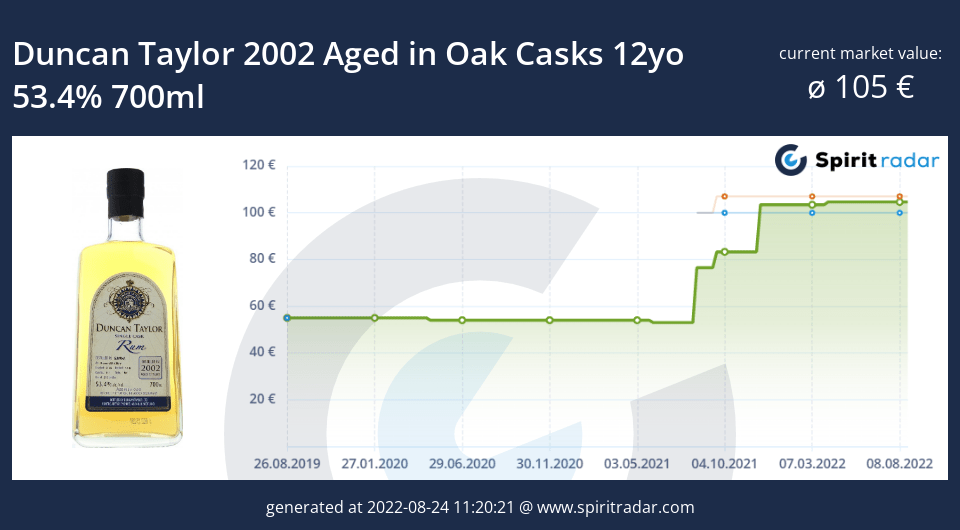 This one was produced by Guyana's Diamond Distillery in January 2002 and bottled 12 years later in December 2015. The pale gold hue is quite attractive. The first aromas are of solvent and exotic fruits. Like a Jamaican rum, but not quite.
On the other hand, the mineral side of earthiness is consumed rapidly. The mineral flavor dominates and lingers nicely on the tongue and roof of the mouth. The minerality and exotic fruits provide a pleasant, lengthy aftertaste. Only 210 bottles of this unique and limited series rum were produced.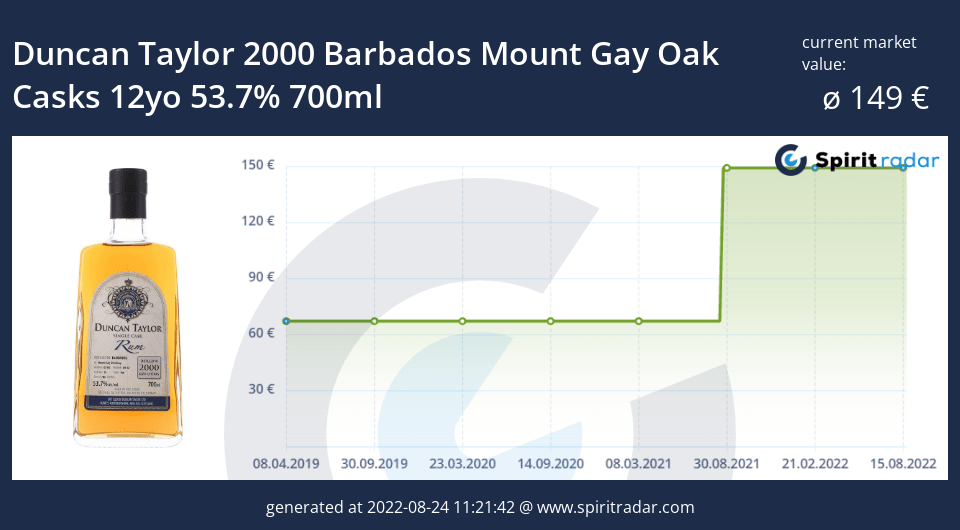 The Mount Gay distillery located on the island of Barbados is responsible for creating this Single Cask Rum. Independent bottler Duncan Taylor chose this and bottled it. It was first distilled in a pot in 2000 using molasses and then matured for 12 years.
The odors of roasting, particularly coffee, are pronounced. Peanuts, flips, chocolate, almonds, and coconut are stashed away. Discreet hints of cherry, strawberry, and brambleberry linger in the background. The flavor combines a mixture of mild and sweet with a heavy dose of coffee and peanuts. The "oh, so wonderful" almonds are buried in the rear, behind the vanilla, wood, cumin, cloves, pepper, and paprika. All traces of fruitiness appear to have vanished.
It finishes with notes of vanilla, mango, milk chocolate, and cappuccino and has a medium-length finish. The ending is fantastic. While the rum's most exceptional qualities are undeniable, the overall experience is lovely. There are just 280 bottles of this exclusive limited edition rum release.
Rum bottles from Duncan Taylor