Silver Seal is a company that offers one of the most authentic selections of fine and rare whiskies and rums from around the world. The company was formed in 1979 to provide excellence to anyone who appreciates a great glass of whisky or rum. So whether you are looking for a great vintage or a specialized bottle, Silver Seal has covered you.
Official website: silversealwhisky.com
Silver Seal also offers personalized bottling for that special person in your life. Don't know what to get someone special for their birthday? A delicious bottle of rum with exclusive bottling sounds like a present that almost anyone would enjoy. It does not matter if you are an amateur or an enthusiast; you will indeed find a bottle that you love with Silver Seal.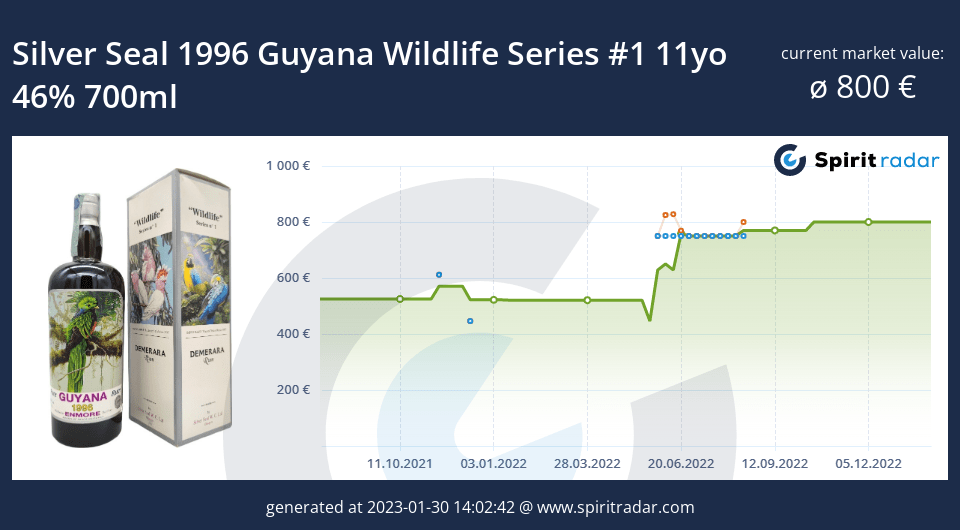 The first thing that you will notice about this bottle of rum is its gorgeous label, which truly lives up to the name of its series: "Wildlife." Beautiful tropical birds adorn both the label and the classy box that this bottle of rum comes in. In fact, the artwork on this label is from the famed Harro Maass from Germany. This Demerara rum was distilled in 1996 and bottled 11 years later, in 2007.
Though bottled by Silver Seal, this rum was distilled at the Enmore distillery in Guyana. This bottle of rum was made from molasses and distilled with a combination of both the traditional Enmore Coffey and the Versailles wooden pot still. Your nose will be greeted with the scents of berries and vanilla, while your tongue will be swept up with the delicious combination of caramel and orange.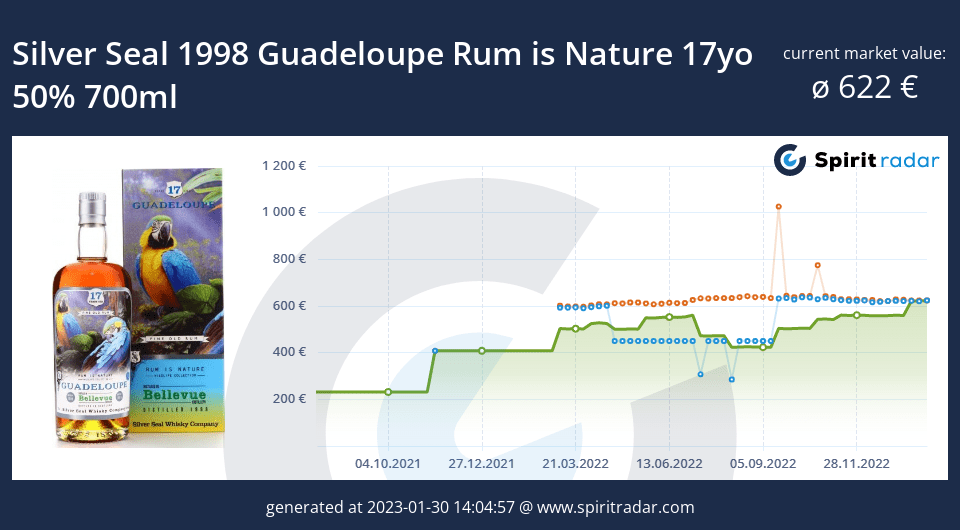 This is another beautiful bottle of rum straight from Silver Seal bottling company, complete with gorgeous blue birds on both the label and the box. This bottle was distilled at the Bellevue distillery on the island of Guadeloupe in France. Only 270 bottles of this Damoiseau rum were produced from the finest Guadeloupe molasses.
With your first glass of this delicious rum, you will notice the gorgeous amber color of the liquid, followed by hints of leather and salt that tickle your nose. The tastes of figs and thyme roll over your tongue with the first sip, followed by a short but strong finish that will remind you of chocolate and coffee. The interesting finish is sure to leave you wanting more.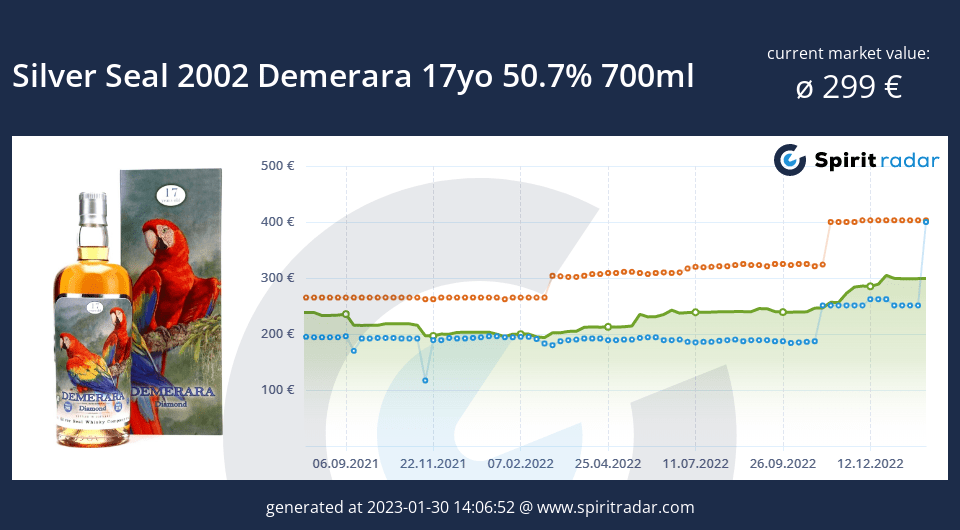 This Demerara molasses rum was distilled at the Diamond Distillery in Guyana in 2002 and bottled by Silver Seal in 2020. Though there were only 218 bottles produced, there is no denying that it is a truly beautiful bottle. Gracing the label, once again, are beautiful tropical birds that really make the honey-colored liquid stand out to a first-time drinker.
When you finally decide to pop the cork on this gorgeous bottle, your nose will be met with a smell that will remind you of sturdy oak and sweet toffee. This is a very intense rum with prominent tastes of spices, chocolate, and juicy raisins. The spices can be so intense to some drinkers that there is a numbing sensation in their mouth after even a small sip, but that only means that it is delicious!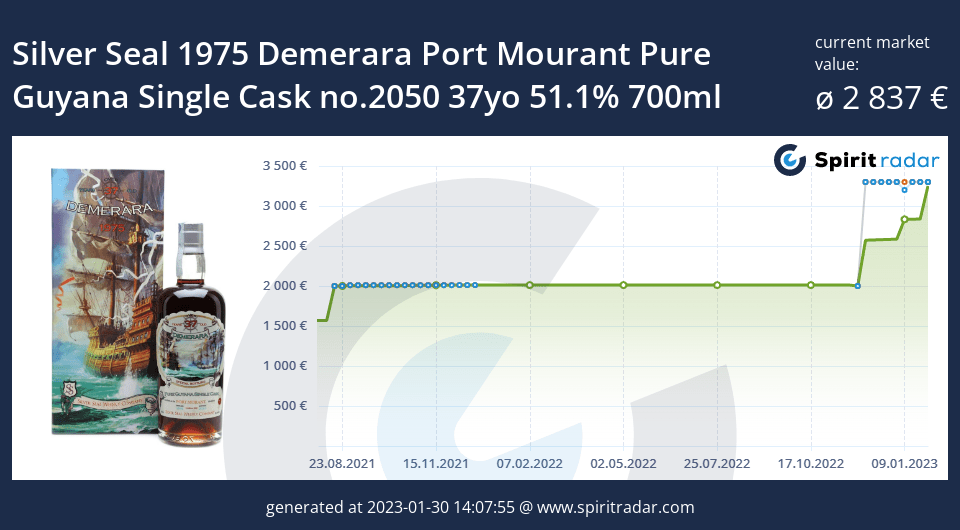 It is important to note that there were only 139 bottles of this Demerara rum bottled by Silver Seal in 2013. This bottle was distilled by Port Morant Distillery in Guyana in 1975, which is located on the banks of the famed Demerara River. This bottle shows an interesting-looking pirate ship that seems to crash over the waves, presumably to deliver more bottles of this delicious rum to its destination.
The rum itself is a very dark color, almost appearing soda-like through the translucent bottle. Upon opening, the scents of licorice, molasses, and berries will enthusiastically greet your nose, while spices, fruit, and leather tastes will wash over your tongue at the very first sip. After swallowing, you will notice a strong hint of oak lingering on your taste buds, leaving you craving yet another sip.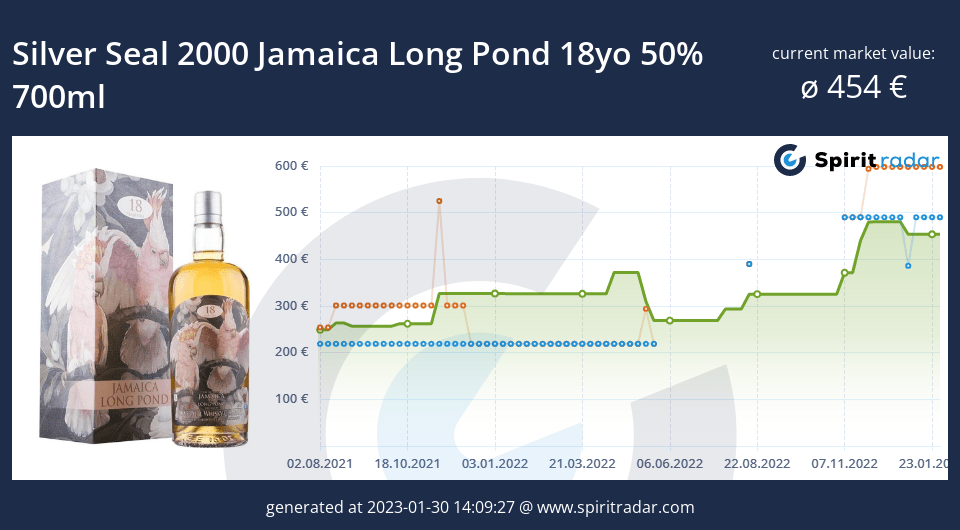 This limited edition rum was carefully and thoroughly aged for 18 years before being meticulously bottled by Silver Seal into the unique bottle. Distilled by the Long Pond Distillery in Jamaica, the rum was then packaged into only 255 bottles. The pink and white tropical birds on the label outside stand out wonderfully against the light amber-colored liquid within.
When you are done admiring the craftsmanship of this bottle, go ahead and pop the cork so you can enjoy it more fully. Your nose will easily pick up the scents of vanilla, toffee, and mango, while your taste buds will scream with delight at the hints of lime, pistachio, and syrup. The finish is both long and rich, reminding you of energy-giving green tea and strong oak.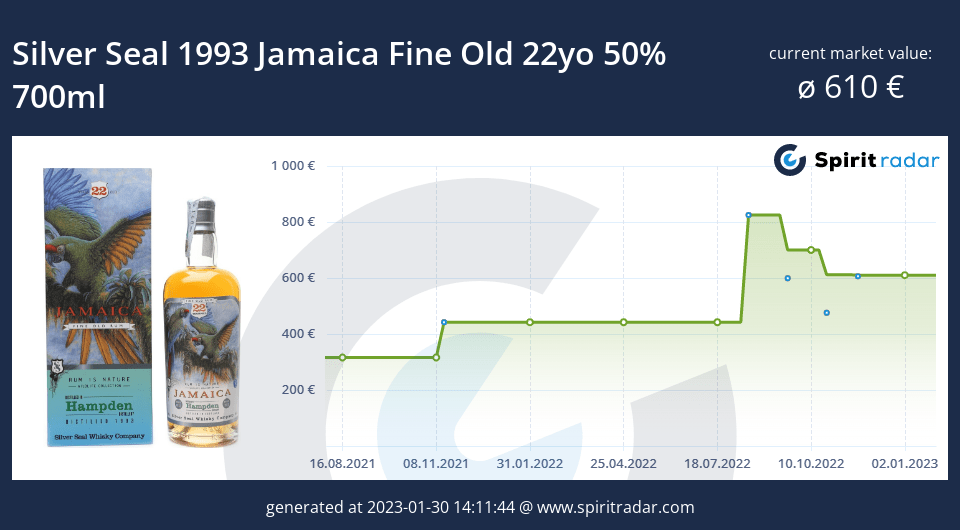 It was distilled in 1993 in the Hampden Distillery of Jamaica and then aged for 22 years before its Silver Seal bottling, so it lives up to its gorgeous predecessors. Beautiful, green tropical birds grace the label that wraps over this light amber-colored liquid while proudly displaying the names of its distiller and bottler. There were only 290 bottles produced during the bottling process in 2015.
When you pour your first glass of this intriguing rum, you will notice powerful aromas of pineapple, sugarcane, and toffee, which will leave you eager for that first delicious sip. And that first delightful sip is sure to remind you of papaya, leather, and luscious caramel. The finish is quite delightful, neither bitter nor dry, leaving hints of oak, passionfruit, and more sugarcane.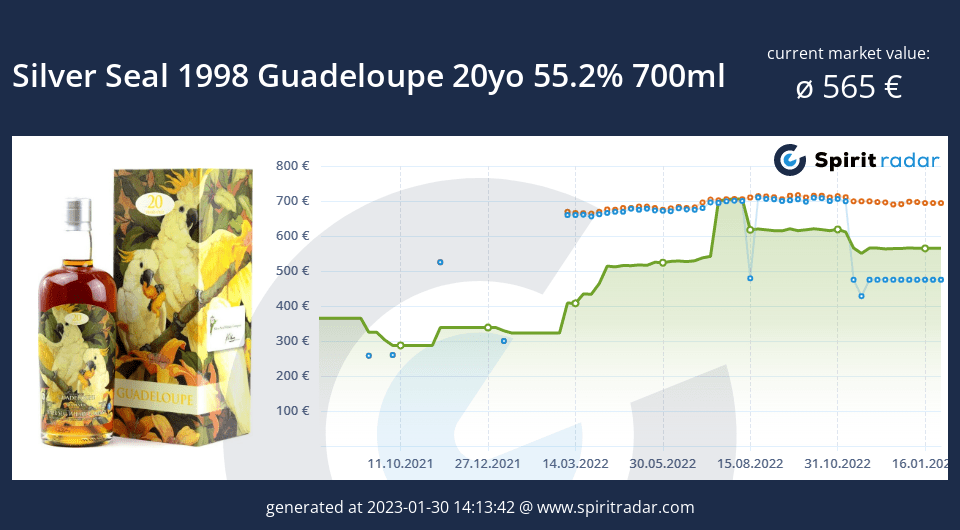 Here is another delicious bottle of rum distilled by the Bellevue Distillery on the island of Guadeloupe in France. Distilled in 1998, this rum slept away for 20 years in a barrel before finally awakening in 2018. It was then promptly bottled by Silver Seal into 179 absolutely beautiful bottles for all rum lovers to enjoy. The amount of detail included on this stunning label is unparalleled and very distinguishable.
The first thing you notice about this particular bottle of rum is the unique smells of exotic wood and cocoa that are mixed together. With your very first sip, you may notice hints of sap and burnt raisins, while the second sip may bring you hints of chopped wood. One thing is for certain: this interesting combination of smells and tastes will leave you clamoring for more.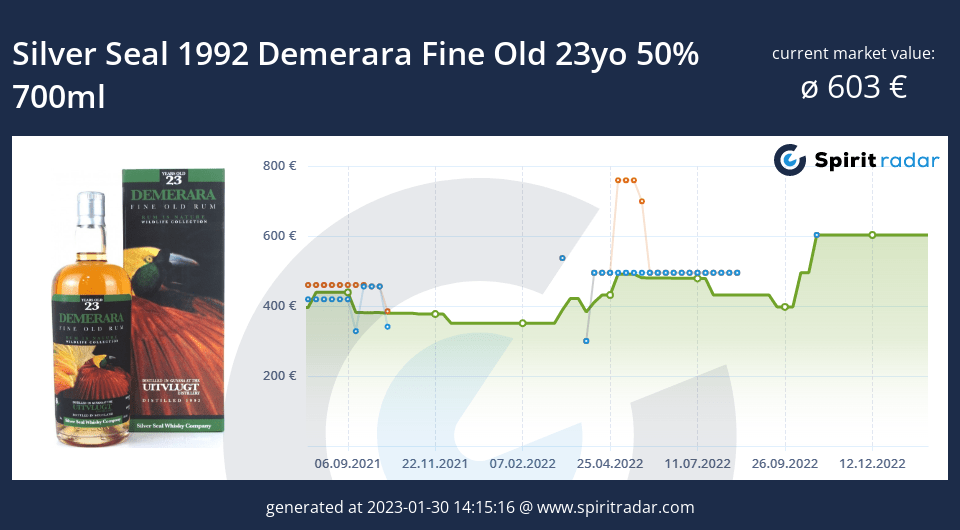 This limited edition of rum should be prefaced by warning all potential buyers that this is one of the most beautiful labels you may ever see on a bottle of rum. There were only 231 bottles lucky enough to be wrapped in this gorgeous, green label from Silver Seal. The rum itself was distilled at Uitvlugt Distillery in Guyana and is a lovely light golden color.
The nose on this rum is quite delightful and sweet, bringing to mind molasses, licorice, and salted caramel. The taste of this rum is reminiscent of its smell, with a strong and sweet taste that carries hints of cinnamon, salted shortbread, and even more coffee. The finish that you will experience is long and satisfying. You will surely have hints of spices and molasses dancing on your tongue for a while.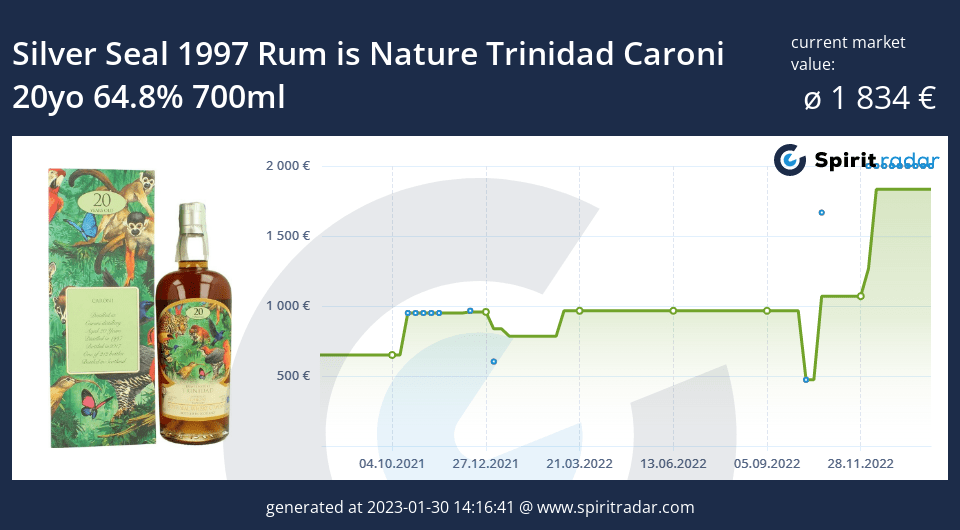 The label on this bottle of rum is once again an instant classic because of its wonderful use of color and wildlife. Not only does this Silver Seal label include tropical birds, like many other Silver Seal labels, but you will also notice monkeys, butterflies, and even a leopard. There were only 212 bottles of this dark amber rum produced at the Caroni Distillery in Trinidad and Tobago.
The smell that will greet your nose will remind you of a freshly tilled garden and black licorice. The taste of this rum is one that lives up to the claim on the label that "Rum is Nature," because of the hints of apricots, grapes, and sturdy oak. The finish is long, coating your mouth for a long time with hints of tobacco, prunes, and leather. With such an interesting tasting experience, you are sure to want to test drive it again and again.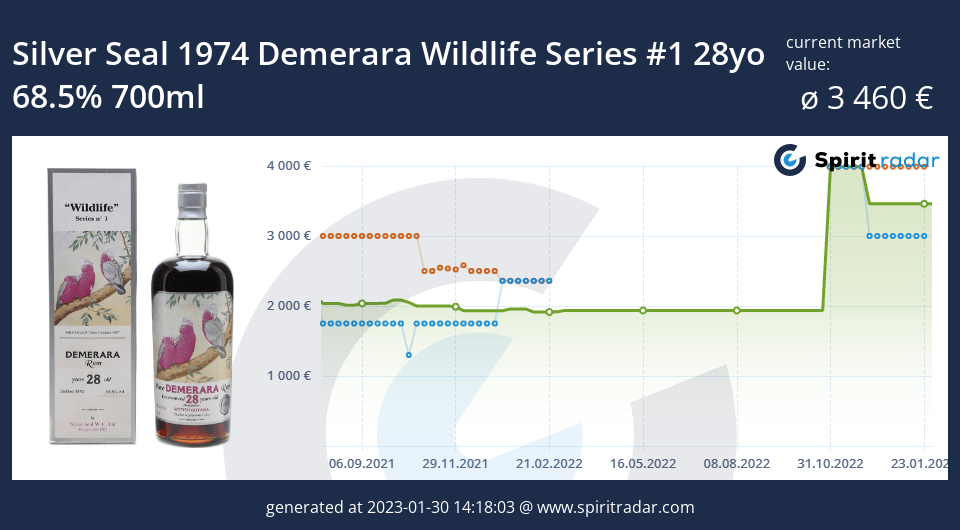 This fabulously dark liquid was distilled by the Demerara Distillery in Guyana in the year 1974. It was then aged for 28 years before being packed into 470 bottles by Silver Seal in 2003. Silver Seal then decided to wrap these bottles in a cute white label featuring pink and blue tropical birds. As mentioned, the rum in this bottle is very dark, appearing more like the molasses it is made of than any kind of liquor.
Your nose will be delighted at the scents of burnt sugar, tobacco, and leather that waft up to meet it. This combination of scents is bound to make you think of camping in the woods as a child. The tastes of brown sugar, molasses, and prunes help give it a very distinctive taste that seems almost primal to your subconscious. The finish is long with hints of dried fruit, wood smoke, and tobacco, once again bringing to mind memories of camping.
Rum bottles from Silver Seal