The Italian company Velier is one of the most important companies for producing and distributing spirits. Its origins can be traced back to the 1950s in Genoa - at that time; it was a small company interested in importing spirits and foodstuffs. However, Velier did not experience its heyday until almost 40 years later, when Luca Gargano, marketing director of Spirit SpA (then a famous Italian import company), acquired a stake in the company. From the 1990s onwards, Velier focused on importing top-quality spirits, which it distributed to selected restaurants and wine bars, becoming the first Italian company to import wines from all corners of the world - from Australia to South Africa to California, Argentina, and Chile. Before the turn of the new millennium, Velier began producing its own novel lines of white spirit products, available only in select locations - fashionable, prestigious, and ethnic cafes, bars, and restaurants; it added Caribbean rums to its list of import countries.
Official website: velier.it
In addition to its own production, exports and imports, Velier also focuses on collaborating with other distillers with whom it develops (not only) different types of bottlings. In 1996, they bottled the original Demerara, which would become a significant marker for collectors in the future.
Velier marked 2002 with a legal battle with the Italian government, resulting in Absinthe's legal importation. At the same time, the company began to deal with natural wines and launched the "Triple A" quality protocol, which also became the standard for their future wine production and distribution.
On a trip to Trinidad two years later, Luca discovers a huge stock of Caroni rum. At that moment, Luca unleashes the so-called Caroni mania when he decides to take advantage of the situation and bottle the rum at the full alcohol content.
Two years later, Luca teams up with Gianni Capovilla with the vision of making the best Agricole Rum in the world, and together they take a trip to Marie-Galante. This journey leads to the beginning of the production of Rhum Rhum.
Velier continues to grow in strength and prestige, gradually becoming the exclusive importer of the Edrington Group, William Grant & Sons, and later the SPI Group and selected Brown-Forman and Sazerac Company brands. In 2012, under the supervision of Luca, Velier began to produce Haitian rums under the Clarin label. The new Gargano Classification, which categorizes rums according to their distillation method, is launched in the same year.
Further expansion will come in 2016 when Velier begins to distribute worldwide thanks to a contract with la Maison the Whisky: LM&V. A major milestone in the same year is the collaboration with Richard Seale and the famous Foursquare distillery. Two years later, Velier is listed by the London Stock Exchange as one of Europe's 1000 most inspiring and fastest growing companies. In addition, Velier becomes the exclusive distributor of Hampden Estate and, in 2020, begins bottling single rums for Appleton Estate.
Velier & Caroni
The Caroni distillery can be officially traced back to 1918, but it was probably in operation even earlier. Tate & Lyle bought the business in 1936 and established its Trinidad sugar cane trading facility there. In those days, Caroni was also an essential supply of sugar cane and rum to the British Navy. Over the years, however, the craft began to decline in Trinidad, and Tate & Lyn was not spared. The latter first sold a 51% stake to the government in 1970, which nationalized the business five years later. These events gave rise to Caroni Ltd, which was in great financial difficulty despite its independence from molasses imports. The State, therefore, decided to sell part of its shareholding but still retained a majority stake in order to control the company. Angostura was a hot contender to buy part of the distillery and eventually acquired some 18 000 barrels, although the two sides argued over the value of the products. Caroni was subsequently closed in 2003, a year after the owner's death. However, it was Velier that acquired a much larger share, rather fortuitously. Luca Gargano made a trip to Trinidad for another purpose, but on the way, he came across a bankrupt distillery. After a year of negotiations, Caroni and Velier finally closed the deal in 2005, and Velier acquired some of the remaining stock. Luca sent some casks straight to Italy but left others in Trinidad to age.
This deal eventually secured Caroni's fame in the world of rum connoisseurs. Velier released 8 bottles in the Caroni collection that same year and began collaborating with Demera Distillers Ltd. This collaboration produced the Skeldon bottle, which is still among the rarest and most important bottles across rum collections today, as is the entire Caroni brand. The small run of Caroni edition bottles released by Velier regularly make it to the top of the auction charts and are coveted by more than just the rum collector - after all, the huge demand for Caroni rums and the limited number of bottles have made its mark under the term Caronimania.
Caroni Employees Series
The Caroni Employees series was created with the idea of celebrating the 14 employees of the original Caroni distillery who were reunited through working with Rudy Moore, who was in charge of liquidating the distillery and negotiated with Luca immediately after the discovery of the remaining rum barrels. The bottles bear the name, nickname, and photographs of each Caroni employee on the label. These photographs were taken by Fredi Marcarini; he is responsible for the images on almost every Caroni bottle that was carefully selected by Luca Gargano. Fredi was present for the entirety of the day the barrels were found and returned to Trinidad 12 years later to immortalize all of the employees to whom the 14 blends are dedicated. The barrels used to create the rum that makes up this edition were selected on April 3 and 4, 2019, on the occasion of the Caroni Ceremony. The event brought together 24 of the world's greatest Caroni enthusiasts in Cognac, and with Luca's watchful eye, the last 140 barrels of the Caroni stocks found in 2004 were brought to Europe. From the 140 barrels, 60 barrels were selected by 8 'tasting groups' to create blends of several barrels, which were placed in stainless steel vats to permanently stop maturation and await bottling. This project is a real tribute to the history of the legendary Caroni distillery.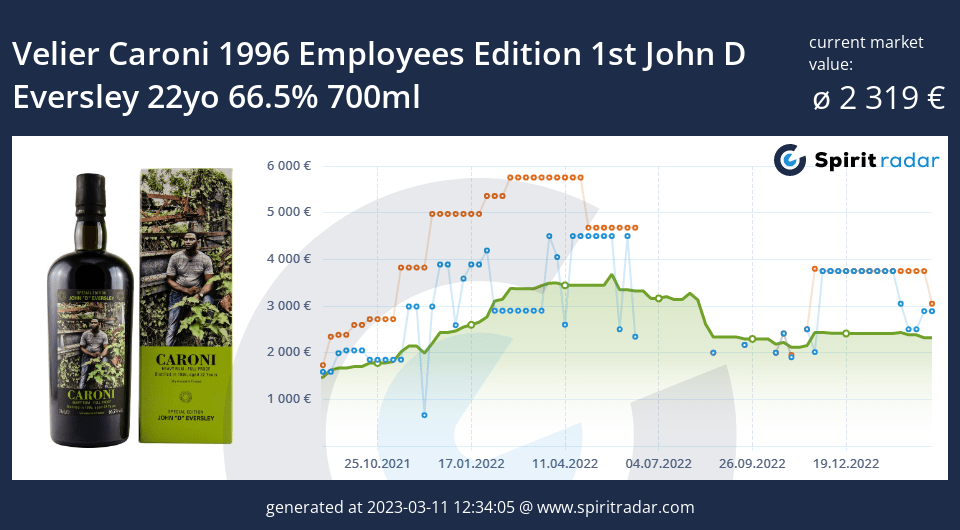 The first release of the entire series contains a blend of 5 barrels of heavy Caroni rum distilled in a single column and aged for 22 years in a tropical climate. The blend was selected by Luca and Olivier Scars. The label features employee John, who has worked for Caroni since 1981. The first sips show fruity notes of papaya mingled with floral echoes. After that, the hard onset of heavy flavours of kerosene, tar, and sugar cane are all the more surprising. In 1 192 bottles from 2018, expect a heavy rum but one that surprises with its light, fruity finish.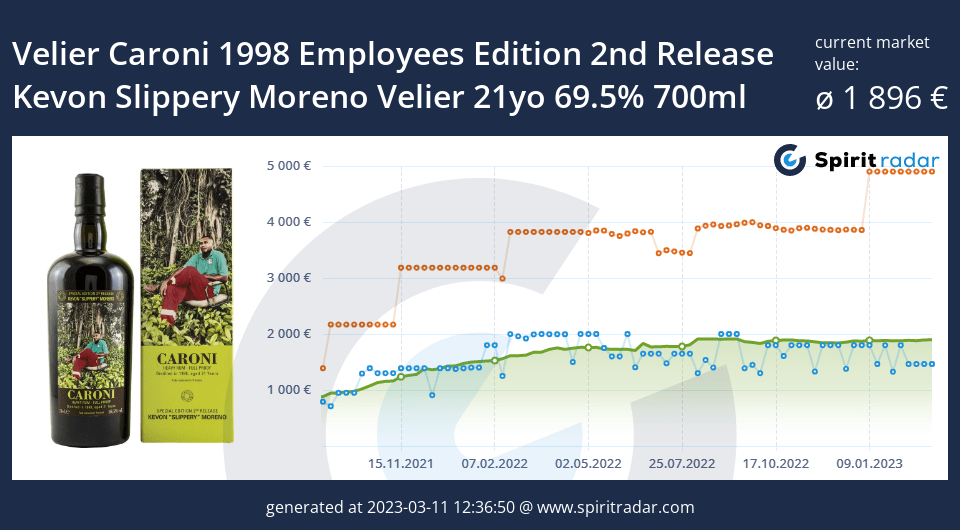 Kevon "Slippery" Moreno worked at the distillery for 10 years and is dedicated to the blend of rums from 7 casks. The barrels to produce this heavy rum blend were selected directly during the Caroni Ceremony. Until then, the rums had been aged in the Trinidadian tropics for 21 years in bourbon barrels. Only 1400 bottles of this excellent rum were bottled. Any rum enthusiast will be delighted by the complete profile of this spirit, which will linger for a long time with its strong aromas and flavours of exotic fruits and spices.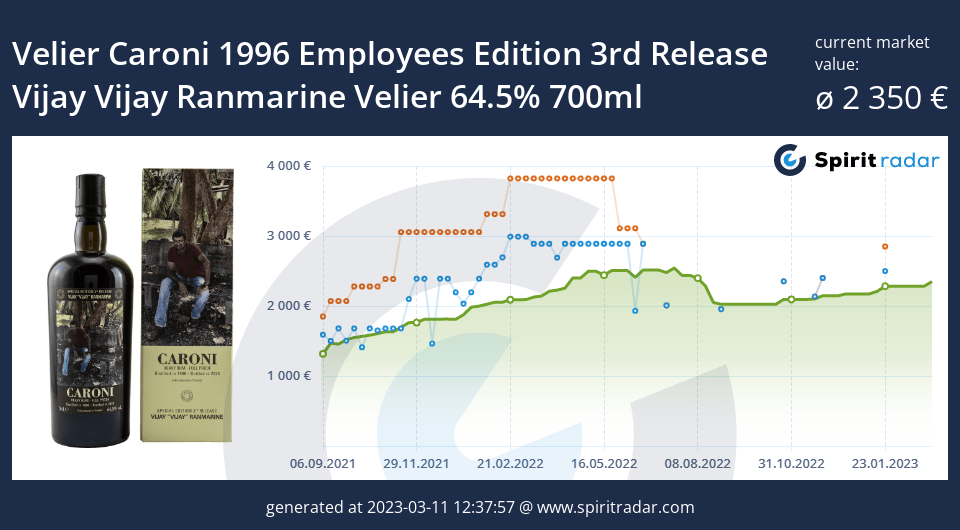 Only 766 bottles and an angel tax of 85% - this too is a blend of 4 casks of heavy rum of one of Caroni's best vintages, dedicated to Vijay "Vijay" Ranmarine, who worked for Caroni for 23 years. The casks were left in a tropical climate for 24 years of maturation, and after being transferred to Europe, they were placed in stainless steel vats, where the maturation was permanently stopped. The refined flavours of tropical fruits and spices with a hint of liquorice are captured in a spirit of pure amber colour. The mahogany highlights of this unique rum indicate that it is a heavy and warm rum whose complex flavours will linger in your mouth long after the first sip.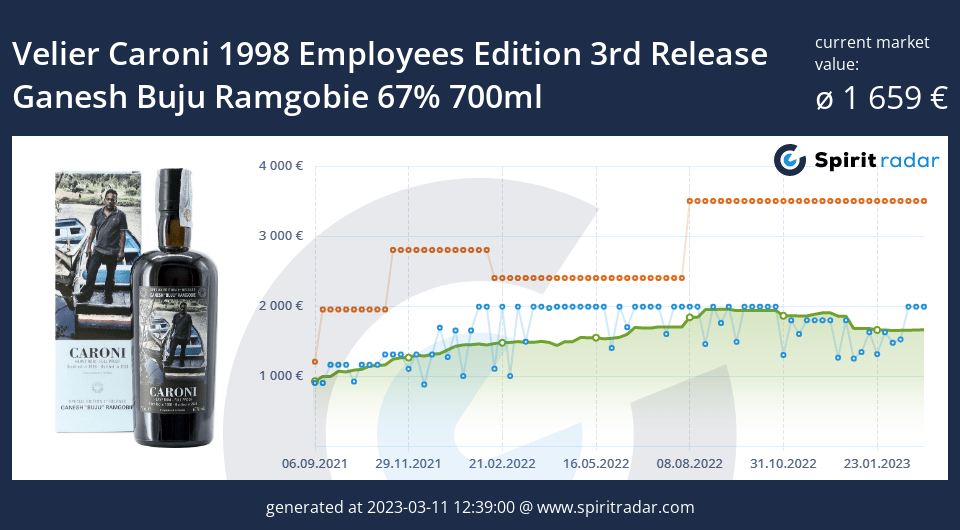 The rum dedicated to Ganesh "Buju" Ramgobie is a blend of 7 heavy Caroni rums aged for 22 years in a tropical climate. It is an old heavy rum that was aged from 1998 to 2008 directly in Trinidad, then in British Guiana until 2019. In 2019, Luca Gargano went with 26 other Caroni experts to the warehouses and selected a seven-barrel blend that was placed in a tank and then bottled as the third release of the Velier "employee" series in 2020. Thanks to this process, the rum has a beautiful full brown colour, which hides a spirit with a flavour that will turn many a connoisseur's head. The sugar cane is interwoven with notes of orange, vanilla, and aniseed. Unlike previous series, this heavy flavour is not dominated by kerosene or rubber but by burnt wood, leather, and tobacco. The uniqueness of this blend lies in the dominant earthy notes with a hint of sweetness or menthol. Only 1295 bottles were produced.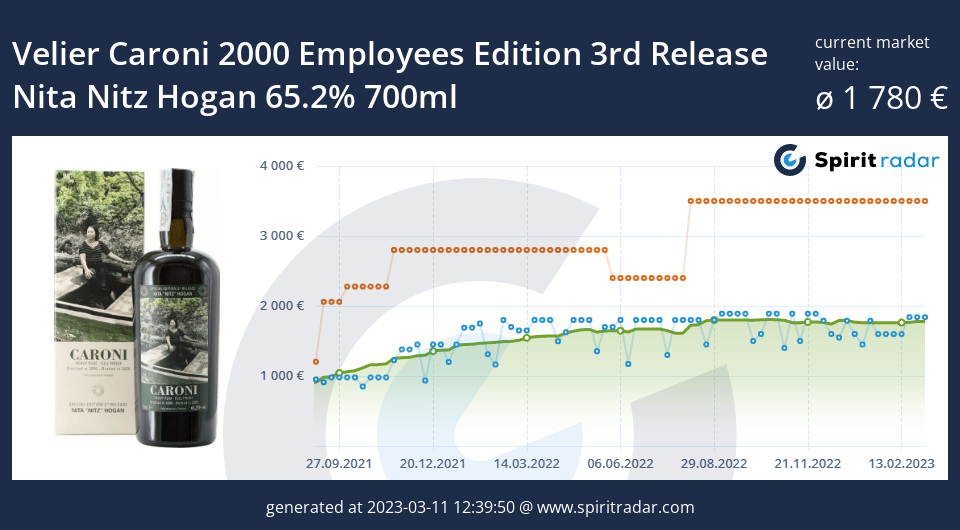 For just 1 187 bottles of this premium rum, 6 barrels of Caroni rum were blended and aged for 20 years in the tropics. The rum from this premium series hit the market in 2020 and immediately became one of the best and most highly requested by connoisseurs and collectors around the world. Although the era of the Caroni distillery is over, its legacy is mirrored in this heavy, aromatic rum of a beautiful amber colour. The quality of the raw materials means that we get our hands on a spirit with an extremely complex flavour profile. Like other Caroni rums, this one boasts full and intense flavours of ripe fruit and citrus wrapped in a rich, warming aroma and liquorice.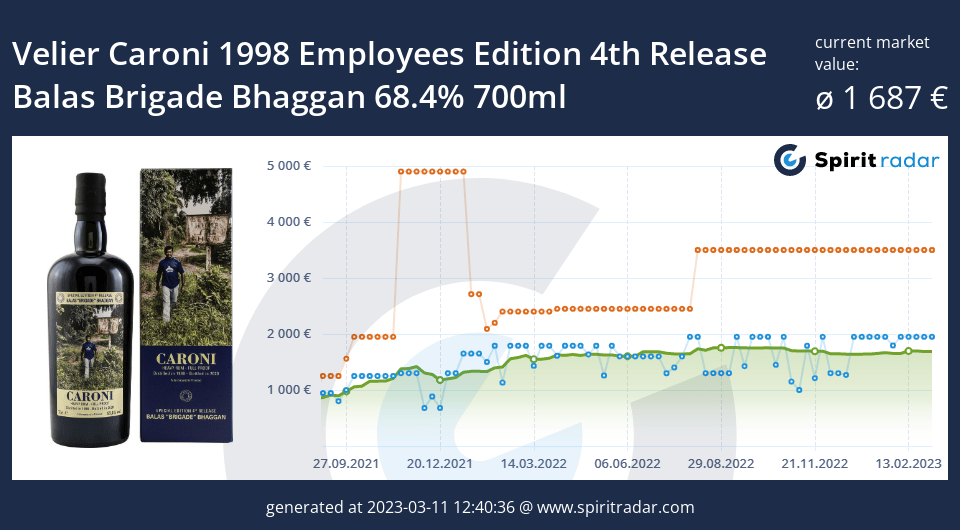 Balas "Brigade" Bhaggan worked at the Caroni distillery for 14 years and dedicated the rum from 6 casks of heavy rum; 1158 bottles were bottled. This rum is characterised by its extraordinary strength, rich spicy aroma, exuberant fruit, and chocolate. It presents Caroni in a slightly softer light without losing its majesty, complexity, and harmony. The opulence and passion of this rum are intensified by the aromas of smoked meat and bacon. Here is a traditional rum of extraordinary quality that is the highlight of many a rum connoisseur's tasting.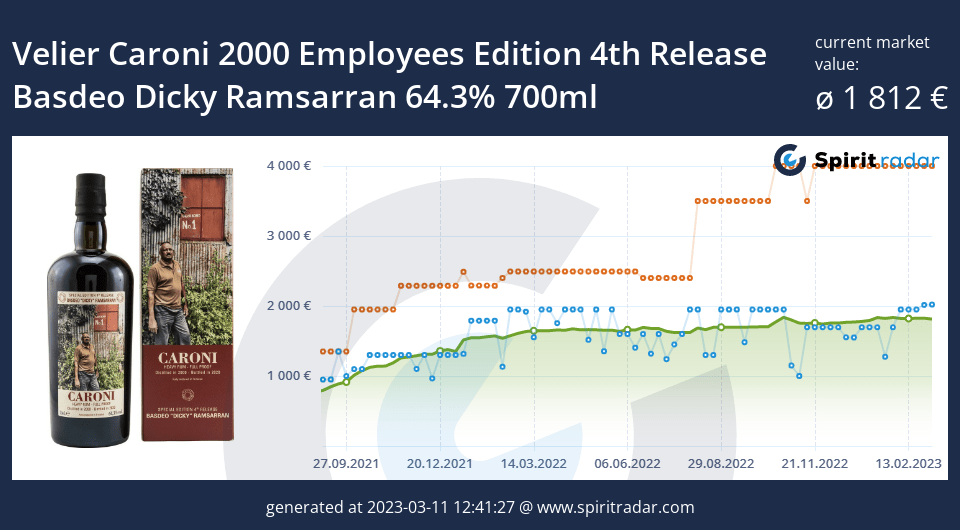 The blend bottled full with a total of 1 251 bottles for the world, consists of 6 single cask rums and is dedicated to Basdeo "Dicky" Ramsarran, who worked at the Caroni distillery for 20 years and is one of the youngest vintages of this legendary distillery. Without departing from its traditional Caroni profile, this rum has echoes of tropical landscapes and exotic fruits mixed with fresh forest fruits and chocolate. Playful flavours are wrapped in a flavour harmony of perfectly tuned spices and floral aromas. The colour will leave no one in doubt that this is a rum of extraordinary quality and will gently guide any aficionado through the footsteps of the Trinidadian tropics.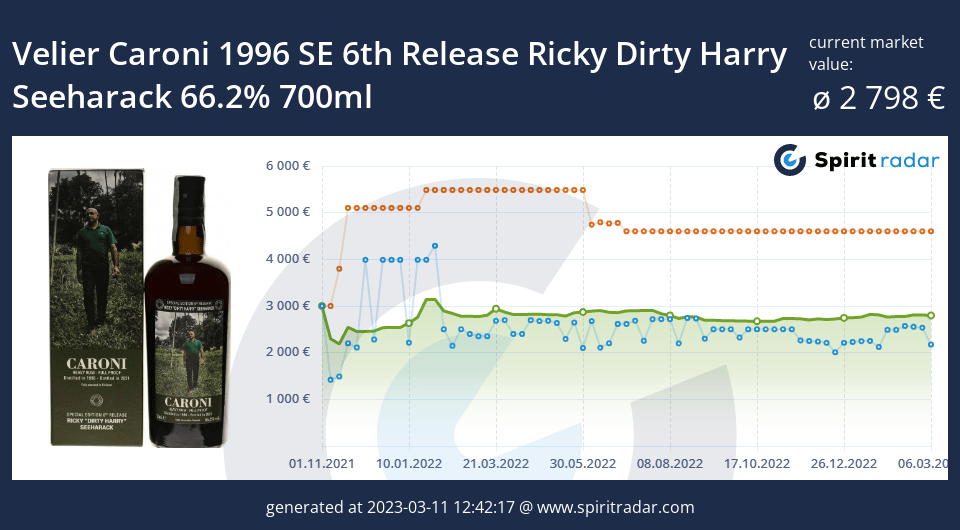 This extremely rare rum is a blend of 4 casks, aged for 25 years in Trinidad. It is dedicated to Ricky "Dirty Harry" Seeharack, who worked at the distillery for 20 years - only 630 bottles were produced worldwide. What we are presented is an exclusive rum of incredible quality, with flavours of burnt wood, tar, and caramel running through its foundation. Through the heavy flavour, subtle rays of vanilla and chocolate-covered fruit with a hint of menthol shine through.
Velier & Hampden Estate
Hampden Estate
Official website: hampdenestaterum.com
The roots of the Jamaican Hampden Company date back to 1753; prior to the distillery, the company focused on the sugar industry. In addition, the Hamden Estate includes a wharf, which has been used extensively for various purposes since the First World War. It is located in the northwest of Jamaica, in the parish of Trelawny, and is the only company on the island to specialise exclusively in the production of rums. As a result, it has the best facilities for rum production - namely, some of the best and most profitable land in Jamaica, which has turned into sugar plantations. The process of making these extraordinary rums is still shrouded in mystery, but the use of local spring water and, in particular, free wild fermentation plays a significant role. This is one of the reasons why the brand is a newcomer to the global market. Because of its distinctive characteristics, the rum was only sold to proven bottlers and distillers in large quantities. It was, therefore, originally a base of aged tropical rum, which was used in various blends but also in the production of perfumes. Even so, these unusual heavy Jamaican rums without colouring and added sugar caught the attention of the rum world. In the second decade of the 21st century, the bottled Hampden Estate rum finally saw the light of day.
Hampden Estate Trelawny Endemic Bird Series
In 2020, the Hampden Estate distillery launched its own series of rums dedicated to the diverse Jamaican wildlife surrounding the distillery – particularly the local birds, which number among the rarest species on the planet. The series was created in collaboration with the Velier brand and, of course, under the guidance of Luc Gargana. Velier's business partners were also involved in the process, each of whom had the opportunity to choose one particular cask, which they then bottled and labeled themselves. As a result, among the 26 bottles in this edition, you will find rums of different ages and vintages. However, the signature label remains the same – on each of them, you will find a picture of a rare bird from the tropical climate of Jamaica. The bottles in this series are in huge demand and are almost impossible to buy elsewhere than at auction for multiple of their price.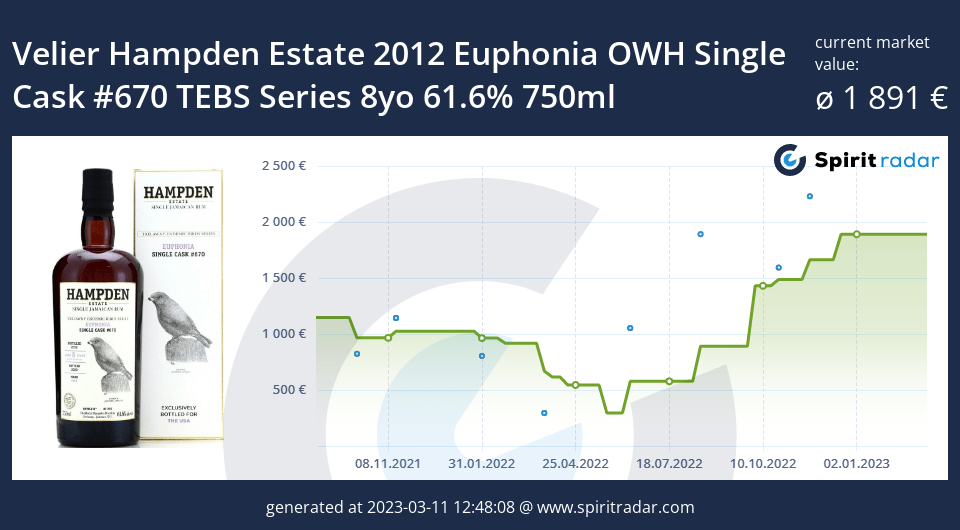 Euphonia OWH was distilled in 2012 from molasses by pot distillation and then aged for 8 years. Only 250 bottles of this limited edition were bottled. The full-bodied flavour is dominated by sweet vanilla with orange zest. Tons of chocolate and candied fruit also appear here and there on the tongue. The short and light finish is again dominated by orange peel with the vanilla pod.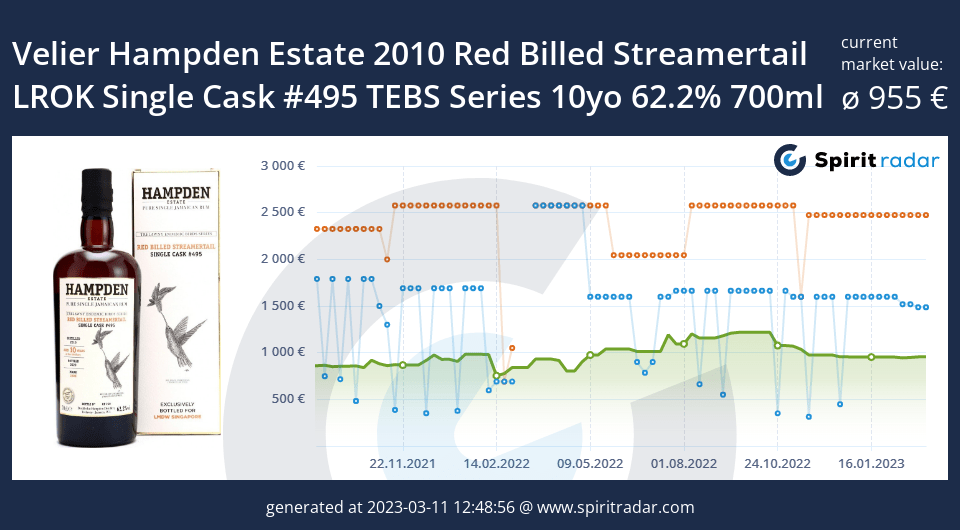 In 2011, another bottle from the famous Hampden distillery edition was distilled. The red-billed streamertail featured on the label of this limited edition bottle (only 260 can be found worldwide) is also known as the "doctor's bird" because the tail feathers of this rare bird resemble a doctor's coat.
The dark colour with golden highlights hides a strong woody rum with tons of roasted pineapple and apples. But make no mistake, what you're looking at is a serious heavy Jamaican rum with a hint of leather and intoxicating smoke with subtle tones of lemon zest. Cinnamon and cloves bring just the right amount of warmth to the rum. The finish is light with playful herbal tones, subtle vanilla, and a touch of blackcurrant.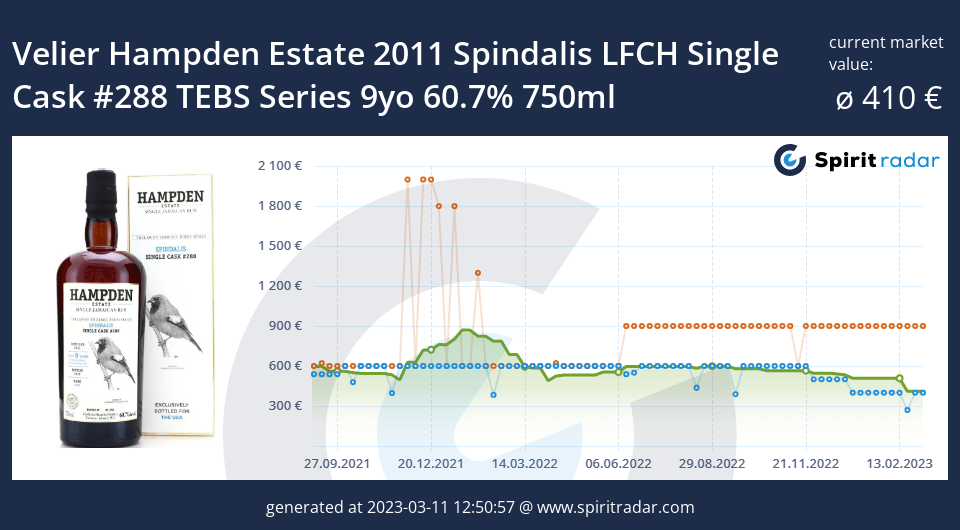 Another endemic bird can be found on the label of one of the 250 bottles that were bottled from cask number 288. This molasses rum was aged in a bourbon barrel for 9 years after distillation and saw the light of day in 2020. Unlike its younger sibling by a year, this rum follows Jamaican playfulness and reflects a wide range of tropical fruit flavours.
Magnum Elliott Erwitt Photos Series
This limited edition Hampden Estate is named after the photographer behind the images on the labels of these bottles. Elliott Erwitt was born in Paris in 1928, but after travelling around Europe, he eventually settled in the US. He is a well-known documentary and advertising photographer who became famous for his black-and-white images that seem to be caricatures of various situations in our everyday lives. For three years, he was the director of Magnum Photos, an advertising agency that has been one of the best advertising agencies in the world since 1947. This is where the whole edition takes its name, which reflects the entire concept of the brand. Magnum - is meant to combine greatness and celebration; a total of four photographs were selected and then used on the labels.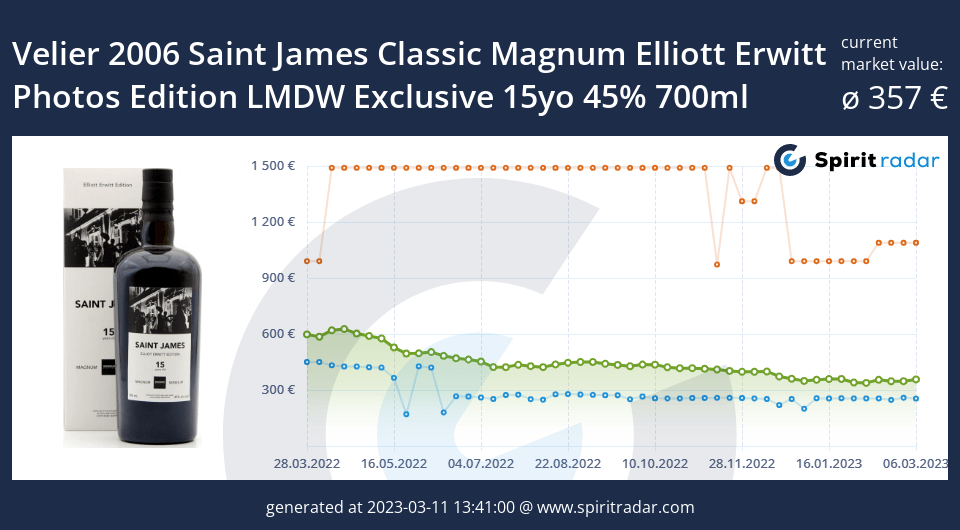 Saint James 2006 is a premium rum from Martinique. It is a blend of the 2004 and 2006 vintages and was bottled in 2006. The photograph on the bottle dates to 2005 and shows the wedding scene of Erwitt's friend in Rome. The palate of this molasses rum is playful and fresh, opening with a fruity dance of gooseberry and mango, around which pineapple, cherry, and lemon zest waltz, all enveloped in a honey and clove robe. The sweetness is interrupted by astringent tones and aromas of aromatic herbs - alongside fennel; one can also smell rosemary or jasmine. Despite the complexity of the taste, this is an extraordinarily balanced and playful rum. Only 600 bottles were produced.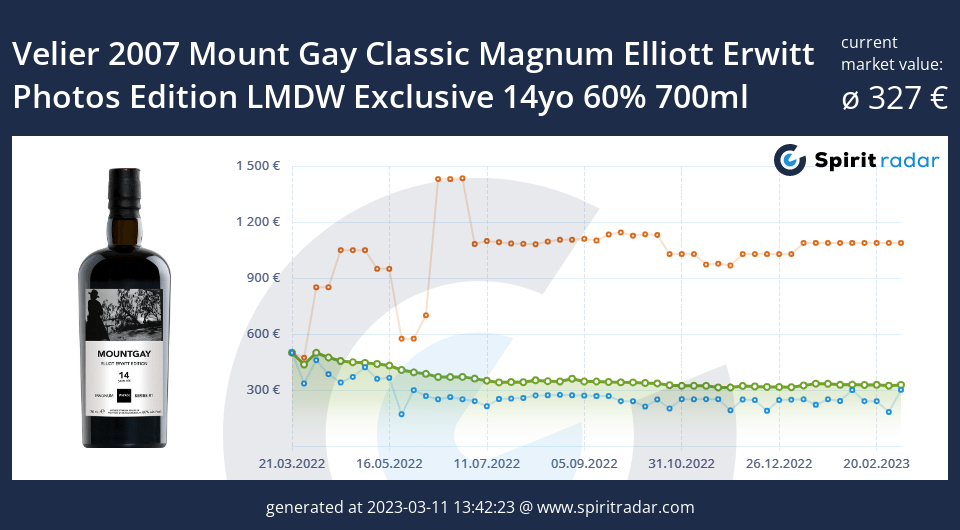 Mount Gay is three times distilled rum from 2007. It was aged for 14 years in a tropical climate in American white oak barrels (probably ex-bourbon), and only 600 bottles were bottled. The photo by Eliot Erwitt is from 1999 and shows the Californian seaside resort of Pacific Palisades.
Compared to Saint James, this rum is much more serious and traditional. Right from the start, you can smell the combination of honey and flambéed bananas. The flavours are subtly intertwined with coconut, custard, vanilla, and juicy liquid caramel tones. The fruit is a moderating element here - particularly overripe oranges, guava, grapes and black cherries. Overall, this rum has a rather complex but pleasantly sweet flavour wrapped in a hint of cardamom and rosemary.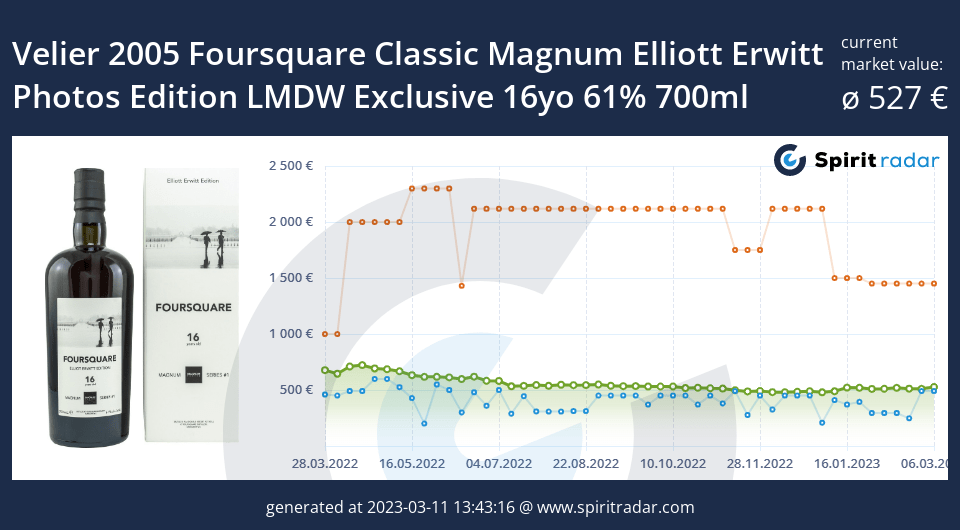 This rum is one of the oldest from the Foursquare distillery. It's been aged for 16 years in barrels that previously held sherry and bourbon. On the label, you see a photo from 1970, which shows the Peace Memorial commemorating the attack on Hiroshima.
Initially, you are tickled by salty caramel and vanilla on the tongue, with fruity flavours of grapes, apples, and peaches creeping in. The creamy taste of vanilla and nuts is broken up by echoes of rosemary, which gives the rum an unforgettable aroma. The warm cinnamon and orange peel play beautifully with the fruit. Tons of chocolate and citrus add to the finish, leaving a long and pleasant afterglow.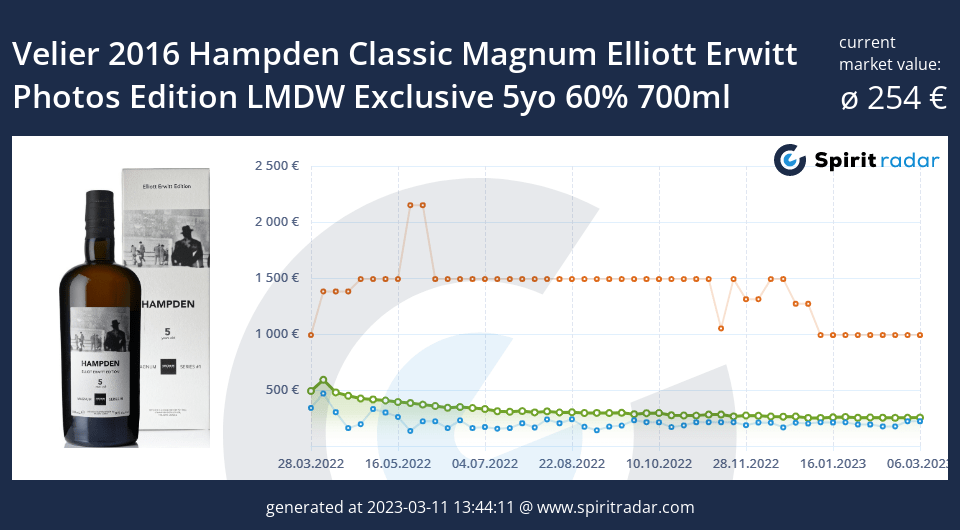 In this bottle, a highly extroverted rum hides behind a 1954 photograph taken in Coney Island. When you first open it, you'll be engulfed in a blend of fresh and overripe fruit aromas - especially strawberries, cherries, and pineapple. However, the subtlety is broken by tons of smoke wrapped in cinnamon, vanilla, and leather. Bitterness melds with sweetness and warm caresses with the sharp ego of this relatively young five-year-old rum. The rum was bottle to only 600 bottles.
The Great House Edition
The limited edition Hampden Estate Great House takes its name from the family residence, dating back to 1753. However, this particular edition is associated not with Luca Gargano (Velier) but with the modern master blender Vivian Wisdom, who is mainly known for his passion for creating high-ester rums.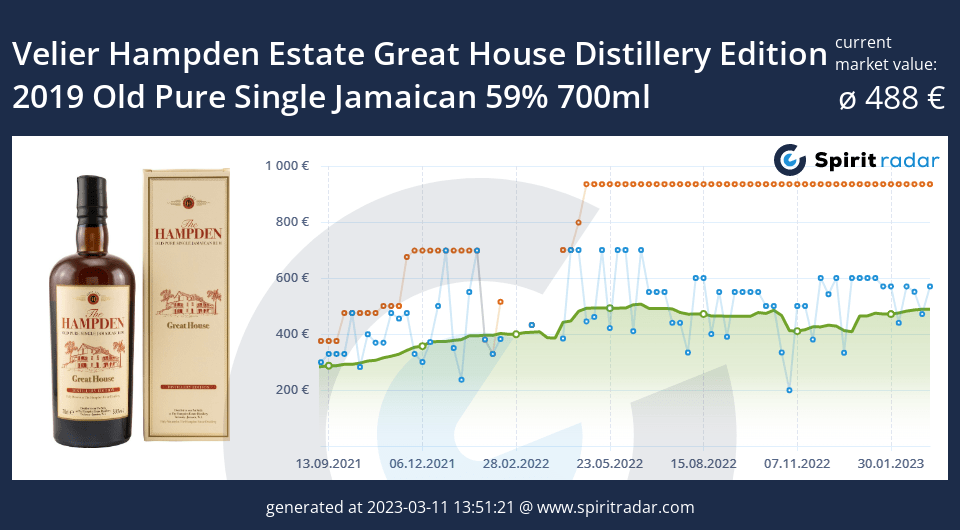 This rum is a high-ester Jamaican blend. The distillery achieves the high ester content by, for example, using residues from the previous distillation during the fermentation process. You'll know you're holding a high-ester rum from the first sniff. Its iodine aroma is interrupted by sweet honey and cane sugar. On the tongue, Jamaican esters play a colourful dance of ripe fruit flavours, especially bananas, along with vanilla and dark cocoa. But there is much more to the golden colour - a colourful display of fruits, flavours, and aromas engulf you, and suddenly you will find yourself in tropical Jamaica. Only 3 066 bottles were produced.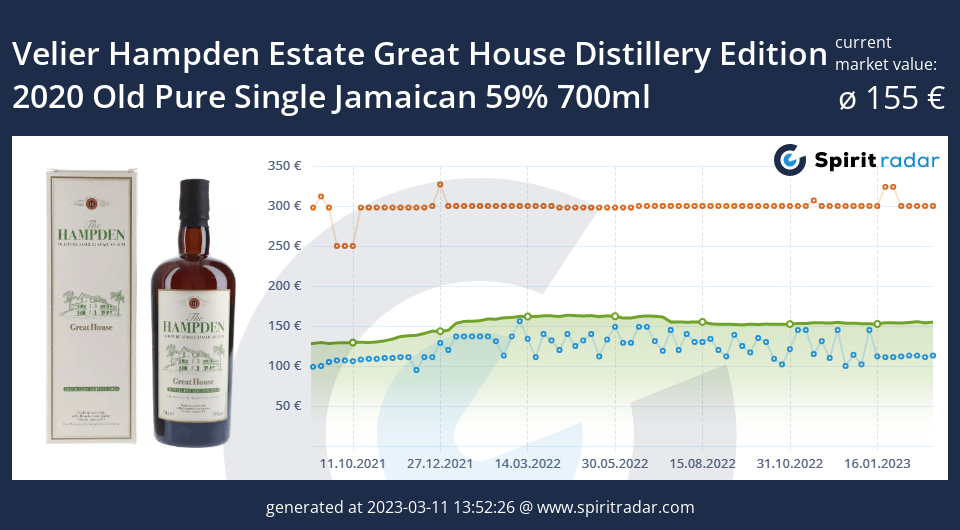 Even the rum of this edition, which is a year older, does not deny its Jamaican roots. The 2020 vintage won't play games with you and will immediately overwhelm you with a strong and fruity aroma. Subtle flavours of medicinal herbs, liquorice, and tobacco envelop bananas and pineapple flambéed with sugar cane and chocolate. However, don't expect the warmth of the flavours to leave you too soon - rather, the pleasant notes of cocoa and cinnamon will constantly be playing on your palate. Only 5 800 bottles were produced.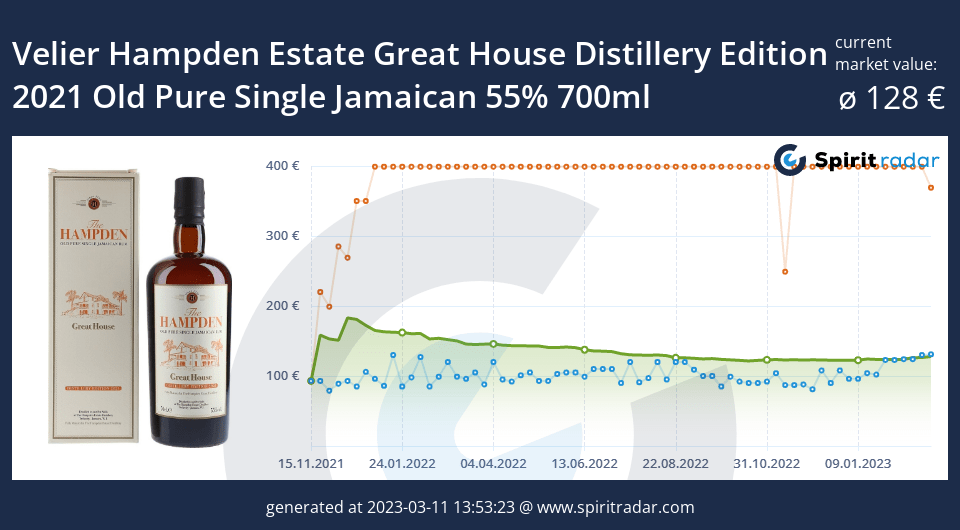 Hampden Estate Great House 2021 is a blend of two rums - from 2011 and 2017, the ester level, in this case, is around 400. This masterpiece has a refined and full-bodied flavour; once again, the Jamaican tropical fruits are undeniable. The flavours of dark chocolate and rosemary meld in the ripe pineapple and acacia. It's all wrapped in an oaky odour, from which you may be snapped out of by liquorice or a hint of coriander towards the end. Only 2 400 bottles were produced.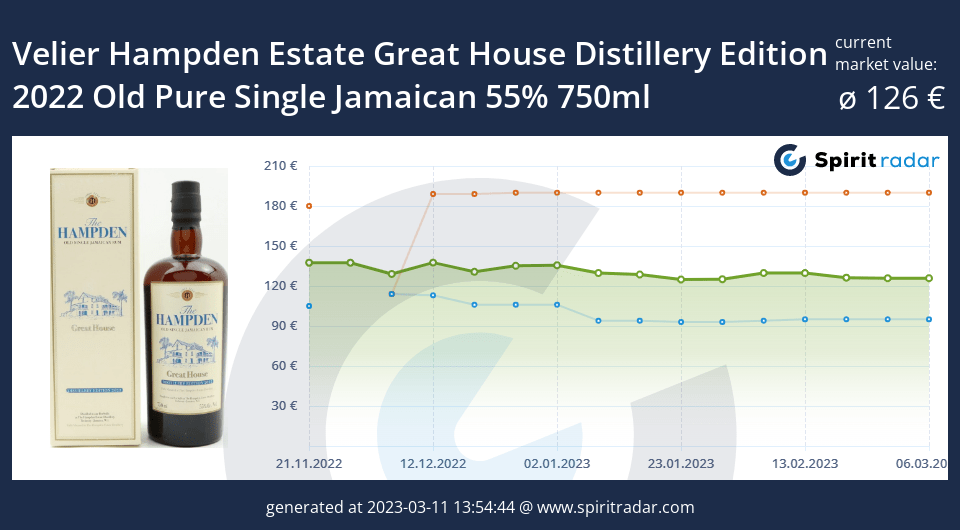 Compared to previous editions, this one may surprise you with its lightness. Candied lemon with kiwi will take care of the playfulness, but the traditional banana or lychee is not left out. Gradually, the sweet aroma of pear in vanilla with coconut opens on your tongue, which is slightly softened by pepper and liquorice. When you think the rum has offered you everything, the flavours of raspberries in salted caramel and tobacco develop on the finish. No matter how sharp you are, 2022 will keep your senses busy.
Another bottles by Hampden Estate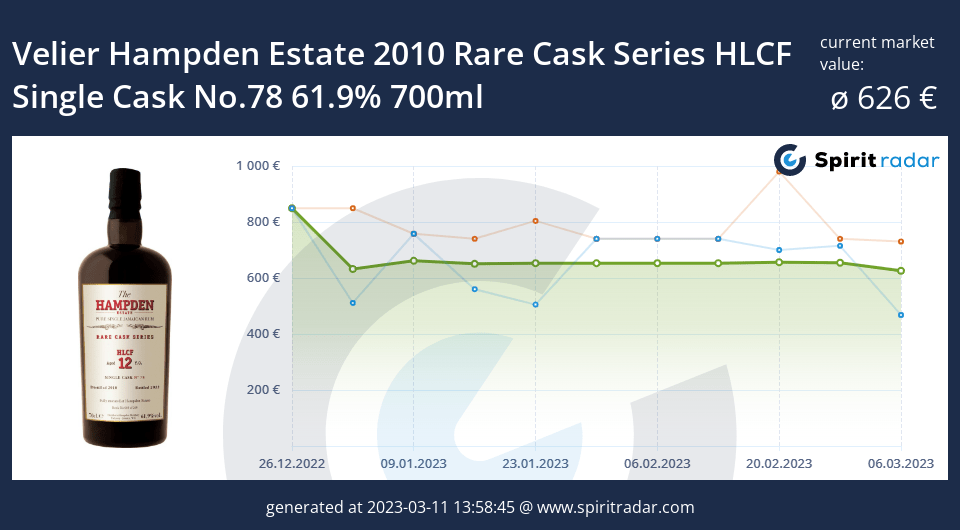 Only 231 bottles were bottled of this limited release, which contains some of the distillery's oldest rums. Again, these are high ester rums - in this case, 500-700g of esters per hectolitre of pure alcohol. Aromas of herbs accentuate the dominant fruit and chocolate in a floral veil that is interspersed with echoes of bourbon barrels and molasses.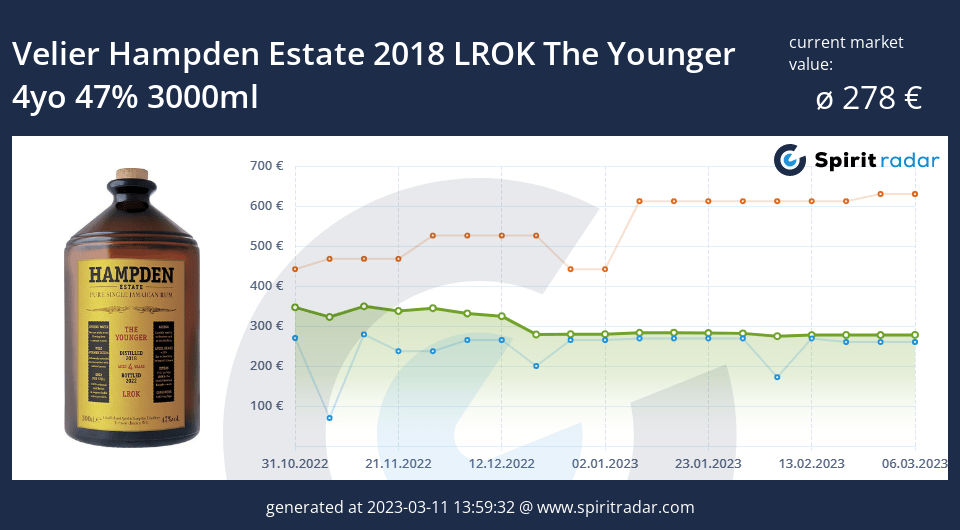 This rum was matured in the tropics in bourbon barrels for a total of 5 years. As a result, it has a fairly high concentration of esters (it falls in the medium ester concentration range between 200 and 400 g/hl). If you're tempted to try high-ester rums, this youngster might be the one for you - it doesn't forget the esters, but it certainly doesn't forget the typical light Jamaican funk, either. Once opened, you'll be overwhelmed by the intense and sweet aroma. Again, fruit with sugar cane plays a significant role - pineapple, mango, and orange peel. The sweetness is gently pulled down by a woody odour and subtle spices - just a true Jamaican ride.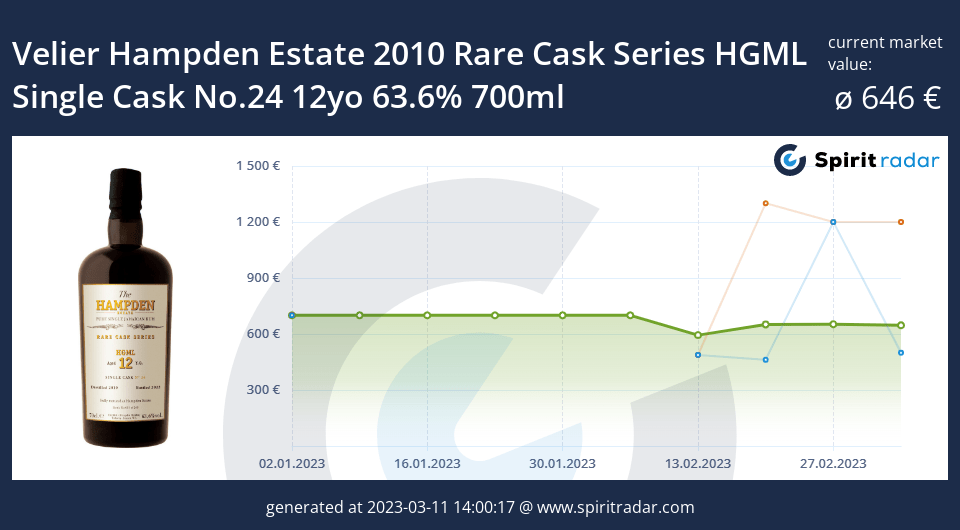 With an ester content of 1,000-1,100 g per hectolitre of alcohol, this limited bottle is almost on the borderline of the law. The golden copper colour hides a plan and deep aroma of flambéed banana and grilled pineapple. Tons of medicinal herbs and lime blossom resound again, but the fruity-floral flavour is also slightly settled by its empyreumatic component. On the tongue, you can expect the traditional bomb of tropical fruit and chocolate flavours with a hint of salt. In addition to pineapple and banana, candied apricot and walnuts are also present. Wild figs, ginger, cinnamon, musk, and freesia blossoms will dance on your palate. Lavender and incredibly juicy tones of citrus in honey may peek out at you in places. The finish comes in lightly and acts as a soothing balm after a night's rave - vanilla and honey with cocoa and nutmeg wrap your senses in farewell. Don't forget, there were only 250 bottles produced.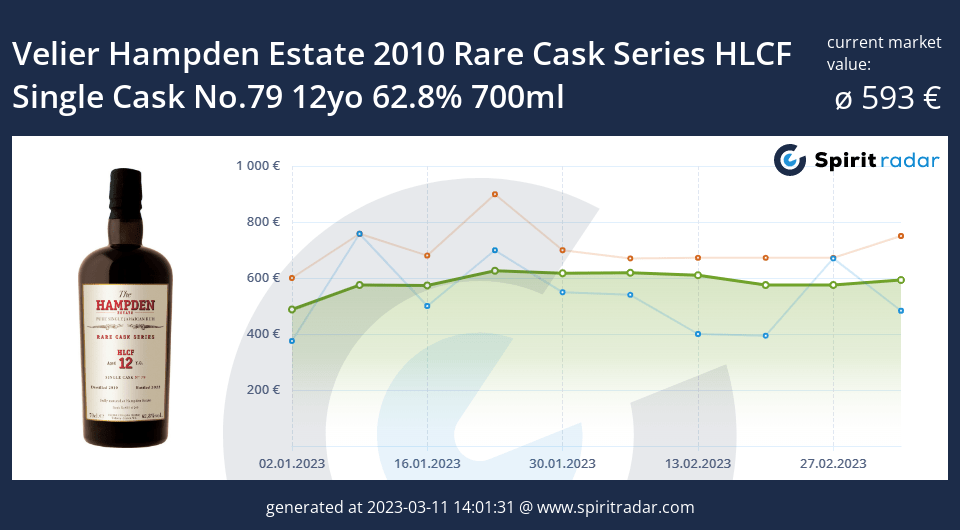 This bottle's intoxicating aroma, and full flavour may make your head spin. Essential oils blend with an intense floral scent that is enveloped by verbena and sage. A closer inspection reveals aromas of overripe mango and dried apricots with hints of flambéed banana. Gradually, the flavours soften on the palate, with the spicy and peppery aromas transitioning to a dynamic attack of Corinthian fruit, nectarine, and peach. A persistent taste of cane sugar stands steadily in the background like a sentinel until the full tones of liquorice, cocoa, and ginger with pineapple start to play on your tongue - for this is a sign that you are approaching a smooth and balanced finish with a hint of tuberose. If you ask how many bottles were bottled; the answer is 243.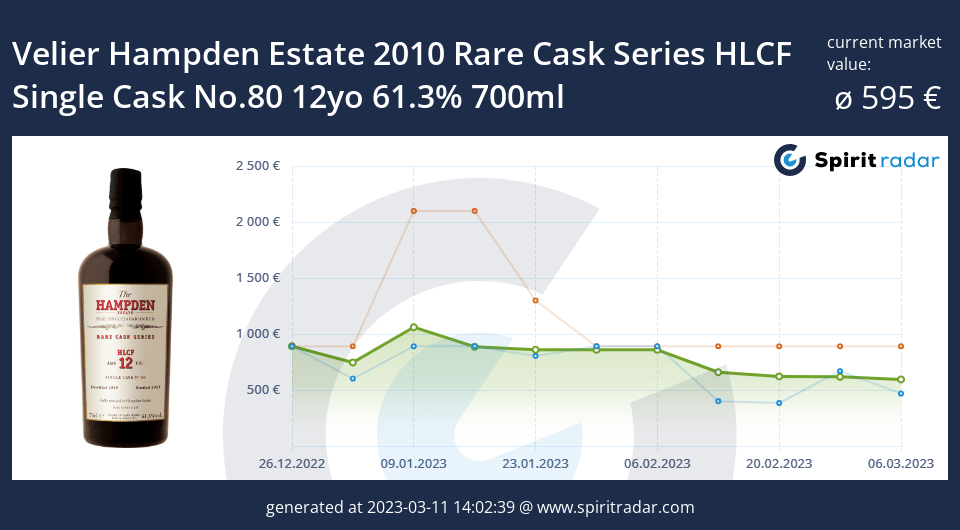 The topaz colour and intense aroma offer a wonderful fade between classic strong rum and Jamaican playfulness. Tons of honey and lime blossom lead the way at first, interspersed with heavy aromas of turpentine and lava. But with the next breath, tons of tropical dried fruits and nuts cut through the heavy aroma. Finally, the whole is pleasantly softened by the perfect taste of sugar cane. Non-traditional hints of balsamic vinegar and chilli also appear, but these are gradually overwhelmed by the presence of citrus fruits. One thing is for sure - this is a remarkably well-balanced rum. The vanilla gradually leads you to a sweet finish that brings out the flavours of aromatic herbs such as sage, mint, and bay leaf. One last caress of pear, pineapple, yellow plum, and clove before the last strong tones of minerals (basalt and manganese) completely ground you in the taste of this imp. Only 250 bottles were produced.
Demerara Distillers Limited
Demerara Distillers Limited is a legendary rum distillery with a storied history that spans over two centuries. The distillery bears the name of the region in Guayana of the same name. The company's roots can be traced back to the British colonization of Guayana in the 17th century when sugarcane farming was first introduced to the region. However, it was not until the late 18th century that the production of rum began on a large scale. In the early 19th century, there were over 300 distilleries operating in the region. A few decades later, however, the price of sugarcane underwent sudden and unpredictable shocks, which resulted in many distilleries closing, leaving only 180 of them in production by 1849. By the end of the 19th century, this number was reduced to 64, and by 1970, due to fierce competition and better expertise in the field, the number shrunk to a mere 11.
The company with the name we know it for today, however, was only established in 1983, when two of the Guanese companies - Guyana Distilleries Limited and Diamond Liquors Limited merged into Demerara Distillers Limited.
Velier & Demerara
Velier and Demerara - are two names that have become synonymous with exceptional quality and unparalleled craftsmanship in the world of rum. The short-lived yet legendary collaboration between these two forces has given rise to some of the world's most exquisite and premium rums.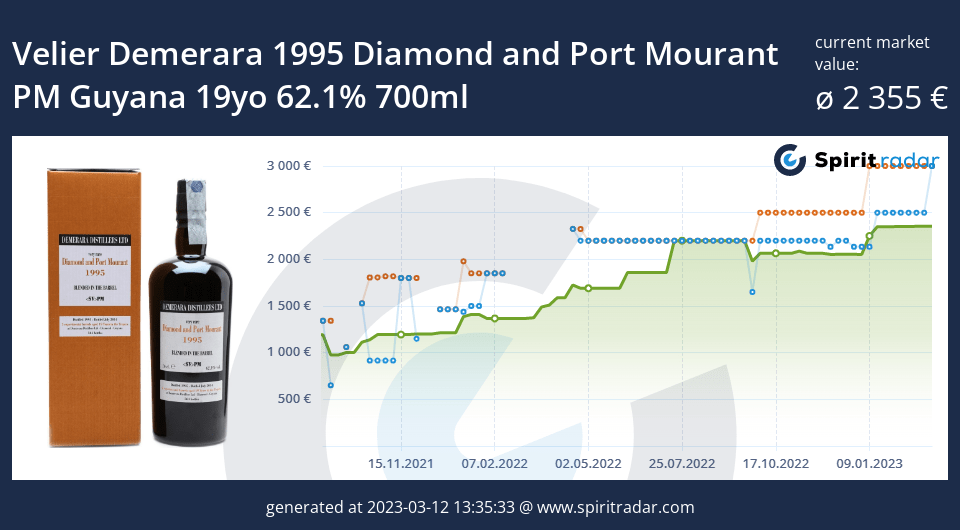 If you are a lover of exceptional spirits and appreciate the finer things in life, then the Velier Demerara 1995 Diamond and Port Mourant is a must-have addition to your collection. Aged for 19 years, this remarkable blend of rums from Guyana's Diamond and Port Mourant distilleries has been carefully crafted to create a complex and nuanced flavour profile that will delight any rum connoisseur. From the moment you uncork the bottle, the fragrant bouquet of licorice, anise, and vanilla fills your senses, seducing you with its rich complexity. On the palate, the flavours of caramel, anise, and herbs dance in perfect harmony, weaving a tapestry of flavours that lingers on your tongue with satisfying warmth. It's not only the taste that sets this rum apart, though - with only 564 bottles in existence, it's a true collector's item that's as rare as it is exquisite.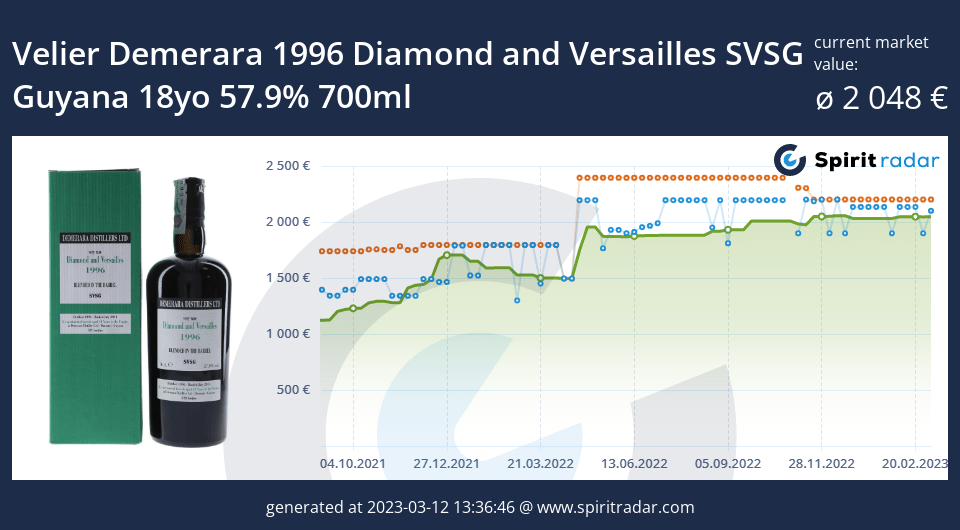 Indulge in the tantalizing flavours of Velier Demerara 1996 Diamond and Versailles SVSG Guyana 18yo, an outstanding rum embodying refined craftsmanship's very essence. This exceptional blend of rums from the renowned Diamond and Versailles SVSG distilleries in Guyana has been aged to perfection for 18 years, resulting in a complex and multifaceted flavour profile that is sure to captivate the senses.
Upon Uncorking, the strong and bitter nose immediately awakens the senses, revealing notes of cinchona bark and oak chips, which are interlaced with a rich aroma of coffee and licorice. The indulgent scent serves as a prelude to the full-bodied taste that follows, where the bold flavour of coffee and wooden tones meld in powerful harmony. The addition of dark chocolate in the profile creates a silken sweetness that complements the earthy, robust flavour profile.
With only 570 bottles being issued, this rum is a fine addition to the collection of a true perfection-seeking collector.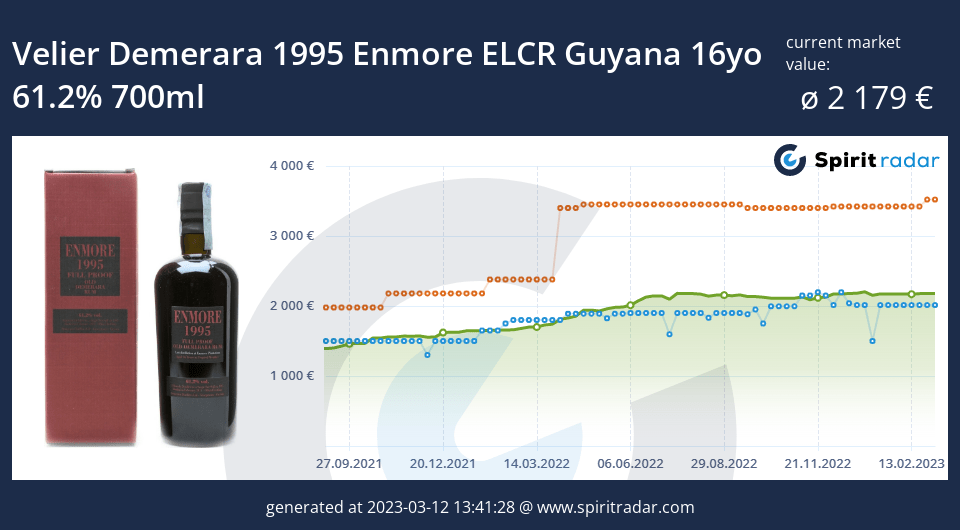 A truly outstanding rum that will captivate your taste buds with its fruity aromas and robust oaky flavours. Limited to mere 2 415 bottles, this rare and distinguished spirit has been expertly crafted using traditional techniques, delivering a remarkable depth and complexity that will make it worth your while.
From the moment you open the bottle, the fruity nose of this rum is sure to captivate your senses. Hints of peach seduce the taste buds and make way for a smooth, oaky finish. As you take your first sip, the very oaky taste of this rum is immediately apparent, followed by subtle notes of maple syrup that give way to a subtle fruity finish.
The velvety smooth texture and lingering oaky finish of the Velier Demerara 1995 Enmore ELCR Guyana 16yo make it a truly indulgent treat that is sure to be savoured and appreciated.
The bottle encasing the rum is quintessentially Velier - a work celebrating the simplicity of form and function. The deep, wine-coloured hue of the glass is both striking and elegant, reflecting the richness of the rum inside.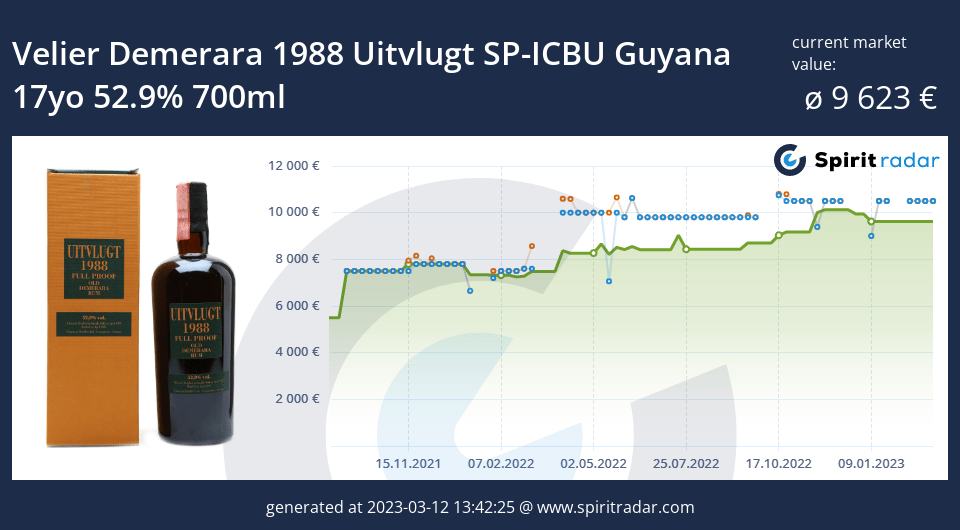 This exceptional rum was distilled in the year of 1988 and aged for 17 years before being bottled at a bold 52.9% ABV in an elegant and sleek bottle. The bottle itself is minimalist in nature, with clean lines and a simple shape that exudes elegance and refinement. The orange lettering on the label adds a pop of color, drawing the eye to the bottle and making it stand out amongst other premium spirits. The bottle comes in a matching orange box, which adds an additional layer of luxury and sophistication to the overall presentation.
Limited to only 1 091 bottles, this exquisite rum boasts a complex, gluey nose that allures the senses with notes of vanilla, caramel, and spicy touches. Upon tasting, you'll experience an intense and complex array of flavour that tantalize the taste buds. The woody and oily taste is dominant, with notes of milk chocolate and coffee providing a luxurious and smooth experience. The finish is equally delightful, with a lingering aftertaste of orange peel and leather that leaves you feeling satisfied and content.
In summary, the Velier Demerara 1988 Uitvlugt SP-ICBU Guyana 17yo is an exceptional rum that is sure to impress even the most discerning of plates. Overall this rum is a must-try for any Velier enthusiast looking for a fine addition to their collection.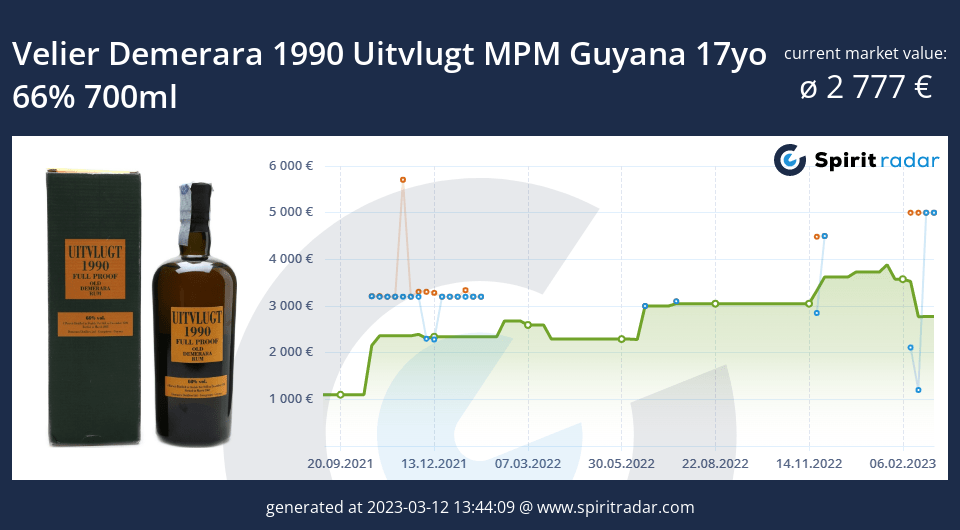 Immerse in a truly exceptional rum that is the Velier Demerara 1990 Uitvlugt MPM Guyana 17yo 66% 700ml, a gem that is sure to satisfy the discerning palate. This exquisite rum was distilled in 1990 and has been aged for an impressive 17 years, resulting in a depth of flavour that is truly remarkable.
The very typical bottle is presented with a simple yet elegant yellow vignette. The rum comes encased in a vintage-looking green box that will surely catch your eye.
Upon opening the bottle, the nose is greeted with an intense and complex aroma of spices, interwoven with notes of juicy apples and ripe mangoes. The flavours on the palate are equally inviting, with an initial burst of spices that is followed by a heavy and full-bodied taste. The rich and indulgent flavour of dark chocolate and roasted almonds is expertly balanced with the woody and earthy tones of the rum, culminating in a long, satisfying, spicy, and smooth finish. This rum is an undeniably spicy one, with a heat that is both bold and invigorating.
This rum's herbal and spicy nature is further enhanced by the impressive 66 % ABV, making it a powerful spirit that demands to be savored.

With only 881 bottles being made, this is truly a rare and highly sought-after rum that is well worth the investment.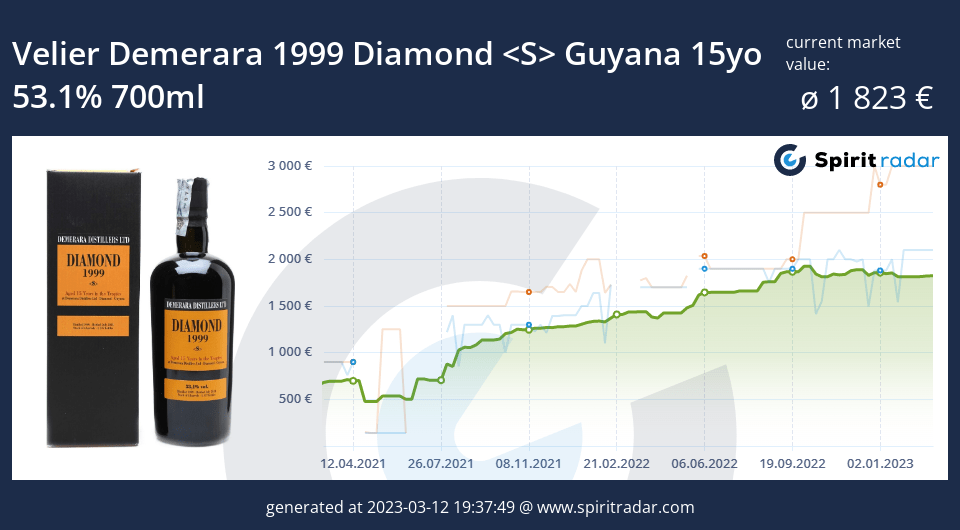 For those who truly appreciate the finest rums the world has to offer, the Velier Demerara 1999 Diamond Guyana 15yo 53.1% 700ml is a true gem that must be experienced. This remarkable spirit, aged for 15 years to perfection, boasts an ABV of 53.1% that is as robust as it is refined.
From the minimalist presentation characteristic of Velier to the exquisite liquid inside, this is a rum that speaks of refinement and sophistication. Aged for 15 years in oak barrels, only 1 137 bottles were bottled from four barrels, making this a rare and highly sought-after spirit.
Its deep, dark hue is complemented by a smooth and heavy nose that is redolent with fruity tones of plums, apricots, and vanilla. As you take a sip, you will be greeted with a smooth and silky texture that gives way to a spicy and thick taste that is laced with oaky flavours. But that's not all, as the taste unfolds, you will notice notes of licorice, smoke, and black grapes, all of which are perfectly balanced with floral tones that bring a refreshing sensation to the palate.
For rum connoisseurs who demand only the best, this rum is one that must be experienced to be fully appreciated. So why wait? Take your taste buds on a journey to the heart of the Caribbean and elevate your rum experience to new heights.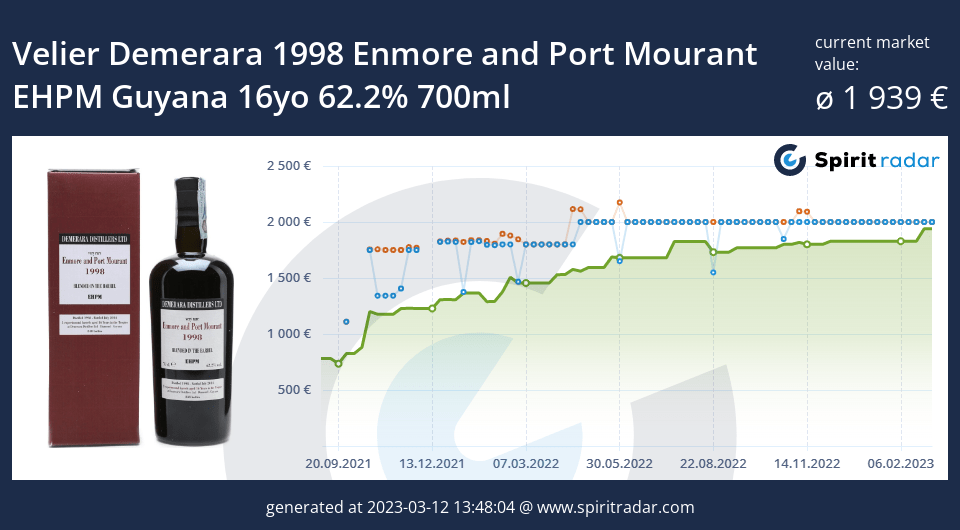 This rum is yet another outstanding example of the collaboration of the Velier and Port Mourant distilleries. Distilled in 1998 and aged for 16 years, this exceptional spirit is presented at a robust ABV of 62.2%, showcasing the depth and complexity of its rich, full-bodied flavour profile. Bottled in a stylish bottle with a dark ruby vignette, the rum is encased in a box of the same crimson colour, that will stand out on every rum lover's mantlepiece.
Limited to just 848 bottles, this rare and exclusive offering is an embodiment of the dedication and artistry of the rum-makers at Velier. On the nose, this rum is a tantalizing blend of rich, smooth aromas featuring notes of raisin, coffee, licorice, prunes, and cocoa, which blend together to create a truly unforgettable sensory experience.
On the palate, the taste is every bit as exquisite following and further expanding the tones of the scent. Flavours of raisin, coffee, and licorice take center stage, complemented by the subtle sweetness of caramel. The mouthfeel is luxurious and velvety, leading to a satisfying finish that lingers on the tongue with the tones of espresso and raisin once again.

What sets this rum apart is the prominent raisin vibe that permeates throughout, giving it a distinctive character and depth that is truly unparalleled. As a result, this rum offers truly an unforgettable experience to those who savor the exceptional quality and distinguished and pronounced depth of flavour.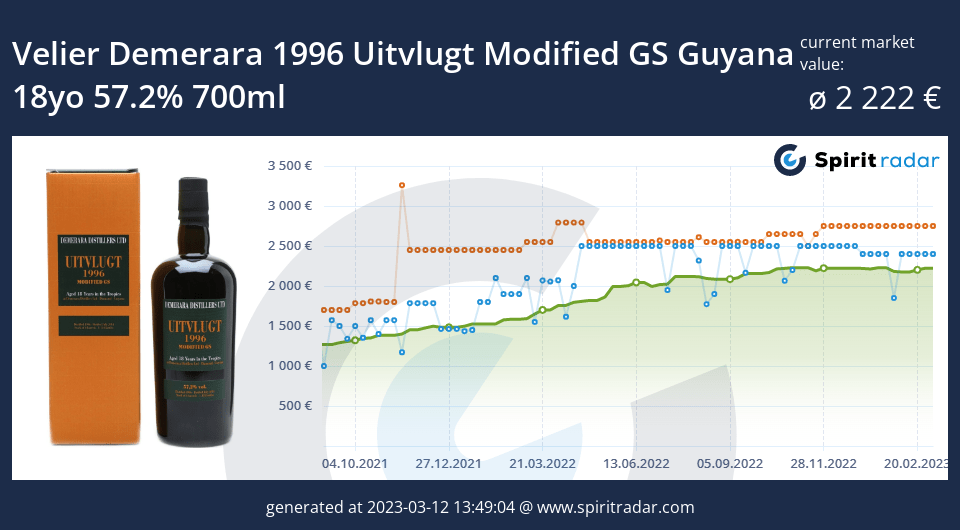 Velier Demerara 1996 Uitvlugt Modified GS Guyana 18yo 57.2% 700ml is a veritable masterpiece of the rum-making craft, embodying the very essence of excellence. This exceptional rum was distilled in 1996 and aged for an impressive 18 years, resulting in a rich, complex spirit.
With an alluring light brown tint, this rum exudes an irresistible tropical playfulness air. Upon opening the bottle, this rum is a feast for the senses, greeting you with a nose that is a cornucopia of tropical fruit flavours. The scent of raisins, dates, coconut, and banana are all expertly blended together, creating a symphony of aromas that is both enticing and uplifting.
On the palate, this rum is a celebration of fruitiness, with a smooth, colourful, and playful character that dances on the tongue, pleasuring the taste buds with its depths and complexity. The flavours of vanilla and floral tones are expertly blended together, creating a delightful interplay of flavours that is as enchanting as it is uplifting.
On the finish, oaky notes are expertly balanced with the delicate hints of vanilla, creating a truly memorable finish that brings some more variety to the already delicate, tropical experience.
In summary, this spirit is crisp and invigorating, perhaps almost surprisingly so for a Velier one. With mere 1 124 bottles made, this is a rare gem that is sure to enchant and delight anyone who gets the chance to experience it. It is a true must-have for any rum connoisseur, as it will be just as amazing alone as it will be in cocktails.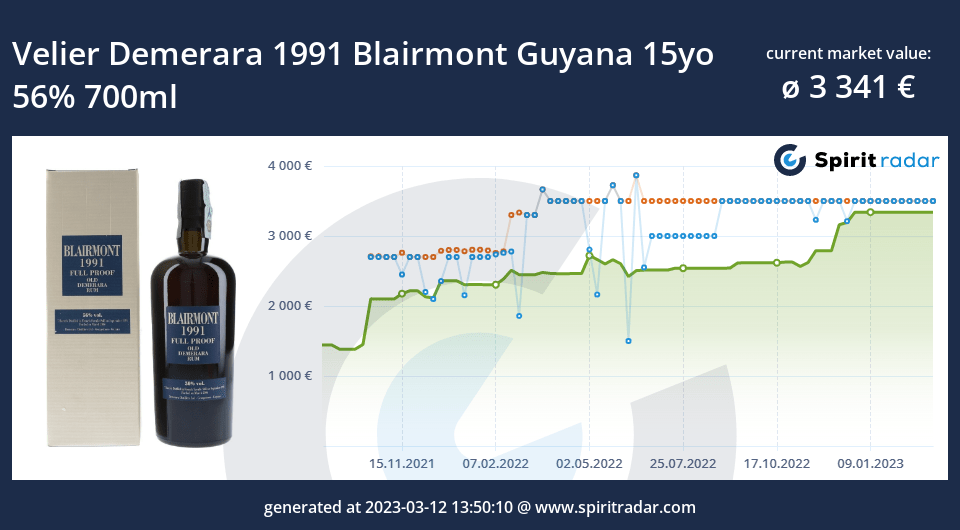 Embark on a journey of refined taste and unparalleled sophistication with Velier Demerara 1991 Blairmont Guyana 15yo, a rum that embodies the very essence of luxury. Crafted with care and precision, this exceptional spirit was distilled in 1991 and aged for fifteen years, resulting in a flavour profile that is as bold as it is refreshing and fruity.
The minimalist yet elegant bottle, adorned with a dark blue label encased in a beige box, is a testament to the hallmark design so characteristic of Velier. Limited to just 1 913 bottles, each one is a true collector's item, a reflection of the attentive precision to detail that has gone into every aspect of its production.
As you open the bottle, the zesty and smooth nose of honey fills the air, followed by fruity tones of mangoes, grapes and green apples. The first sip reveals an energizing and rich flavour, with herbal and fruity tones that dance across the palate in perfect harmony.
As the taste unfolds a subtle yet noticeable herbal taste emerges, adding a layer of depth and complexity that elevates this rum to a whole new level of refinement.
It is truly remarkable how this rum manages to be surprisingly light and refreshing despite its high ABV of 56 %. The balance of flavours and the smoothness of the finish manifest the care and attention to detail taken throughout the entire production process. This is a rum that manages to be both complex and easy-drinking, making it an ideal choice for those who want to savor the finer things in life without sacrificing even the slightest bit of taste or quality. It is truly an extraordinary example of rum-making that deserves the attention of every rum enthusiast.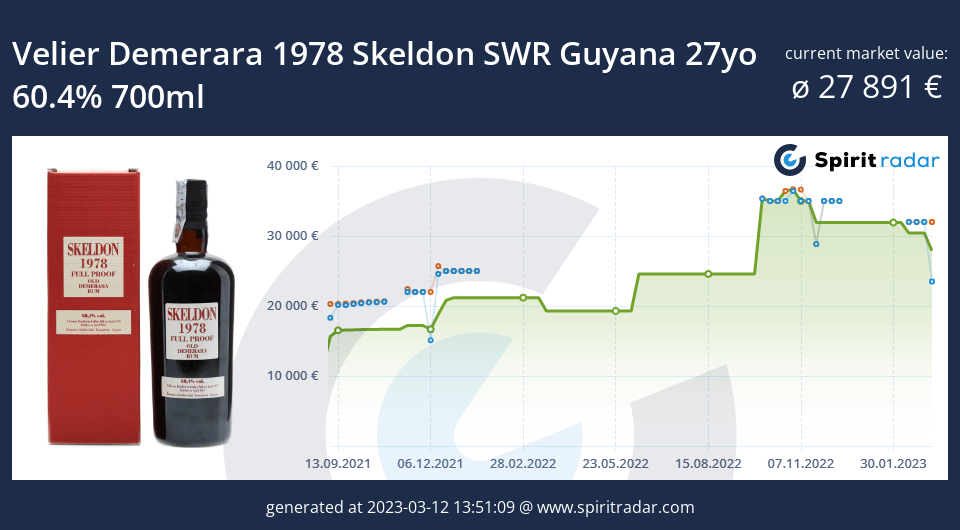 This is a spirit that is truly a vintage masterpiece. Distilled in 1978 and aged for 27 years, this rum has been carefully crafted to produce an unparalleled drinking experience. The minimalist bottle design, with its white label and orange box, perfectly encapsulated the understated elegance of Velier.
The nose of The Velier Demerara 1978 Skeldon SWE Guyana 27yo is characterized by a heady blend of the barrel, glue, and ester notes. These earthy aromas give way to a taste that is rich, roasted, and woody, with prominent flavours of barrel and licorice. The finish is dominated by the deep, dark notes of barrel, coffee, and chocolate, leaving a long-lasting and intense aftertaste that is sure to leave a lasting impression.
This rum is not for the faint of heart; with its bitter, intense, and woody profile, it is a rum that is best enjoyed by those who appreciate a more heavy and robust taste. Only 688 bottles were made, making this one a truly rare and unique find that is sure to impress the most discerning rum aficionados. For those who seek a genuinely vintage and unforgettable drinking experience, this rum is an absolute must-try.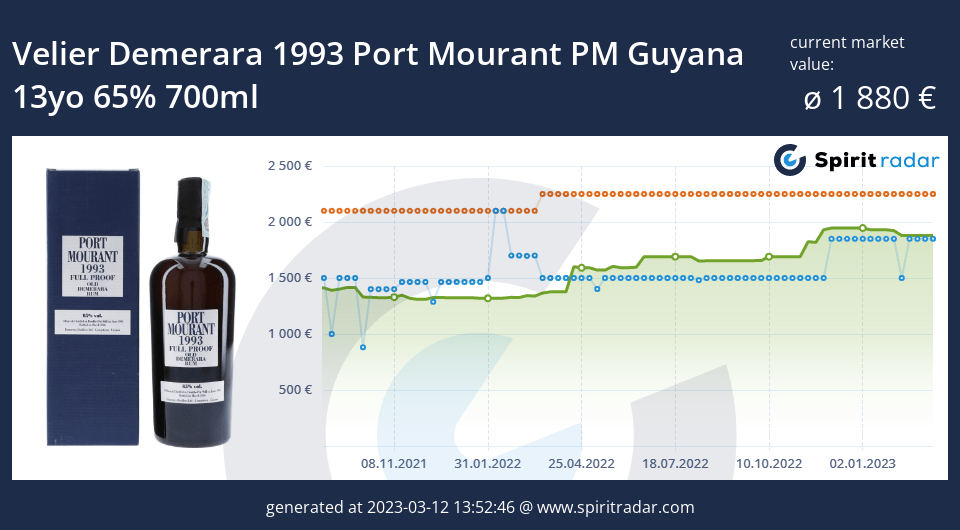 The Velier Demerara 1993 Port Mourant PM Guyana 13yo is not for those who shy away from the bold and strong. Distilled in 1993 and aged for 13 years, this rum packs a punch with its fairly high ABV of 65%. Housed in a blue box with a white vignette, this bottle is simple yet elegant. Only 2 994 bottles were produced.
The nose of this rum is intense, with notes of herbs, olives, burnt sugar, and dried fruit. It has a woody taste with a spicy kick and a touch of licorice. The flavours are complex and robust, making this rum a perfect choice for those who appreciate a full-bodied drink that is full of flavour.
This rum is genuinely not one to be taken lightly, but rather savored slowly to appreciate its intricate flavours fully. The blue box with a white vignette adds to this rum's dark and heavy elegance, making it a great choice for collectors or those who want to impress with their drink selection.
In summary, the 1993 Port Mourant is a rum that demands attention and respect. Its strong aroma and complex taste make it a perfect choice for those who appreciate bold and intense flavours.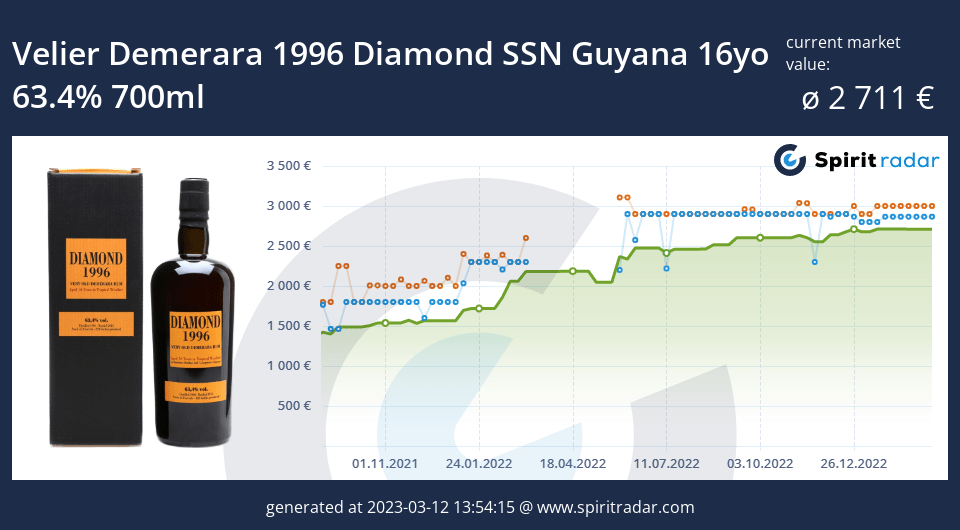 This spirit is definitely amongst the stronger ones in Velier's repertoire, as it boasts an impressive ABV of 63.4%. Distilled in 1996 and aged for 16 years, this spirit is not to be taken lightly. Its very profound and alcoholic nose is a bold blend of vanilla, caramel, apricot, and cinnamon that will leave you feeling like you've just taken a trip to the bakery. But don't let the alcohol content intimidate you, as this rum has a surprisingly smooth and sweet palate. The taste of vanilla, caramel, and anise dominates the palate, with a hint of orange and oak woven in. The finish is a perfect balance of caramel and anise, leaving you with a lingering taste of the sweet pastry.
What's more, this rum comes housed in an elegant black bottle with an orange label that is sure to impress everyone who is looking to expand their collection. Whether enjoyed alone or mixed in a cocktail, the Velier Demerara 1996 Diamond SSn Guyana 16yo is a spirit not to be missed. And with only 828 bottles made, it's a rare gem that's worth seeking out. So go ahead, indulge in the decadent sweetness of this fine rum, and experience the bold flavour of Guiyana like never before.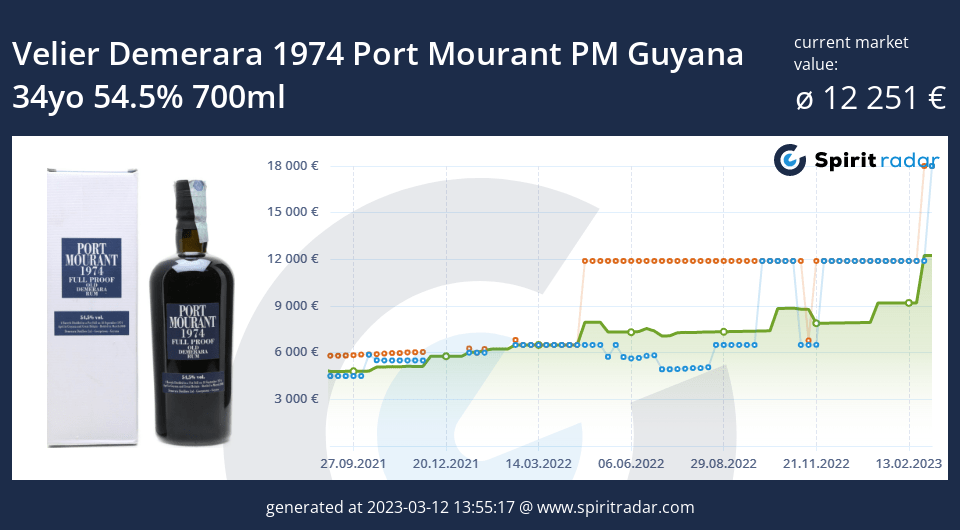 This rum is a true work of art, a masterpiece that has been carefully crafted over decades to achieve its exquisite flavour profile. The combination of the unique distillation process and the extended aging time have resulted in a rum that is rich, complex, and full of character.
The elegant dark blue bottle, housed in a blue vignette-adorned, white box, is beautiful. As soon as you pour it into a glass, the nose reveals itself with the delightful aroma of licorice, anise, tobacco, and leather, creating an intriguing sensory experience. The taste is equally captivating, with notes of licorice, oak, anise, and coffee, all complementing each other in perfect harmony. The finish is long and oaky, with light roasted tones that linger on the palate.
This vintage rum is a true treasure for fans of classic, earthy Velier rums of the 70's era. Its intense and woody profile delivers a unique experience for those who appreciate the depth and complexity that come with age. It demonstrates the craftsmanship and dedication that went into its production and is a rare find, with only 364 bottles in existence. This one is a must-try for those seeking out the finest and most distinctive rums.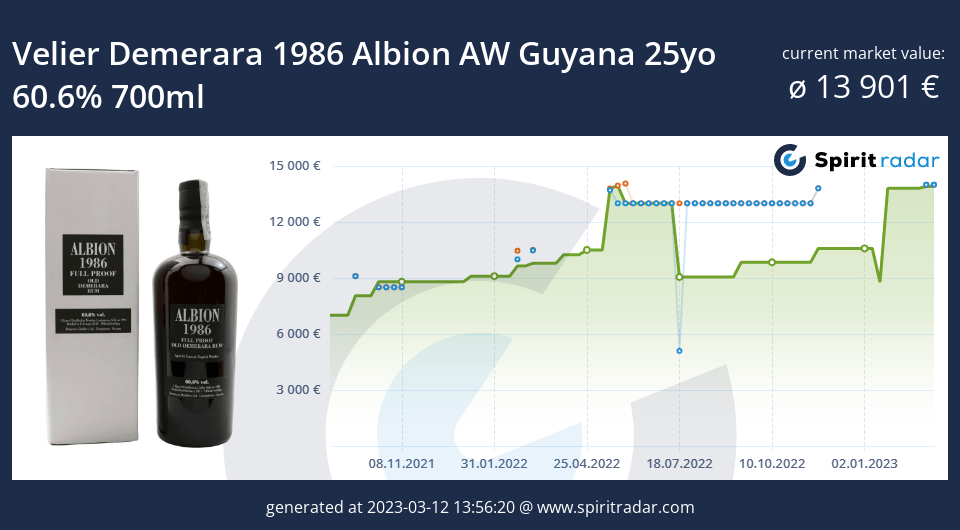 Introducing the coveted and ultra-rare Velier Demerara 1986 Albion AW Guyana, a true gem in the world of fine spirits. Distilled in 1986 and aged for a quarter-century, this vintage rum is a testament to the art of rum-making. With only 214 bottles produced from one exclusive barrel, it is a prized possession among rum enthusiasts and collectors alike.
This work of art is housed in an elegant black bottle that comes enclosed in a pristine white box, presenting an aesthetic that is as refined as the liquid it contains. The nose on this velvety spirit is rich and intense, with distinct notes of oak, caramel, and tropical fruit featuring a delightful medley of mango, papaya, and nuts.
The taste profile of Velier Demerara 1986 Albion AW Guyana is just as impressive, with a punchy tropical fruit flavour complemented by hints of leather and anise. The finish of this fantastic spirit is a spicy, fruity symphony that will leave you with a taste of paradise that lingers long after the final sip.
It is no surprise that this premium rum is highly cherished among those who seek the final spirits. This one is for those who appreciate the time-honoured art of crafting a luxurious libation. If you ever have the fortune to get close to this rum, the encounter will truly be an immersive experience, leaving a long lingering mark.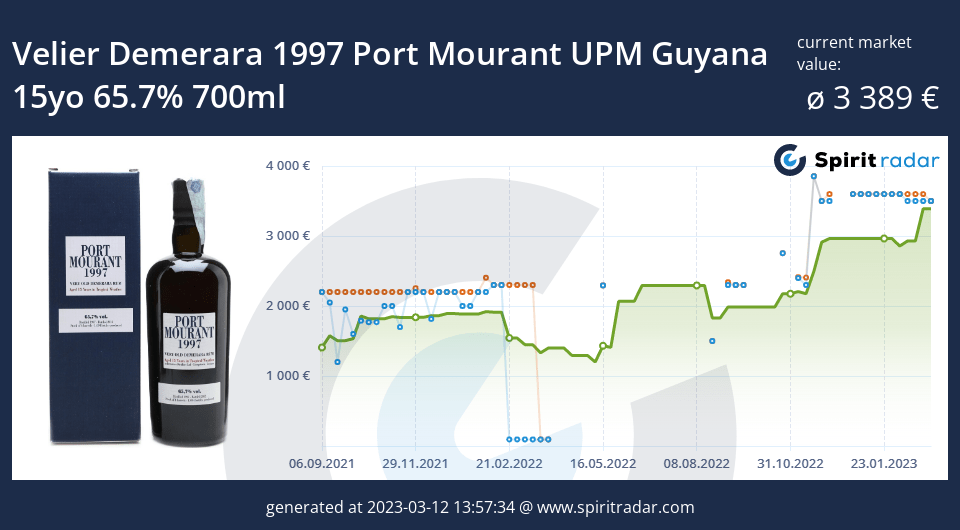 Distilled in 1982 and aged for 15 years, this rum boasts a remarkable ABV of 65.7%, making it a force to be reckoned with. The bottle, complete with a white vignette, is elegantly packaged in a matching box. Bottled from 4 barrels, this rum has a nose that tantalizes the senses with notes of caramel, tropical fruit, and vanilla, with occasional gluey tones. It offers a complex woody taste on the palate with hints of caramel and black pepper. The finish is caramelized, leaving a rich and luscious taste in your mouth that reminds you of a spoonful of warm, silky caramel. Limited to only 1 094 bottles, this is a rum for those who appreciate the sweeter, tropical flavours in their drinks.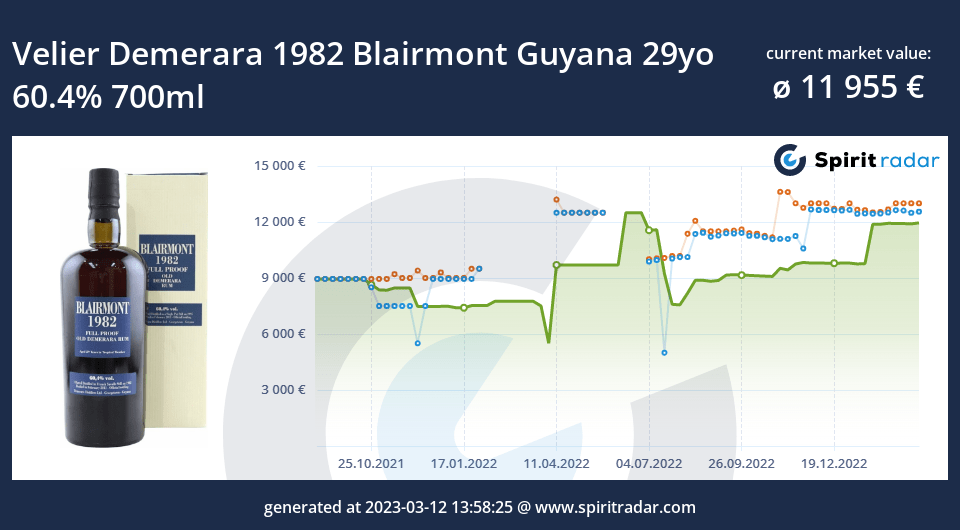 This spirit represents yet another harmonious collaboration between the renowned Velier and the esteemed sugar estate Blairmont in Guyana. Distilled in 1982, it was aged for an impressive 29 years, making it a true vintage gem.
This dark amber-hued elixir boasts an impressive strength of 60.4 %, and its nose is equally powerful and intense, with sweet yet non-obtrusive notes of papaya, cherries, figs, and prunes. The palate is greeted with a caramelly sweetness intertwined with the taste of raisins. As you savor each sip, a warm and complex finish emerges, with hints of roasted and chocolate tones.
With only 235 bottles in existence, the Velier Demerara 1982 Blairmont is a rare and sought-after spirit. If you are lucky enough to acquire one of these bottles, it will undoubtedly be the centerpiece of any rum collection.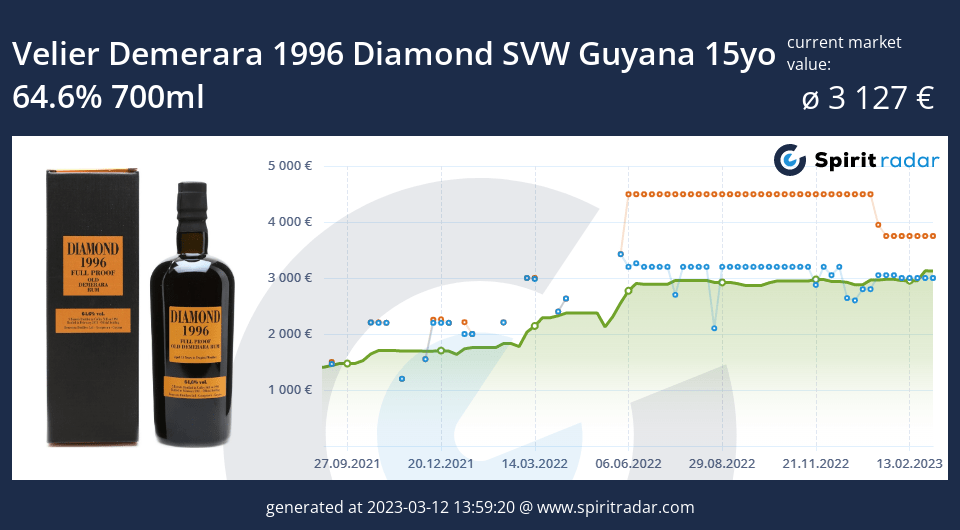 This rum is yet another fine example of the extraordinary collaboration between Velier and the Guyanese Diamond distilleries. The classic Velier design with an orange label on both the bottle and the box exudes a sense of timeless elegance. Distilled in 1995 and aged for 15 years, this remarkable rum boasts an impressive ABV of 64.6%.
The nose is surprisingly smooth, with notes of vanilla, and milk chocolate, with hints of caramel and brown sugar completing the scent profile. With every sip, one can sense a complex and intense taste of caramel, dried fruits, and vanilla, revealing a deep and intriguing character. The spicy and woody finish complements the taste, leaving a lingering, satisfying, and comforting lingering warmth. Despite its strength, this rum is quite a colourful, fruity, and woody experience.
This rum is the perfect choice for those looking for a classic, carefully crafted Velier Diamond experience with a more traditional taste profile. With only 1 411 bottles in existence, make sure to take the opportunity to get to this one.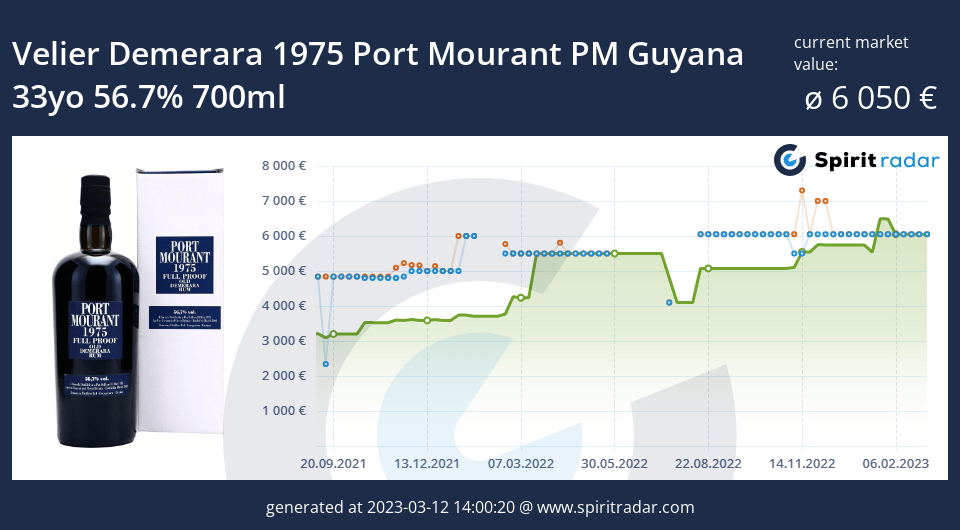 One of the most coveted products of the legendary Velier Demerara collaborations is the Velier Demerara 1975 Port Mourant Pm Guyana 33yo. Distilled way back in 1975 and aged for an impressive 33 years, this exquisite rum is the ultimate example of rum-making.
Velier Demerara 1997 Uitvlugt ULR 17yo Guyana 59.7% 700ml. Only 518 bottles were made from 3 barrels, making this one of the rarest Velier Demerara rums in existence. With a deep mahogany colour and an ABV of 56.7%, it is a rum of remarkable character and depth.
This rum exudes a full-bodied, spicy aroma on the nose, with hints of caramel and anise. As you take a spit, the anise taste is immediately prominent, followed by vanilla, caramel, and tropical fruit notes. The flavours are rich and complex, a testament to the skill and craftsmanship that went into its production.
This rum is truly a premium and exquisite one that should be noticed by any discerning rum enthusiast interested in the vintage produce of Velier Demerara.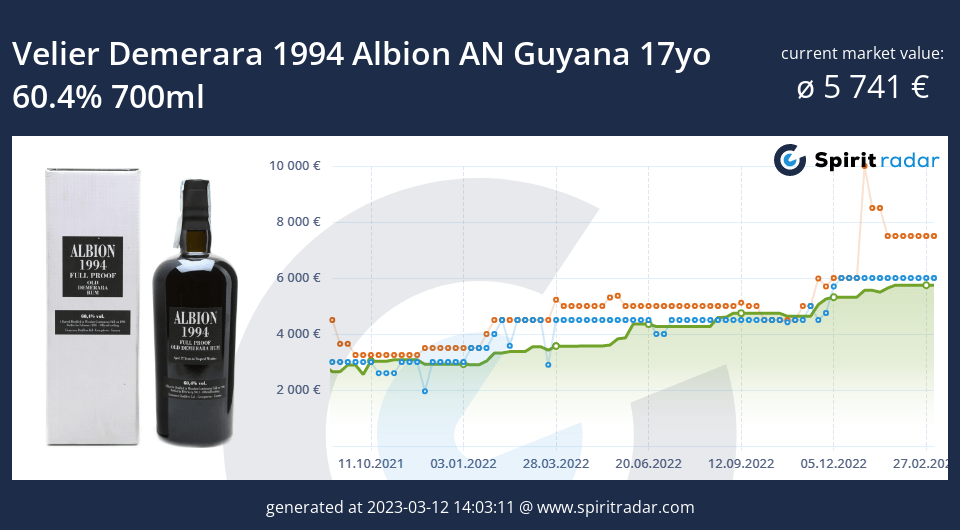 The Demerara 1994 Albion is a rare and exquisite rum that is sure to captivate your senses. Distilled in 1994 and aged for 17 years, this magnificent elixir boasts a formidable 60.4 % ABV, making it as powerful as flavourful.
As you pour this distillate into your glass, you will immediately be struck by its light brown hue - a sight that hints at the complexity that awaits your palate. Indeed, the flavour profile of this rum is akin to that of the famed Uitvlugt 1997 and Albion 1986.
Upon smelling the scent of this rum, you will be enveloped in a rich, complex aroma of caramel, licorice, and vanilla. But don't let the sweetness of these notes fool you- this rum has a spicy kick that is interwoven with subtle nutty and cinnamon undertones.
As you take a sip, your taste buds will be greeted with a symphony of flavours that dance in perfect harmony. The sweetness of the caramel and licorice are complemented by the spiciness of the cinnamon, creating a truly unique and perfectly balanced taste profile. The finish is equally impressive, with lingering notes of licorice, woody tones, and even a hint of leather.
This exquisite rum is presented in an elegant bottle and housed in a white box with a black label, embodying the sophistication and elegance of this rum. With only 1014 bottles ever made, the Velier Demerara 1994 Albion AN Guyana 17yo is a true gem for rum lovers and collectors alike.
Rum bottles from Velier