A much-loved whiskey around the world, Ardbeg has a long and exciting history that goes back a long way. Way back in 1815, on the small Isle of Islay, off the western coast of Scotland, a man named John Macdougall bought a liquor license and officially established Ardbeg Distillery as a legal, commercial establishment. Though the distillery was sold to a new owner just 23 years later, the Macdougall family remained in a management position of the distillery.
Official website: ardbeg.com
In 1853, the distillery changed ownership again, back to the Macdougall family. However, this time, the distillery falls to Margaret and Flora Macdougall. These two women are believed to be Scotland's first female distillers, which was probably a title that they held proudly. By 1887, Ardbeg had become the most productive distillery on the island, producing an estimated 250,000 gallons of whiskey every year!
One of the most noticeable things about a beautiful Ardbeg bottle is the distinctive letter A that graces the brand name. That letter A was actually trademarked in 1911 in order to protect the brand. By the year 1922, the Macdougall family returned as owners of Ardbeg, paying 19,000 pounds for the distillery. Finally, however, it was purchased by Mr. Hiram Walker in 1977.
Unfortunately, only four years after being purchased by Mr. Walker, the Ardbeg distillery had come almost to a standstill. There was barely any whiskey being produced at the distillery during this time, and 18 people were laid off. This had a devastating effect on the small community. This lasted until 1987, when ownership changed yet again. Small-scale distilling was resumed, and the distillery slowly recovered.
The distillery closed in 1991, lasting until 1997. This was the first time that full-scale production had been reached since 1981, and Ardbeg was named "Distillery of the Year" only one year later. In 1999, production had reached more than 158,000 gallons per year. Since the early 2000s, Ardbeg has consistently released new bottles and won numerous awards.
One thing that seems to interest all whiskey lovers is that Ardbeg was the first whiskey brand to make a trip into outer space. In 2012, Ardbeg sent 60,000 bottles soaring into space. These bottles landed in Kazakhstan in 2014 after a two-year exploration into the final frontier. So you could say that not only is Ardbeg a fantastic whiskey, but they are also a distillery that seems poised to lead all others into the future.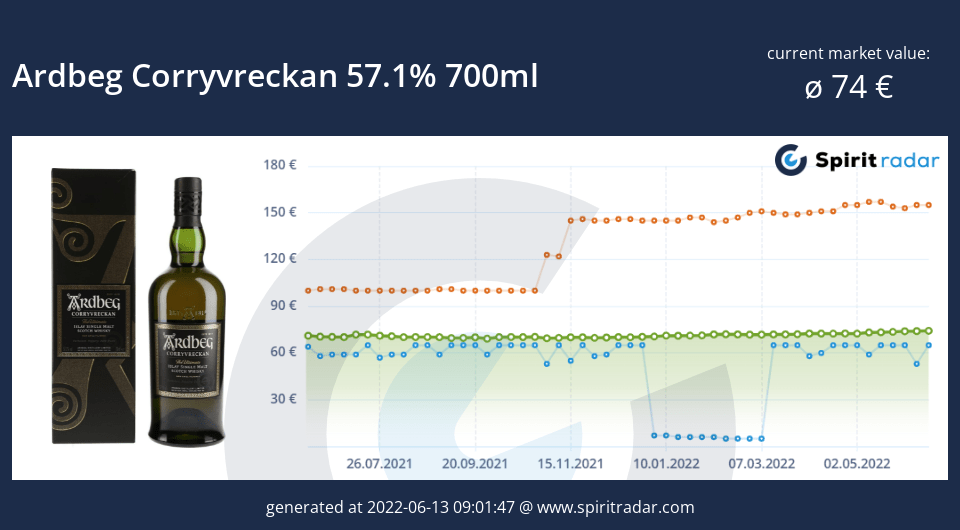 Corryvreckan is the name of a whirlpool just north of the Isle of Islay, between the islands of Jura and Scarba. Tradition says that only the bravest of souls dare venture into the waters of Corryvreckan. You can experience that same sense of adventure with your bottle of this beautiful amber whiskey. Indulge in the deep aromas of chocolate, sugar, and cherries before satisfying your tongue with hints of coffee, almonds, and dark fruits.
The tastes of chocolate and cherries will linger on for some time. Some say that even a small taste of Corryvrecken is reminiscent of going down that mighty whirlpool that is its namesake.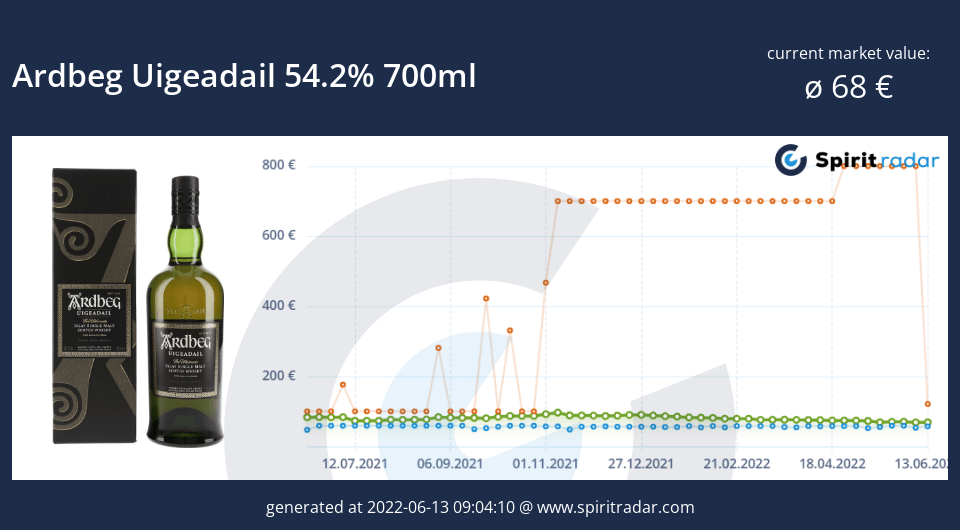 First, to drink whiskey, it is essential to know how to pronounce it. Say it with me: "Oog-a-dal." Very good. Now we can continue. This bottle is named after Loch Uigeadail, located north of the Isle of Islay. The name literally means "dark and mysterious," which perfectly describes this deep gold-colored whiskey.
Take a whiff of the hints of cake, walnuts, and violets, followed by the rich tastes of both spicy and sweet flavors. The soft tastes of raisins and mocha will linger on your tongue, giving you a dark and mysterious taste, which is perfect for Uigeadail. This wonderful bottle has previously won the "Golden Barrel" trophy.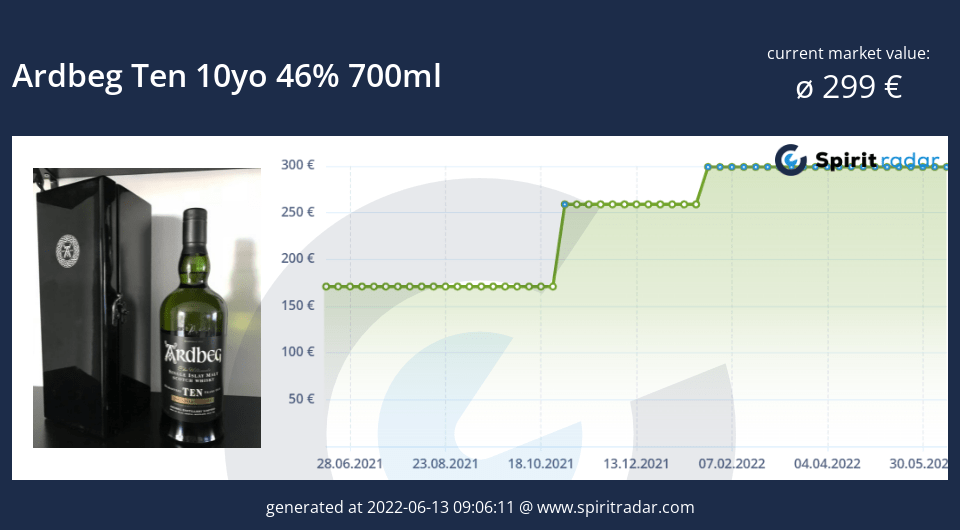 With a break from the other whiskey with more interesting names, we have the Ardbeg 10-year-old whiskey. Though this whiskey has a somewhat less interesting name, it more than makes up for it in taste. This delicious bottle has won many awards, including the first-place award for "Best Single Malt Scotch." It is admired around the world as one of the most complex single malts in existence, an opinion that is backed by the "World Whiskey of the Year" award that it has won in the past.
This light gold whiskey will please your nose with hints of chocolate, lime, and lemon. The explosive tastes of black pepper, toffee, and cinnamon are shortly followed by a finish of pears, almonds, and espresso.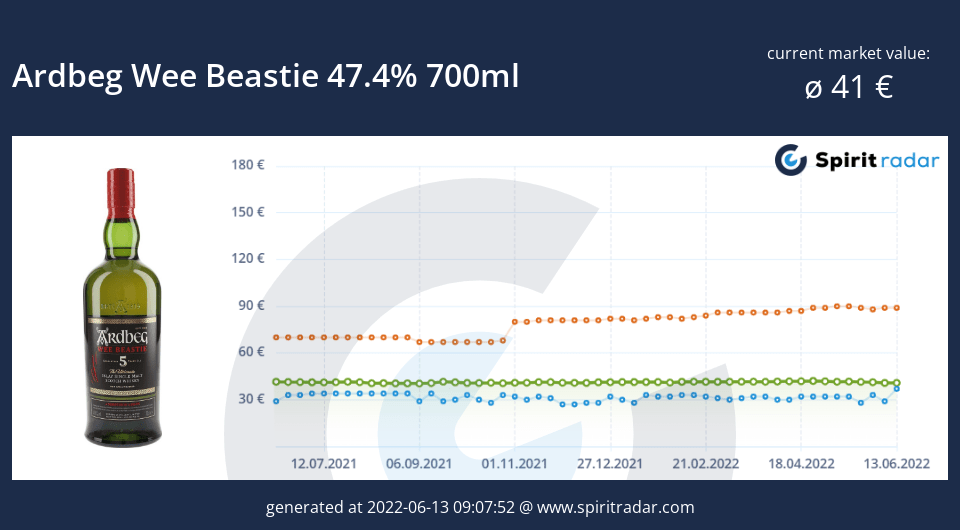 The Wee Beastie is a whiskey that was made to make the smokiest bottle of Ardbeg ever, and many would say that this was a success. The Wee Beastie may be a young whiskey at only five years old, but do not let that fool you! This bright gold bottle of whiskey has been recognized with the "Best Single Malt Scotch under 10 Years Old" award in 2020.
Upon the first sniff, you will recognize hints of pears, black pepper, and vanilla. With your first sip, you will be awed with the explosive tastes of eucalyptus, chocolate, and bacon, and who doesn't love bacon? The finishing mouth coating will leave you with a salty flavor along with a hint of fudge.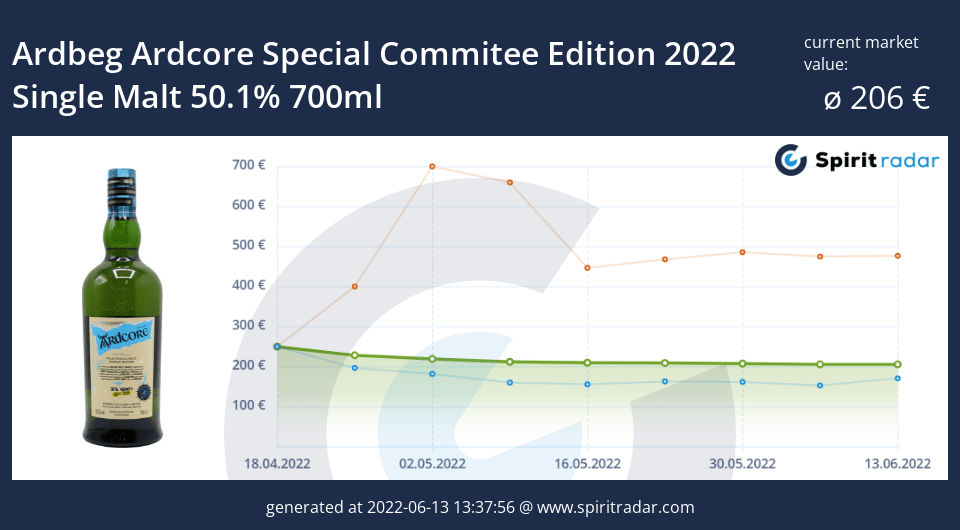 The Ardcore Special Committee Edition bottle was made specially for Ardbeg committee members and is only available to them. So you can only imagine how special this pale gold whiskey is. The committee is open to anyone; you just need to sign up to enjoy. Please remember that only one bottle is allowed per every committee member, so make sure to enjoy it if you buy one.
Prepare to have your nose gripped with the scents that may remind you a little of camping: charcoal, bonfire, and burnt toast. The first sip will give you a fiery feel, and you might taste anything from cocoa powder to chocolate. At the end, relax and enjoy a sweeter finish of toffee.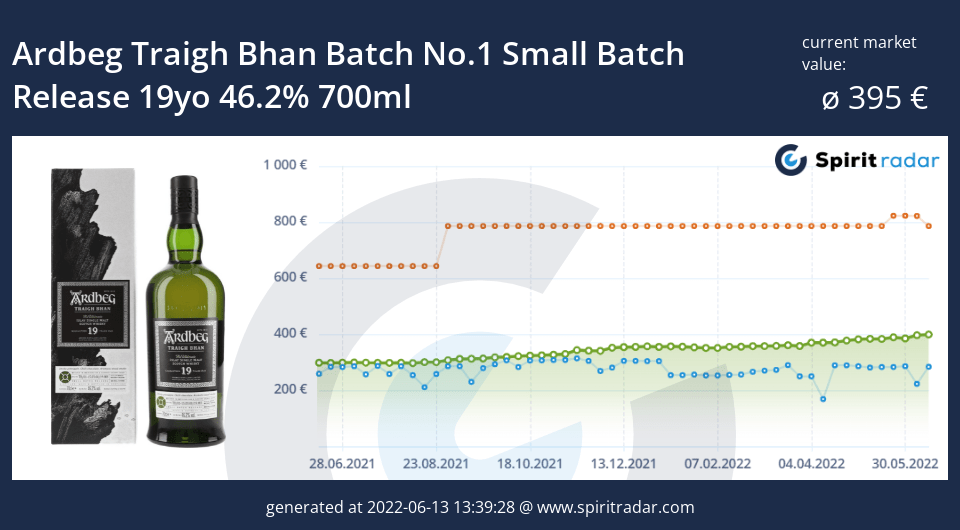 This delicious bottle is named after a picturesque beach on the Isle of Islay. The name means "white soft sands that sing beneath your feet." Even the name is picturesque! This whiskey has spent most of its life maturing in the deepest darkest corner of the Ardbeg warehouse and was one of the only whiskeys that Ardbeg bottled during the pandemic.
With a beautiful rose gold color, this whiskey will delight your nose with scents of lilies, citrus, and cayenne pepper. The tastes of toffee, brown sugar and walnuts give way to a finish of bitter almonds. Taking third place as the "World's Best Whiskey" in 2021, this is one bottle of whiskey you must try.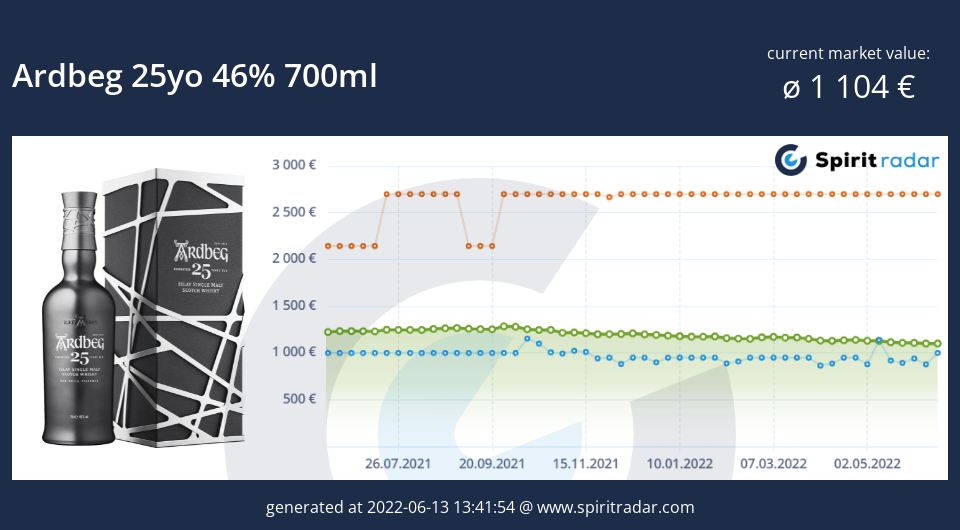 This whiskey's casks have gone through a few hard times. These casks were filled while the Ardbeg distillery was at its lowest point, and you can feel the fight in this bottle of whiskey. This beautiful amber liquid gives off the scents of peppermint, pine, and fruits. But do not let that soft and sweet smell fool you.
On your first sip, your taste buds will be assaulted with a burst of peppery flavor and hints of lemon and toffee. The finish will give you a lingering aftertaste of fudge and cream. Thought to be one of Ardbeg's more elegant whiskeys, this bottle is usually only available periodically through Ardbeg.
An OA was made basically from experimentation with several different cask types. Oak, ex-bourbon, and Pedro Ximenez casks were all used and left a mellow, smoky sweetness behind. This whiskey is a gorgeous light gold color that gives off the curious smells of toffee, banana, and lime. You will then experience a smooth and creamy texture with hints of cinnamon, toffee, and milk chocolate.
A lingering yet intense aftertaste of smoke and hickory can be noticed on your tongue long after your last sip. This is a fun whiskey, and it is even more fun knowing that this whiskey started as an experiment.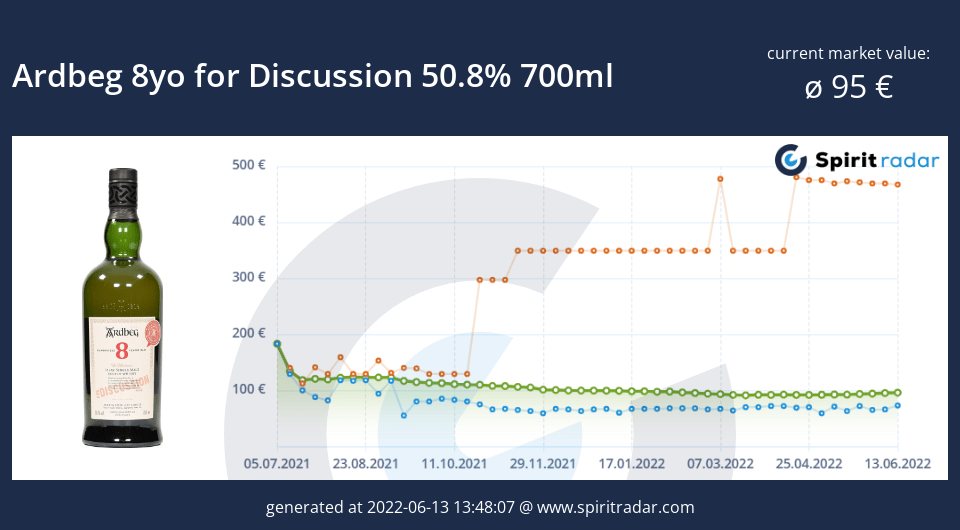 This is the perfect bottle for you if you are more of a social drinker. Deliberately made with the goal of helping you spark a conversation, this bottle is sure to be a hit at your next party. This pale straw-colored whiskey is intense and full-bodied. Your small sniff will be met with hints of charcoal, toffee, and green peppers. You will notice a taste of caramel, menthol, and pepper upon the first sip. The long and lingering aftertaste is a pleasant clove and peppermint taste, leaving you feeling refreshed and relaxed.
Whisky bottles from Ardbeg